McDonald's All American Headlines
Posted
7 years 5 months ago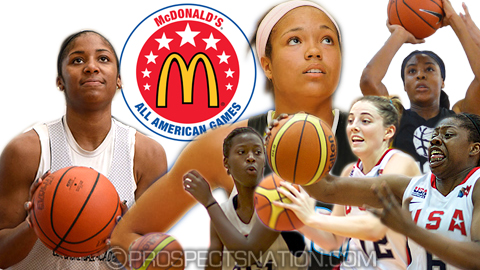 The 2015 McDonald's All American Game should prove to be exciting with the talent on hand.
With the rosters for the 38th annual McDonald's All American game in place (since 2002 on the girls side) here is a look at the key storylines that will play out in Chicago on April 1.
EAST TEAM
| | | | |
| --- | --- | --- | --- |
| NAME | POS | HIGH SCHOOL | COLLEGE |
| De'Janae Boykin | F | CH Flowers | Connecticut |
| Taja Cole | PG | Lloyd C Bird | Louisville |
| Asia Durr | G | St. Pius X | Louisville |
| Brianna Fraser | F | South Shore | Maryland |
| Samantha Fuehring | F | Immaculate Conception | Louisville |
| Kiah Gillespie | F | The Capital Prep | Maryland |
| Marina Mabrey | W | Manasquan | Notre Dame |
| Beatrice Mompremier | P | Miami Senior | Baylor |
| Taylor Murray | PG | Annapolis Area Christian | Kentucky |
| Arike Ogunbowale | G | Divine Savior Holy Angels | Notre Dame |
| Ali Patberg | G | Columbus North | Notre Dame |
| Deja Strother | P | Inglemoor | Washington |
WEST TEAM
| | | | |
| --- | --- | --- | --- |
| NAME | POS | HIGH SCHOOL | COLLEGE |
| Kristine Anigwe | P | Desert Vista | California |
| Kalani Brown | P | Salmen | Baylor |
| Naphessa Collier | W | Incarnate Word | Connecticut |
| Te'a Cooper | PG | McEachern | Tennessee |
| Sophie Cunningham | G | Rock Bridge | Missouri |
| Ashley Hearn | F | Sachse | UCLA |
| Lashann Higgs | G | Cedar Ridge | Texas |
| Jordan Hosey | W | Manvel | Texas |
| Kyra Lambert | PG | Samuel Clemens | Duke |
| Katie Lou Samuelson | W | Mater Dei | Connecticut |
| Destinee Walker | W | Lake Highland Prep | North Carolina |
| Stephanie Watts | G | Weddington | North Carolina |
Durr vs Samuelson
The top two players in the country; No. 1 Asia Durr of Douglassville, Ga., and Katie Lou Samuelson of Huntington Beach, Calif., will play against each other as Durr will lead the East team and Samuelson the West. We haven't had the opportunity to watch the two face-off against each other much as prep prospects so it is fitting to see them on opposite sides for their last major high school basketball event. One would think Durr has a bit of an advantage in an All-Star game setting as she is more capable of creating her own offense and playing off the dribble but history has proven that you should never count Samuelson out.
Small Guards vs. Big Wings
The East is loaded at the guard spots. In addition to Durr, the east is home to Taja Cole of Richmond, Va., Taylor Murray of Annapolis, Md., Arike Ogunbowale of Milwaukee, Wisc., and Ali Patberg of Indianapolis, Ind. All of these backcourt players have played on the ball as prep prospects and have the ability to create offense for themselves and others. While the West certainly has its share of guards --Te'a Cooper, Lashann Higgs and Kyra Lambert the strength of the West team is at the wing spot where in addition to Samuelson, Destinee Walker of Orlando, Fla., Sophie Cunningham of Columbia, Mo., and Stephanie Watts of Matthews, N.C., will give it an abundance of scoring depth.
Post Play
The one area of the game we will be watching closely will be the paint. There are still things to be learned from some of the players that will be roaming the lane in Chicago. No post player was as dominant this summer as Deja Strother of Kenmore, Wash., Strother's play during July vaulted her into the discussion for this game and her ability to score with her back to the basket may cause problems for the opposing (ironically) West team. On the West side another stock riser will highlight the play in the post. Kristine Anigwe of Phoenix, Ariz., has made a case to stand as one of the top post players in the class and this will be another opportunity for Anigwe to make a statement. It also will be intriguing to see how post players such as Kalani Brown of Slidel, La., Ashley Hearn of Roulett, Texas, and Brianna Fraser of Brooklyn, N.Y., fare in this setting.
Matchups We Can't Wait to See
Taja Cole vs LaShann Higgs: Speed on speed. Cole and Higgs have similar games as both are speedy combo guards with the ability to get to the rim and thrive in transition. Both Cole and Higgs have the potential to make memorable highlights in Chicago.
Hosey vs Gillespie: Both Hosey and Gillespie have the ability to excel playing as true combo forwards. They should give each other issues in a one-on-one matchup as both have superior length and athleticism.
Cooper vs Murray: This matchup is noteworthy because we will not only see it in Chicago but we will see it for years to come in the SEC. Murray is more of a natural pass-first point guard while Cooper brings a balance of power and athleticism to the point guard position. It will be nice to see them go head to head here. Follow @KeilMoorePSB

Moore is the Director of Scouting for the JumpOffPlus.com National Scouting Report and international scouting report. He has been a member if the women's basketball community for more than six years as a trainer and evaluator. He can be reached at keil@prospectsnation.com.