Maryland, Louisville, Arkansas Start Fast
Posted
5 years 9 months ago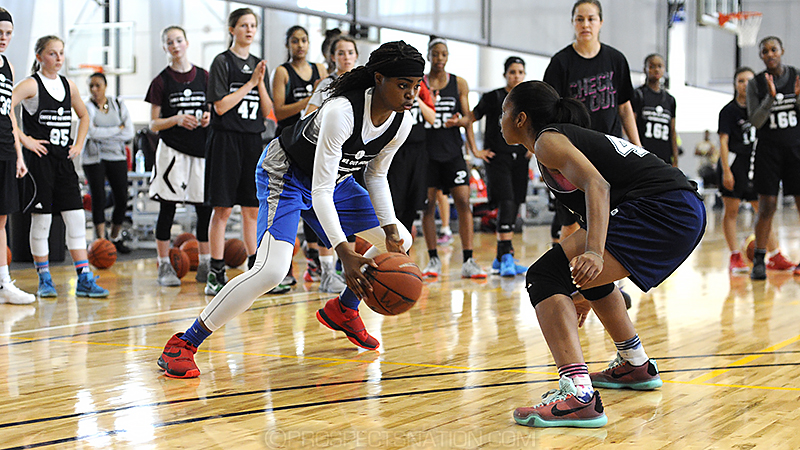 Nyah Green goes toe-to-toe with now Georgia freshman Gabby Connally at the Check Me Out Showcase in San Antonio. *Photo by Chris Hansen.
In sports news the way too early mock drafts are as frequent as recruiting class rankings. The difference in recruiting is the idea of momentum. With the number of committed ELITE 100 players in the 2019 class rising weekly, ProspectsNation.com has released its first recruiting class rankings, selecting the top 10 programs.
Maryland is back in the No. 1 spot. If Brenda Frese and the Terrapins can hold on to the top spot it will repeat the 2015-2016 recruiting cycle by following up the No. 11 class with a No. 1 class. Having two five-star rated players almost assures Maryland will be in the discussion as there are only 11 players having earned that rating to date.
After three years finishing in the top six nationally, Louisville signed the No. 22 class in 2018. Jeff Walz and his staff are back in the single digits, in large part to a verbal commitment from the class's top ranked player, Nyah Green.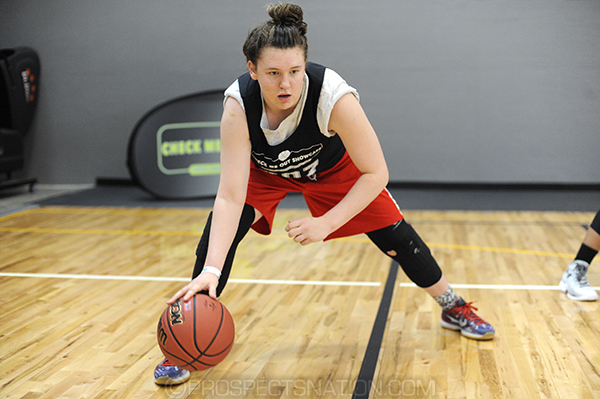 Ginger Reece can score inside and out. *Photo by
Chris Hansen.First year Arkansas head coach Mike Neighbors is changing his roster in a hurry with three early commitments. No. 26 Destinee Oberg of Burnsville, Minnesota, and No. 64 Ginger Reece of Lawton, Oklahoma, are both in the ELITE 100 and guard MaKayla Daniels of Frederick, Maryland, who is on the watch list.
Florida State, fresh off the No. 8 class in 2018, cracks the top 5 with a pair of top 40 prospects – No. 29 Sammie Puisis of Mason, Ohio, and No. 38 River Baldwin of Andalusia, Alabama.
Where Arizona was the breakout class of 2018, Virginia Tech looks poised to earn that title in 2019. The Hokies have scored two North Carolina natives in No. 53 Cayla King and No. 54 Elizabeth Kitley.
"With the tandem of King and Kitley locked in, Kenny Brooks staff is off to a good start in the 2019 class," Brandon Clay, Publisher of ProspectsNation.com said. "Both King and Kitley are rated in the ELITE 100 nationally, playing both high school and club basketball on the same team year-round. King provides a versatile option in the back court while Kitley brings size coupled with considerable upside to the front court."
Notre Dame checks in at No. 4 while Ohio State, Purdue, Miami and Baylor round out the top 10.

Chris Hansen is managing editor of ProspectsNation.com and serves on the McDonald's All-American and Naismith Trophy selection committees. He was a co-founder of and the national director of scouting for ESPN HoopGurlz from 2005 until 2012 and is the director of the Check Me Out Showcase. He can be reached at chris@chrishansenbasketball.com.