March Fest 2014 Upperclassmen
Posted
9 years 5 months ago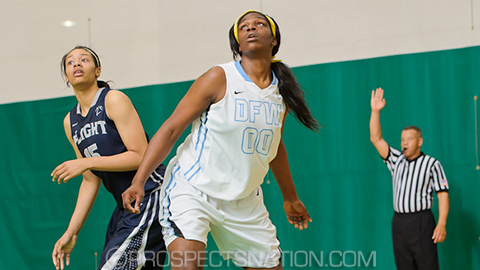 Teaira McCowan is part of a strong 2015 class in the Lone Star State. *Photo by Ty Freeman.
Tweet
DUNCANVILLE, Texas – DFW March Fest is always are first event of the club basketball season. Over the years we have seen the event grow and become a must-attend for teams in the Southwest region of the country. This weekend we saw some of the best teams that Texas had to offer compete over a two-day period. Here is a look at a few of the standout performers.
Teaira McCowan (Brenham, Texas), DFW T-Jack – 2015
At 6 feet 7, McCowan isn't hard to find in a crowd. She is gifted with tremendous size for the post position and is starting to develop a game that will allow her to make an impact on a consistent basis. This weekend McCowan made the biggest impact on the offensive and defensive glass, where she did a good job pursuing rebounds and keeping plays alive for her team. Right now McCowan is at her best when she is dialed in and rebounding and defending at a high level. She has the tools to be a solid offensive post player in the future, but will have to continue to develop her feel for that part of the game and a couple of consistent go-to moves.
Kennedy Leonard (Southlake, Texas), Cy-Fair – 2015
A Colorado verbal commitment, Leonard had a very impressive weekend here in the Dallas area. Leonard, who can succeed playing both the point guard and the shooting guard position, seemed comfortable playing with and without the basketball. This weekend we saw Leonard play effective and controlled basketball without forcing the issue. She hit open shots, made plays without over using the dribble, and ran the offense when needed. Colorado fans should be excited about watching Leonard for years to come.
AROUND THE RIM
♦ Jordan Moore of Round Rock, Texas, had bright spots throughout her time on the floor this weekend. Moore is a 6-3 post with good athleticism. Consistent play from her this summer will be key for her Texas United team as she has the ability to make her presence felt.
♦ Jordan Hosey of Houston, Texas, showed well this weekend. As a 6-1 forward, Hosey, who is committed to Texas, has continued to polish her perimeter skill set and is getting more and more comfortable playing on the wing and making plays.
♦ Look for Team United out of Texas to be a factor this summer. With ELITE 60 post Erin DeGrate of Waco, Texas, patrolling the middle and the uber athletic Dai'ja Thomas running around on the perimeter and around the rim, Team United has a nice core collection of talent. Follow @KeilMoorePSB

Moore is the Director of Scouting for the JumpOffPlus.com National Scouting Report and international scouting report. He has been a member if the women's basketball community for more than six years as a trainer and evaluator. He can be reached at keil@prospectsnation.com.