Look Back: 2015 Check Me Out Showcase
Posted
7 years 4 months ago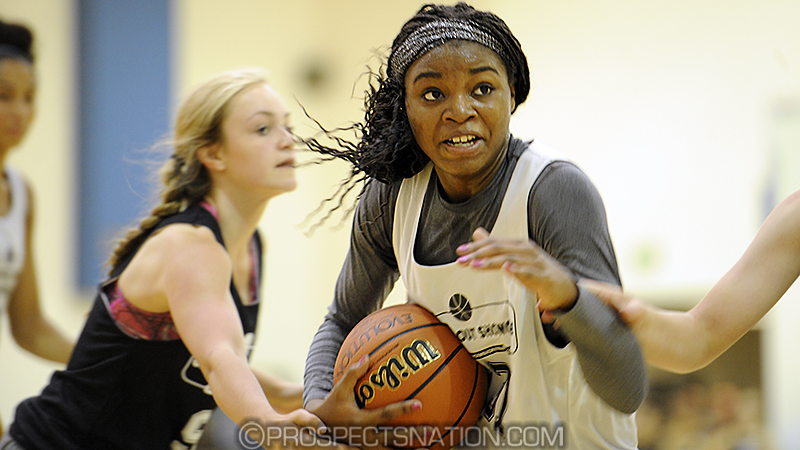 Nyah Green of Allen, Texas, continues to prove at a early stage in her career that elite competition is something that drives her. *Photo by Glenn Nelson.
SEATTLE, Wash. – The stars, both locally and nationally ascended on the Emerald City to close out the summer with elite competition. With 125 players coming from 11 different states and provinces, the training staff, led by Chris Hyppa, had an energetic and talented group to work with at the 2015 Check Me Out Showcase.
The opening day recap highlighted the players who competed not only in the live 5-on-5 but in the skill work. McDonald's All-American voter and Naismith Trophy board of selectors chairman Brandon Clay shared his takeaways after flying across the country to coach at evaluate as well. Here is one last look at the standouts from the action at the IMA Building on the University of Washington campus.
Green Is Far From Being Green
The amount of competition and skill work that Nyah Green of Allen, Texas, has already experienced is ahead of where many upperclassmen are. The 6-0 point guard is as quick and shifty with the basketball as you will find in any class. But it is her competitive nature, not her mixtape handle, which allows scouts to project her as an elite prospect for the college level already.
Green's matchups with more experienced elite guards, such as Ionescu, allowed her to see where her game is at relative to those three or more years her senior and get a feel for what she'll need to still be talked about at the top of the 2019 class when she is a senior. How she handled herself throughout the event was as impressive as her playmaking.
Life In B.C. After Konig
This isn't the first time Savannah Dhaliwal has been mentioned on ProspectsNation.com. The 6-1 forward from Surrey doesn't fit the prototypical mold of the modern power forward. In fact she is very much a kick back to the old school. She is gritty, strong and relentless. Her will to succeed shows on nearly every possession and she outsmarts her more athletic counterparts consistently with up-fakes, changes of speed and finds angles to finish.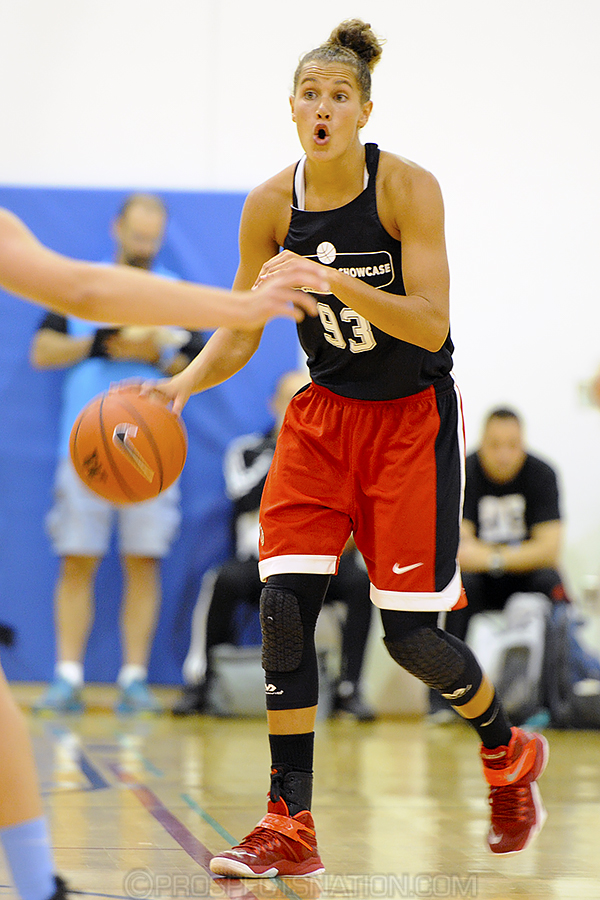 A year behind Dhaliwal is sophomore guard Taya Hanson, who does fit the prototype for the position she plays. She possesses a frame tailor made for the next level and showed she was all in working on her skill set. The Kelowna native, who was on the Canada Basketball U16 national team that took gold in Mexico this summer, has all the physical gifts to be a difference-maker in time.
If you need a shooter in the 2018 class then Lyric Custodio should be on your list. She has a quick trigger and the mentality to forget the last shot and make next one. She has made strides in her ballhandling this year as well and will be a player to watch closely next spring.
Looking way into the future, Deanna Tuchscherer of Vancouver, B.C., is just a freshman and competed against a crop of mostly upperclassmen. The 6-0 forward is a coach's daughter and possesses a lot of the savvy you expect
Senior Citizens
While the performances of Sabrina Ionescu, Mikayla Pivec, Amber Ramirez and Robbi Ryan were impressive, they were also expected as the upper echelon players in the class of 2016. But those weren't the only players showing they are poised for the next level.
McKenzie Alton of Gig Harbor, Wash., was very productive in the live game action. She has some length in her 5-11 frame and uses it to get her shot off. She's more elusive than quick with her handle but knows how to create enough space to shoot and always catches the ball ready to shoot.
Madison Pollock of Snohomish, Wash., already is committed to San Diego and in spurts showed why they made the early scholarship offer. At 6-2 she has the ability to rebound and make plays on the interior but when she is knocking down face-up jumpers. She can create a lot of space in the paint when those shots are falling.
A feisty guard who made a lot of noise at the showcase was Alexis Mbroh of Oklahoma City, Okla. The 5-7 point guard has good speed with the ball in her hands and can shoot the three some. She made her biggest impact this weekend defensively.
Improving Their Stock
One of the most improved players this summer in the Northwest was Keyonna Jones of Bothell, Wash. The 5-7 junior guard is physical on the drive but there is a new confidence about her that allows her to use her strength and handle to make plays more consistently.
Aliyah Ahmad of Corona, Calif., has a good showing as well. Her command at the point guard position along with her ability to score in the midrange impressed. She's quick with the ball and can set teammates up with dribble penetration.
Freshman guard Grace Sarver of Seattle, Wash., has impressed in multiple setting in the past year. She plays the game with a strength and passion that allows her to compete well against older competition yet she is finding ways to continue to play hard but be under control. She's tough to stop when she attacks off the dribble and will be part of a large youth movement heading to West Seattle High School this winter.
Shooter!!!
Taycee Wedin of Happy Valley, Ore., has heard an opposing coach scream at their defensive players "shooter" a time or two in her early basketball career. The 5-9 sophomore at LaSalle Prep showed her range and lightning fast release early and often. She attends La Salle Prep in Milwaukee, Ore., and has another long-range bomber on her team in junior Aleah Goodman of Battle Ground, Wash. Last season La Salle went 27-1, winning Oregon's Class 5A title and with the showing these two had here a return trip to the state tournament seems more than likely.
Rising freshman guard Taylor Flores of Auburn, Wash., has really found a niche as an elite shooter. That doesn't diminish her ball skill and ability to do other things but when she's catching clean and knocking down threes she really opens things up for her team.
Another youngster proving her mettle over the weekend was Raigan Reed of Marysville, Wash. The 5-6 class of 2020 guard was terrific both days and showed her future is bright in many ways but her consistent perimeter shooting made her one of the stars in the underclass session.
More Check Me Out Coverage

Chris Hansen is managing editor of ProspectsNation.com and serves on the McDonald's All-American and Naismith Trophy selection committees. He was the national director of scouting for ESPN HoopGurlz from 2005 until 2012 and is the director of the Check Me Out Showcase. He can be reached at chris@prospectsnation.com.