Junior Class Mid-Season Rankings Shuffle
Posted
6 years 10 months ago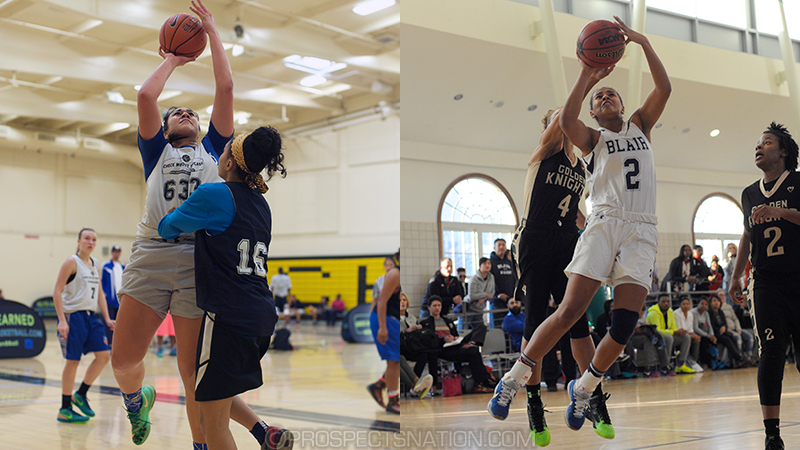 Loretta Kakala (left) and Andra Espinoza Hunter (right) move into the top 25 of the 2017 class ELITE 100 rankings. *Photos by Chris Hansen.
Players are constantly developing their games so with that comes the need to refresh rankings, sometimes in the middle of a season. We've taken in countless high school games this winter along with a strong slate of late fall exposure events that occurred after the last ranking expansion for the 2017 class, leading us to the winter re-rack of the 2017 ELITE 100 rankings from PropsectsNation.com.
Connecticut verbal commit Andra Espinoza-Hunter, the 5-foot-10 wing from Ossining, N.Y., has been on a tear. Even from her showing at the USA Basketball U16 national team trials to her play at the She Got Game Classic at the end of 2015, the growth was noticeable. Showing more signs of making teammates better, even when faced with defense keyed on stopping her, resulted in her elevating her ranking to No. 17 and third at the wing position.
There is a new face in the top 25, Loretta Kakala, the 6-3 post from Manteca, Calif. The powerful post showed her elite potential at the Check Me Out NorCal Showcase and has finally got her junior season rolling after a minor back injury kept her from the court in December. Her debut in the ELITE 100 comes at No. 21 as the fourth highest rated post in the class.

Chennedy Carter has elevated her game.
*Photo by Chris Hansen.Two players showing steady growth in their games over the last two years are Chennedy Carter of Arlington, Texas, and Jayda Adams of Anaheim, Calif. These two guards continue to add to their games and both moved up a few spots to Nos. 25 and 27, respectively.
Another new face to the ELITE 100 is Akiene Tera Reed, the 6-1 forward from Burlington, N.J. She cracks the list at No. 50 on the heels of a strong showing at the Keil Moore Fall Showcase and she's putting up more than 17 points per game as a junior for Life Center Academy.
As a whole the 2017 class is showing depth in the backcourt positions. The ProspectsNation.com Ranking Committee will update and expand the 2017 rankings in the spring after covering both NCAA-Certified viewing periods and other key non-certified tournament and camps.

Chris Hansen is managing editor of ProspectsNation.com and serves on the McDonald's All-American and Naismith Trophy selection committees. He was the national director of scouting for ESPN HoopGurlz from 2005 until 2012 and is the director of the Check Me Out Showcase. He can be reached at chris@prospectsnation.com.