July Preview-Week In Review
Posted
9 years 2 months ago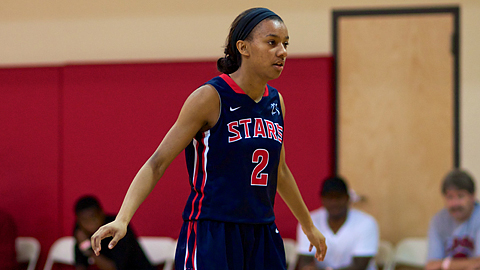 Cal Stars guard GeAnna Summers-Luaulu recently committed to Pacific.
*Photo by Chris Hansen.
Tweet
Before the Week In Review, we decided to offer a month preview. With the Independence Day Holiday behind us, it is officially time for college coaches to join our staff in gyms across America. Our staff has been zigzagging across the country on the club circuit since DFW's MarchFest, logged ten's of thousands of air miles, each. With that in mind, here is a list of all the places we will be throughout the NCAA-certified viewing period:
PSB Summer Kickoff (Marietta, Ga.)
FILA Nationals (Suwanee, Ga.)
AAU Gold and Silver Showcases – 9th, 10th and 11th Grades (Orlando, Fla.)
AAU Nationals -- 8th Grade (Orlando, Fla.)
Real Deal In The 'Ville (Franklin, Tenn.)
Trifecta All-American Camp (Franklin, Tenn.)
Battle In The Boro (Franklin, Tenn.)
Real Deal In The ATL (Marietta, Ga.)
PSB Summer Invitational (Marietta, Ga.)
Elite 2013 Summer Showcase (North Las Vegas, Nev.)
Ballin in the Ballroom (Lake Las Vegas, Nev.)
USJN Nationals (Washington, D.C.)
Basketball on the Bayou, (New Orleans, La.)
PSB ELITE32 Summer Jam I (Augusta, Ga.)
Power48 Summer Finale (Marietta, Ga.)
Nike Nationals (North Augusta, S.C.)
PSB ELITE32 Summer Jam II (Augusta, Ga.)
ProspectsNation.com Recruiting Analyst Brandon Clay joins Marques Burnett to breakdown the PN July coverage calendar
WEEK IN REVIEW
Pittsburgh's Recruiting Momentum: There has been a lot of transition in the Pittsburgh women's basketball program in the past calendar year. There is the conference switch from the Big East to the ACC that will take place this fall and a coaching change that has former Duquesne coach Suzie McConnell-Serio at the helm of the program now. With all of that change, the addition of two four-star caliber recruits -- Aysia Bugg of Bolingbrook, Ill., and the No. 54 player in the ELITE 100, Stasha Carey of Brookpark, Ohio -- is a very good start to their 2014 recruiting class. Carey gives them a skilled forward who can continue to develop and improve her game while Bugg is an athletic guard who should bring some perimeter scoring to the line up.
Wake Forest Scores Early: Wake Forest was able to reach down in the underclass ranks and grab a crew of underclassman last week as they earned verbal commitments from three ELITE 100 caliber 2015 prospects and an additional 2016 ELITE 100 caliber post. The newest members of the class of 2015 for the Demon Deacons are 5-foot-8 guard Kortni Simmons of Spotsylvania, Va., 5-10 forward Destini Walker of Richmond, Va., and 5-10 guard Ariel Stephenson, of Richmond, Va., in the 2016 class they earned a verbal commitment from 6-3 post Tyra Whitehead of Richmond, Va. Three of the prospects, Stephenson, Walker, and Whitehead are summer teammates with the Boo Williams Richmond summer program and have been around each other for multiple seasons. Last week, when the four prospects decided to make verbal pledges to Wake Forest and coach Jen Hoover, they showed a belief in Wake and the future of the program that should give the ACC school a good amount of recruiting momentum moving forward.
Maryland Scores a Pair: Maryland picked up a inside- out duo in the 2016 class this week. Jenna Staiti and Sara Myers, both from Cumming, Ga., made their verbal commitments to the Lady Terrapins while attending their elite camp. Staiti possesses coveted size at 6-5 and has a developing skill set to match. Coach Brenda Freese's staff has to love her ability to block shots, rebound and finish around the bucket. Myers, on the other hand, is a 5-9 wing who is a consistent shooter from long range. Her ability to make the 3-point shot accentuates the rest of her game.
Lindstrom to Green Bay: We had the chance to watch Jessica Lindstrom, the 5-11 combo forward, a couple of weeks ago in Minnesota. She is a high level rebounder with an endless motor. She had interest and offers from schools in larger conferences but should be an excellent fit for Wisconsin-Green Bay.
Skidgel to Georgia: Skidgel, a 5-10 class of 2015 prospect, gives Georgia a good perimeter shooter with quality size. As a local kid from Bethlehem, Ga., Skidgel won't have to go very far from to get to her future home in Athens.
Queen to Denver: The Pioneers picked up a post player in the class of 2014 from the Lone Star state when they earned a verbal commitment from Avery Queen of San Antonio, Texas. Queen has the size to play in the post and has continued to develop her skill set throughout her high school career. At 6-2, the 3-star post is a solid addition for the new Summit League school.
Pacific Scores Two: After a highly successful season in which the Tigers won 27 games and made it to the third round of the WNIT, recruiting got off to an early summer start. Pacific landed commitments from Najah Queenland of Sacramento, Calif., and GeAnna Summers-Luaulu of San Francisco, Calif, in the last 10 days, setting up the backcourt for years to come. Queenland is a powerful 5-10 wing-guard who plays with the Cal Ballaz club team while Summers-Luaulu brings her 5-9 length to either guard position from the Cal Stars program. Summers-Luaulu will be at the Check Me Out Showcase in August.
AROUND THE RIM
♦ Recently the No. 33 ranked player in the ELITE 100, Kathryn Westbeld of Kettering, Ohio, released a list of four schools that she had narrowed her list to. The schools, in alphabetical order are Connecticut, Duke, Notre Dame, and Ohio State. Westbeld, who was on campus at Notre Dame for an unofficial visit in late June, would be an excellent fit at all four schools as she is a dynamic combo forward with a game similar to rising Louisville junior Sarah Hammond.
♦ After a Spring full of traveling from state-to-state and tournament-to-tournament, we had the opportunity to adjust the ELITE 60 for the class of 2015 and provide a current snap shot of how the class is shaping up. A couple of themes immediately leap off the page as we expand from an ELITE 25 to an ELITE 60. The jump made by Asia Durr to the No. 1 spot in the country; the number of talented scoring minded wings and guards in the class; and the overall depth of the group as a whole. As we approach July with a focus primarily on the class of 2014 and the recruiting battles that will take place throughout the month, the class of 2015 is surely to leave its mark and we are excited to give this group a good hard look over the next year as the chips fall into place.
Chris Hansen also contributed to this report. Follow @KeilMoorePSB

Moore is the National Director of Scouting for the JumpOffPlus.com National Scouting Report. He can be reached at keil@prospectsnation.com.