Jones Not Short On Impact
Posted
3 years 1 month ago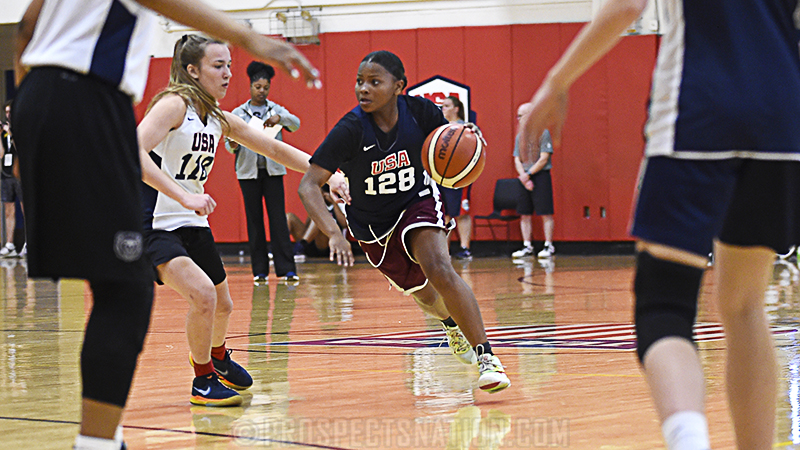 Londynn Jones was on point at the 2019 USA Basketball U16 national team trials. *Photo by Chris Hansen.
Londynn Jones of Riverside, California, is usually the shortest player on the court when she plays. It's been that way for some time.
"To be honest it really just motivates me," Jones said. "It pushes me to go even harder. Like oh really, you think I'm small? Ok. Really just show them what I can do and what you think I can't do."
After a stellar weekend at the USA Basketball U16 national team trials, the chances of ever getting picked last for anything are probably gone.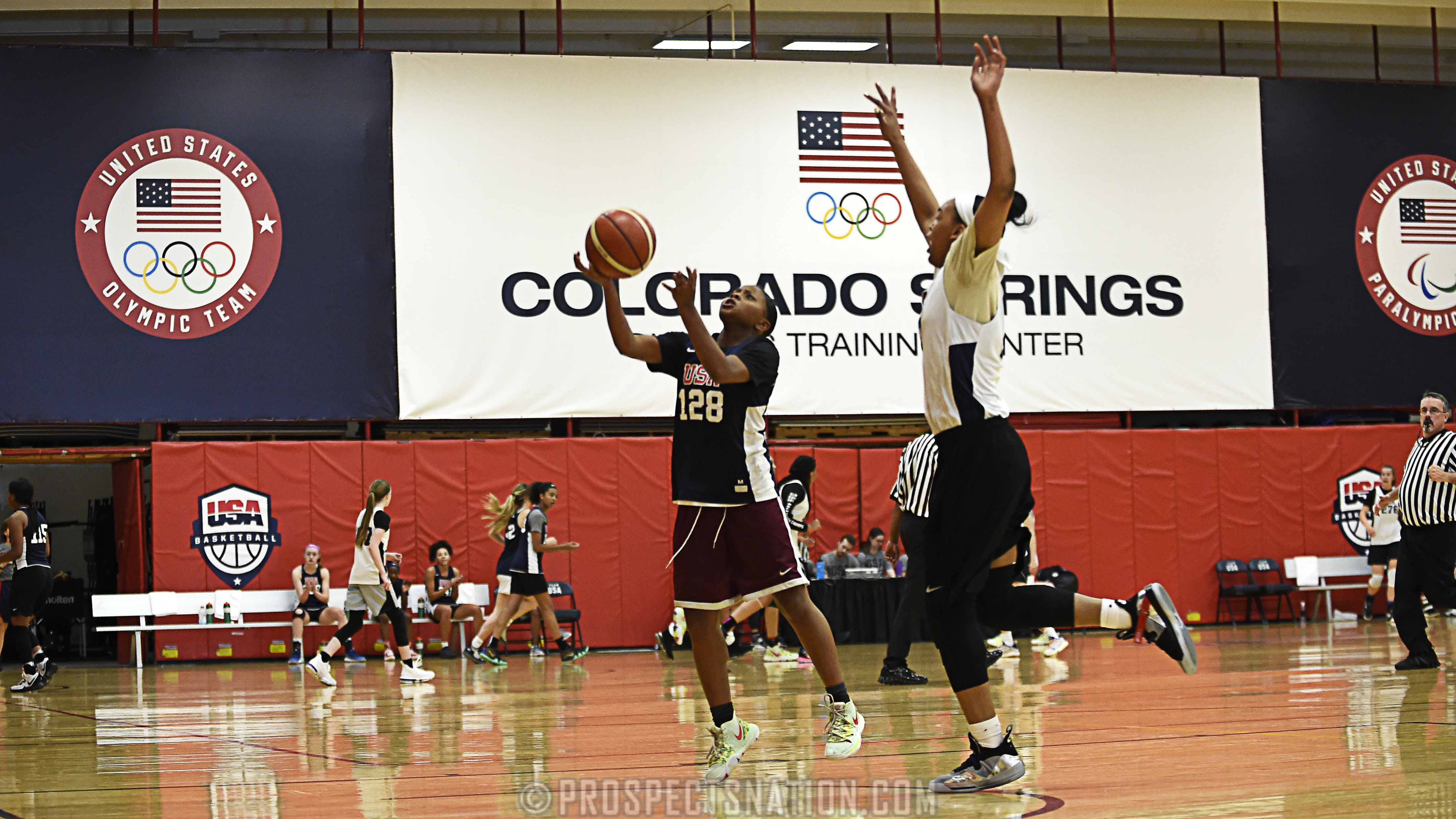 Londynn Jones outplayed her size in Colorado. *Photo
by Chris Hansen.Jones is very generously listed at 5 feet 6 inches on her USA Basketball profile. But rounding up her size now takes away from her ability to crust the stereotypes about small players. If Brook McCarty is 5-4 and in the WNBA then Jones doesn't need to be given any extra either. Her impact is what earn her a spot among the 18 finalists vying for just 12 spots on this summer's U16 national team that will travel to Chile in June for FIBA Americas. And she knows the talent at the guard spot means she's got to really dial in.
"Because there's a lot of good point guards here and I'm small," she said of the competition. "To be honest I have to really see this point guard is doing this. This point guard is doing that. What can I do different that they're not doing? So for me it was really picking up defense, lockdown defense, getting my team involved. Not even scoring. I feel like people know I can score so I need to show something different that they don't know I can do.
What was impressive about Jones' performance over Memorial Day Weekend was that she didn't try to overcompensate for her lack of size. She really just committed to being the best version of herself. She pressured the ball relentlessly. She stretched the floor showing her deep range and pushed the ball ahead in transition. Whether she makes the final cut on Thursday or not, she has proven to herself and anyone watching that she can impact the game while on the floor with elite competition.
Jones has a backup plan if her main goal, of playing professional basketball overseas, doesn't work out. She is interested in a modeling career or owning her own business. Just don't tell her that more than half of all models are over 5-6. If her determination on the basketball court is any indicator, she'd jump over those barriers as well.
"To be honest I just want to be successful," Jones said. "Like I want to go to college, get my degree, my masters. I want to play overseas. So that's really my main focus."
Focus seemed to be one of her best traits this past weekend. It has her in a great position.
"My main priority is to get where I'm supposed to be and make my family proud,"
Being proud of her performance in Colorado Springs should be no problem, whether she ends up making the team or not.

Chris Hansen is managing editor of ProspectsNation.com and serves on the McDonald's All-American and Naismith Trophy selection committees. He was a co-founder of and the national director of scouting for ESPN HoopGurlz from 2005 until 2012 and is the director of the Check Me Out Showcase and ELITE is EARNEDevents. He can be reached at chris@eliteisearned.com.