Ionescu Visits Oregon State
Posted
8 years 2 weeks ago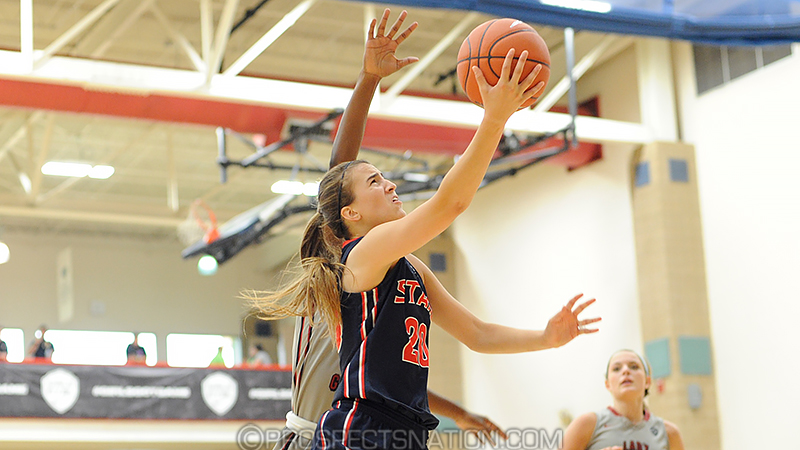 Sabrina Ionescu is ranked No. 3 in the 2016 class and is undecided with two days remaining in the early signing period. *Photo by Chris Hansen.
UPDATE 11-18-15: Ionescu has told ProspectsNation.com she will commit in the spring. She anticipates a commitment in April.
Sabrina Ionescu of Walnut Creek, Calif., the No. 3 ranked prospect in the ELITE 150, made an official visit to Oregon State this past weekend. It was the fourth visit for the 6-foot senior guard and was rescheduled from an earlier date this fall.
Ionescu has made official visits to California, Oregon and Texas as well. She eliminated Texas earlier this year. The five-star prospect still hasn't decided if she will sign before the early signing period expires on 18th.
Ionescu is a two-time USA Basketball gold-medal winning player, with the U16 and U17 national teams. She took this past summer off from USA participation to chase a club basketball championship on her Cal Stars team's EYBL circuit, which she succeeded in.
Current Classes
All three of her finalists have a need for Ionescu, not just because she is an elite talent, but because all three schools lack a primary ballhandler in their current hauls. Cal, Oregon and Oregon State have scored in the frontcourt, but adding an impact player such as Ionescu, who can play all three perimeter positions at an elite level would change all three classes.
Ionescu has a Cal Stars teammate on both Oregon and Oregon State's roster and time will tell if Mallory McGwire's presence in Eugene or Kat Tudor's in Corvallis will have any impact.

Chris Hansen is managing editor of ProspectsNation.com and serves on the McDonald's All-American and Naismith Trophy selection committees. He was the national director of scouting for ESPN HoopGurlz from 2005 until 2012 and is the director of the Check Me Out Showcase. He can be reached at chris@prospectsnation.com.