Ionescu Looking For Duck Dynasty
Posted
7 years 3 months ago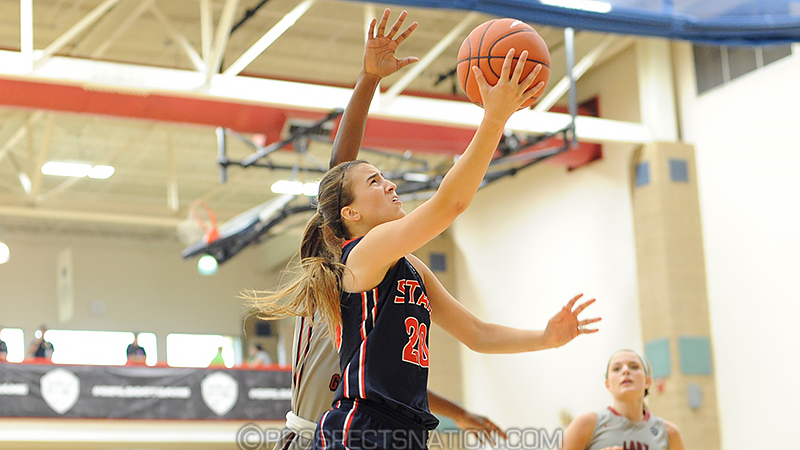 Sabrina Ionescu goes up for a layup en route to a 2015 Nike Nationals championship game win over the Indy Gym Rats. *Photo by Chris Hansen.
Sabrina Ionescu took her college decision down to the last possible day. It's just the way it was going to be all along. She chose Oregon over her finalist Washington today, with just enough time to start summer school next week.
Some have been hyper critical of the five-star guard from Walnut Creek, Calif., because no top five player in recent memory has taken the recruiting process down to the final hours. Players for both of her finalists had report to summer school the day after her announcement to be eligible for each school's foreign trips this summer.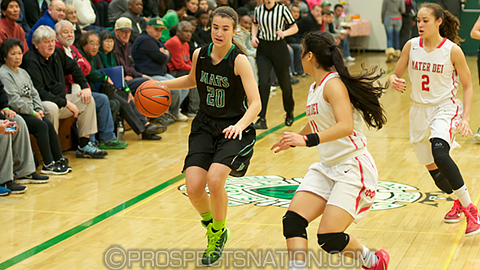 Sabrina Ionescu put Miramonte High School on the radar
nationally. *Photo by Chris Hansen.A lot of times kids that take their time in the recruiting process are labeled as "loving the process" but in this case, it was the polar opposite. Ionescu was one that loved to talk about basketball, schemes, styles of play, players and the like, but when it came to recruiting her, the more a school would pitch her, the less she engaged. And those that didn't understand her on that level, or simply lost patience with her process, were eliminated.
"I told everyone from the beginning I was going to wait and take my time, analyze every team and coach and make sure I made the right decision," Ionescu said shortly after signing her aid agreement with Oregon Sunday. "For those that pressured me and didn't believe in my process or those we didn't believe what I said a year ago, they didn't make it."
While much has been made about her timeline, now that it is reached its conclusion, her impact on the Ducks' program can't be ignored. Kelly Graves' program had the No. 16 ranked class nationally in the early signing period, by virtue of signing six players. The addition of a 6-foot combo guard who carries a five-star rating, one of just 10 players to earn that prospect grade, plus the development of four-star forward prospect Ruthy Hebard throughout her senior year, bodes well for Oregon's recruiting class to jump considerably.
Oregon led for the duration of Ionescu's recruitment. Early on the Ducks outlasted hometown Cal and the pull of the No. 1 player in the class, Joyner Holmes, and her attempt to lure Ionescu to Texas. Oregon State got a visit this spring while things heated up with Washington following its run along with the Beavers to the 2016 Final Four.
"Oregon has been the front runner since the get go," Kelly Sopak, who has coached Ionescu since she was in the fourth grade with the Cal Stars in addition to being her coach at Miramonte High School, said. "They have relentlessly pursued Sabrina at levels I had never witnessed in all of my years in the recruiting business. I think the opportunity to be the face of university and the go-to person from day one was very appealing to Sabrina. It is my hope and belief that Sabrina will live up to those lofty expectations that Oregon has for her and that in turn Oregon will deliver on all of the expectations she has for them."
The Ducks add a highly competitive leader who can play both on and off the basketball. Teaming Ionescu with returning sophomore point guard Maite Cazorla, who stands 5-10, gives the starting backcourt two players with a lot of length and savvy in their games.
The Ducks graduated All Pac-12 post Jillian Alleyne this spring but have signed four post players in this class to eventually fill those shoes. In the fall Oregon signed Mallory McGwire of Reno, Nev., Hebard of Fairbanks, Alaska, Sierra Campisano of San Diego, Calif., and Lydia Giomi of Seattle, Wash.
Oregon also signed four-star wing Jayde Woods of Yorba Linda, Calif., and four-star Australian guard Morgan Yaeger in 2016.
Other new faces to the roster include another Australian, Megan Trinder, a 5-7 guard who missed last season with a knee injury. She joined the Ducks after two seasons at Northeast Community College in Nebraska. The team will also add Purdue transfer Justine Hall, a 5-10 guard, to the roster when her mandatory redshirt period is complete. She will be eligible after the Christmas break.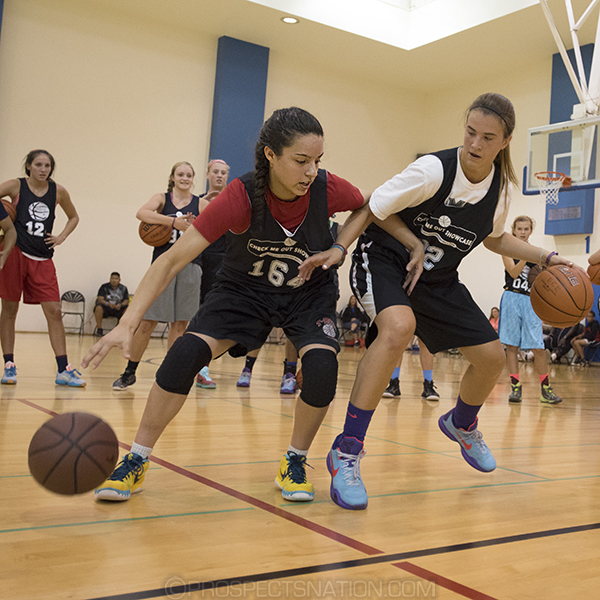 Sabrina Ionescu (right) battles fellow McDonald's All
American Amber Ramirez at the 2015 Check Me Out
Showcase in Seattle. Photo by Glenn Nelson.The new look Ducks will have a new leader at the helm in Ionescu. She has competed at the highest levels of the high school game. She played on two USA Basketball teams, won her Nike EBYL circuit championship with the Stars, was named MVP of the McDonald's All American game, while also being selected to the Jordan Brand Classic. She's a player that was never afraid of competition. She competed at two Check Me Out Showcases, both in NorCal and Seattle, in her career, after already receiving national ranking and acclaim because she loved to compete.
Her next challenge will be taking the Ducks back to the NCAA tournament for the first time since 2005. What could be a blessing and a real obstacle is the emergence of the Pac-12 Conference as a national power. But if anyone is up to the task it is Ionescu, who plays with a chip on her shoulder and loves to silence her doubters when she plays.
"I'm excited to join a team with great culture and bring an abundant amount of winning back," Ionescu said.
With a completely remade roster, time will tell if Ionescu can help Graves and his staff build a Duck Dynasty.
OREGON DUCKS 2016 RECRUITING CLASS

Chris Hansen is managing editor of ProspectsNation.com and serves on the McDonald's All-American and Naismith Trophy selection committees. He was the national director of scouting for ESPN HoopGurlz from 2005 until 2012 and is the director of the Check Me Out Showcase. He can be reached at chris@prospectsnation.com.