International Impact Freshmen
Posted
9 years 7 months ago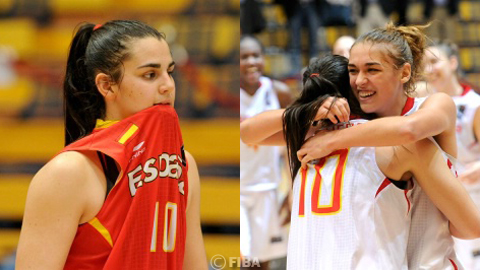 Spanish national team players Leticia Romero (left) and Adriana Pujol are among the top international players hitting the college courts this year. *Courtesy of FIBA.
Tweet
For the last couple of years our Prospects Nation staff has scoured the globe in search of the top international players. With the game of basketball becoming global, some of the best players in the world are foreign born and there is a rapid trend in college recruiting to mine the international ranks for impact talent. This upcoming season there are a handful of imports with the potential to make a name for themselves in their first year of college basketball. Here is a look at some of the names you should know as we release our first ever "International Rankings" for the class of 2013 here at Prospects Nation.
The No. 1 overall prospect in the freshman college class, Leticia Romero of Las Palmas, Spain, will play her college basketball at Kansas State. She picked the Big 12 school over Virginia Tech and Florida State last spring. Romero is a day one impact type of recruit for Deb Patterson and her staff as she has the ability to run a team and create offense. She has extensive international basketball experience, earning medals with the Spanish national team at both the European and World Championship levels.
One of Romero's teammates on the Spanish national team, Adriana Pujol of Barcelona, Spain, will suit up this season for South Florida. Pujol is a big wing with a great feel for the game. Her advanced skill set and creative approach to offense makes her unorthodox at times and difficult to guard in one-on-one situations.
Dayton has the best post player from outside of the United States in Saicha Grant-Allen of Tillsonburg, Ontario. Grant-Allen is a bit of a project skill-wise but her combination athleticism and size is virtually impossible to find. She has the ability to make an impact on the defensive side of the ball on day one and could be an All Conference type of defensive player by her senior season. Offensively, Grant-Allen likes to face the basket and has improved as an intermediate shooter, but look for her impact to be made defensively early on.
Another Canadian that will make an impact in college basketball this season is Emily Potter of Winnipeg, Manitoba. Potter was the starting center for the Canadian U17 World Championship team that won a bronze medal. She is a skilled post player with a traditional back to the basket game. As she gains experience and matures physically she could be a potential double-double type contributor for Utah.
Check out the ProspectsNation.com ELITE INTERNATIONAL 25, ranking the players starting their freshmen year in college this year: ELITE I25 Follow @KeilMoorePSB

Moore is the Director of Scouting for the JumpOffPlus.com National Scouting Report and international scouting report. He has been a member if the women's basketball community for more than six years as a trainer and evaluator. He can be reached at keil@prospectsnation.com.