Posted
7 years 2 weeks ago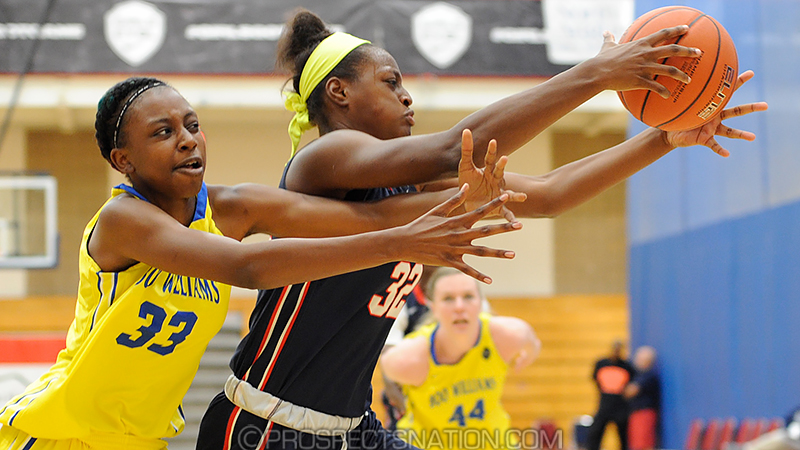 After a terrific summer Joyner Holmes put herself in the discussion for the No. 1 overall spot in 2016. *Photo by Chris Hansen.
Texas coach Karen Aston and her staff received great news on Friday night when they earned a verbal commitment from No. 3 Joyner Holmes of Cedar Hill, Texas. Holmes, a 6-foot-2 hybrid forward picked the Longhorns over other finalists Notre Dame and Tennessee.
The sky is the limit for Holmes and what she could be during her career at Texas. She is possibly the most dynamic athlete in the class and a potential match-up nightmare at the next level. When she is focused and playing with effort she has the ability to be both an impactful defender and a consistent scoring threat. This summer we saw Holmes take a major stride as a player. She was on a mission from start to finish and it allowed her to leave a lasting impact on the summer circuit.
When you look at what the addition of Holmes will mean for Texas, she could potentially be the queen on the chessboard. They have a roster full of talent in Austin and have done an excellent job improving the roster, recruiting both the State of Texas and nationally. In the 2014 class Texas was able to land No. 2 overall Ariel Atkins and now with the addition of Holmes the Longhorns have a second top five prospect headed to campus. Pairing Atkins and Holmes on a roster that will include talented guards and athletic and versatile posts could be the making of a Final Four contender.
Texas isn't done either as Aston and Company are finalists for top five caliber guard Sabrina Ionescu of Walnut Creek, Calif.
Texas already has verbal commitments from four-star prospects Alecia Sutton of Florissant, Mo., and Jada Underwood of Mesquite, Texas. If the program can add Ionescu into that fold it could potentially contend for the No. 1 class overall in 2016.
Keil Moore is the Director of Scouting for the JumpOffPlus.com National Scouting Report and international scouting report. He serves on the Naismith Trophy Board of Selectors and has been a member of the women's basketball community for more than eight years as a trainer and evaluator. He can be reached at keil@prospectsnation.com.