Posted
4 years 1 month ago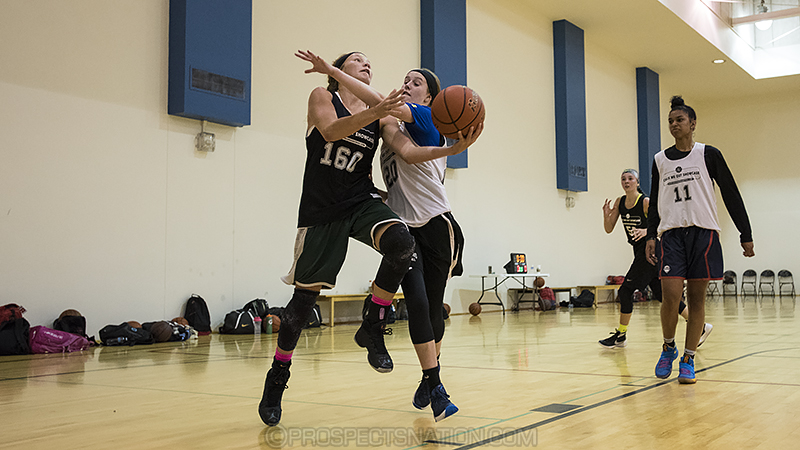 Grace Sarver has competed against top competition across the country at events like the Check Me Out Showcase and with her club program coached by Maurice Hines. *Photo by Glenn Nelson.
Washington State adds Class of 2019 guard Grace Sarver of West Seattle High School (Seattle, Washington). Newly hired coach Kamie Ethridge has made an early commitment to recruit the top players inside of the Emerald City. Landing Sarver just days after offering her a scholarship will go a long way to assist with that cause.
#CommitmentCentral via #BrandonClayScouting

The new Washington State staff has made recruiting the state a priority.

It's paid off right away in the form of Grace Sarver.

Sarver is one of the hardest workers in '19.

CLUB COACHES JOIN US IN JULY: https://t.co/Jow0Z53ZU3 pic.twitter.com/mcJ3Ya75Dj

— Brandon Clay (@BrandonClayPSB) May 24, 2018
MY TAKE: Sarver is a talented guard who might not have a specific specialty but is a jack-of-all-trades type of option at the guard spot. For the Cougars, I expect her to be the consummate glue kid on the perimeter capable making everyone on the roster everyday with her energy and work ethic. If Sarver can show the ability to shoot the 3-pointer in the low to mid 30's, her production level goes up another notch as a result.
#CommitmentCentral

ELITE 150 G Grace Sarver commits to @WSUWomensHoops

One of our regulars at #CheckMeOutNATION and #ELITEisEARNED events and one of the most coachable kids we've had. Congrats!

PN Profile: https://t.co/qMGAn7KGuU pic.twitter.com/oLB8vR4aPt

— Chris Hansen (@ChrisHansenPSB) May 24, 2018

Brandon Clay serves as the WNBA Director of Scouting for ProspectsNation.com and owns The JumpOffPlus.com International Report, which is picked up by more than 150 colleges and universities nationwide. He serves as the Executive Camp Director for the Elite Basketball Academy Camps. He serves on the Naismith Trophy Men's / Women's College Player of the Year Academy and is chairman of the HS Boys / Girls Board of Selectors and is on the McDonald's All-American Selection Committee. He also is the publisher of PSBPopCulture.com.