Gondrezick, Pivec, Ryan among 2016 risers
Posted
7 years 12 months ago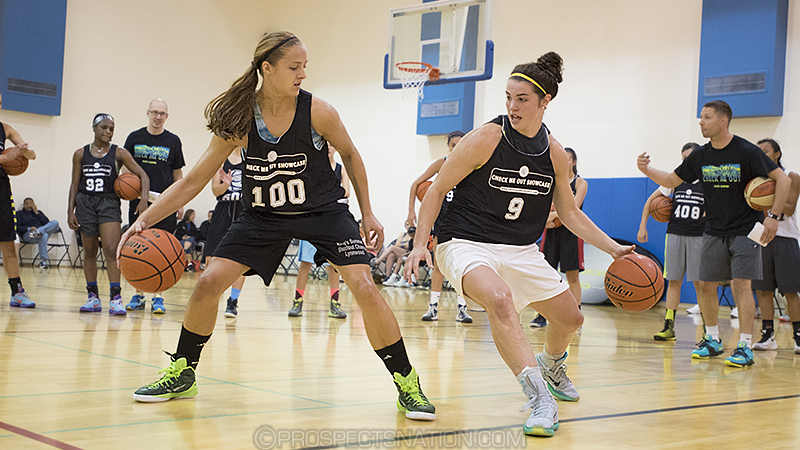 Mikayla Pivec and Robbi Ryan were among the big risers in the 2016 player rankings after battling on the national stage this summer. *Photo by Glenn Nelson.
The senior class has finished the last phase of the club ball portion of their journey. After hundreds of thousands of air miles the ProspectsNation.com Ranking Committee has expanded the 2016 player rankings to the ELITE 150.
The initial release includes 26-150 with the top 25 set to be released Thursday.
One of the biggest risers in the 2016 class is Kysre Gondrezick of Benton Harbor, Mich. The 5-foot-9 combo guard excelled playing more point this summer with new club team Michigan Crossover. While her ability to score is still a big part of her game it was her savvy and passing that elevated her game to a new level, moving her up to No. 35 in the country.
In the post there are few that can say they showed more growth than Oregon commit Mallory McGwire of Reno, Nev. The 6-3 interior player had the benefit of playing for a loaded Cal Stars program but her intensity and assertiveness took a big step forward this summer and saw her crack the top 40 at No. 38.
Both Mikayla Pivec of Lynnwood, Wash., and Arizona State commit Robbi Ryan of Sheridan, Wyo., have been both nationally ranked and targets of power conference schools for some time but this summer, their final stanza on the circuit was impressive, showing leadership and intangibles on top of their talent. Both have a toughness that allows them to maximize their physical gifts.
Brittany Brewer, like McGwire, is a post that used the summer to prove she has taken strides towards being a consistent impact player on the interior. Her ability to score inside as well as face up is coveted at the next level and it is that versatility Texas Tech will look to use early in her career.
A player that reclassed to 2016, Arella Guirantes of Bellport, N.Y., had a terrific summer where her poise and size on the perimeter allowed her to score the ball as well as anyone.
Four players previously unranked in the ELITE 100 earned spots in the top 70 – No. 64 Peyton Williams, a 6-3 post from Topeka, Kan., who is committed to Kansas State; No. 65 Madison Washington, a 6-1 forward from Las Vegas, Nev.; No. 66 Jensen Caretti, a 6-1 wing from Hannibal, Ohio; and No. 70 Jocelyn Jones, a 5-11 wing from Richmond, Va., who has committed to North Carolina.
PROSPECTSNATION.com RANKINGS PANEL
Brandon Clay serves as the WNBA Director of Scouting for ProspectsNation.com and owns The JumpOffPlus.com International Report, which is picked up by more than 150 colleges and universities nationwide. He serves as the Executive Camp Director for the Elite Basketball Academy Camps. He serves on the Naismith Trophy Men's / Women's College Player of the Year Academy and is chairman of the HS Boys / Girls Board of Selectors.
Chris Hansen is managing editor of ProspectsNation.com and serves on the McDonald's All-American and Naismith Trophy selection committees. He was the national director of scouting for ESPN HoopGurlz from 2005 until 2012 and is the director of the Check Me Out Showcase. He can be reached at chris@prospectsnation.com.
Jonathan Hemingway is the Assistant Director of Scouting for the JumpOffPlus.com National Scouting Report, is on the Naismith Trophy Board of Selectors and owns CoachHemi.com, the go-to source for coaches for X's and O's. He is the floor director of #TeamEBA camps, a site director for #TeamPSB tournaments and can be reached at jonathanhemingway@peachstatebasketball.com.
Keil Moore is the Director of Scouting for the JumpOffPlus.com National Scouting Report and international scouting report. He serves on the Naismith Trophy Board of Selectors and has been a member of the women's basketball community for more than eight years as a trainer and evaluator. He can be reached at keil@prospectsnation.com.
Stephen Peck is the owner of Dream In Motion Athletics and is a national evaluator for the JumpOffPlus.com National Scouting Report. He also serves as a on-floor skills coach at the Elite Basketball Academy events. He can be reached at StephenPeck@peachstatebasketball.com.
Wetmore joined ProspectsNation.com in the summer of 2014 after graduating from the University of Washington with a Communications degree. She left Washington as the all-time leader in games played and also played with the softball team in the College World Series. She was the Gatorade State Player of the Year her senior year in high school capping off a career which included three state titles. She can be reached at mercedes@chrishansenbasketball.com.