Gamecocks Land Rivers, Feagin
Posted
2 years 9 months ago
Landing one top 10 player is usually cause for a major celebration so imagine Dawn Staley's excitement when she received pledges from two, this week.
Saniya Rivers, a 5-foot-10 guard from Wilmington, North Carolina, was joined days later by Sania Feagin, a 6-3 forward from Ellenwood, Georgia.
Rivers came out of her junior high school season at Ashley High School ranked No. 2 in the 2021 class, while Feagin, a Forest Park High School product, is No. 9 in the country.
Rivers brings athleticism and playmaking to both backcourt positions. Long term, she projects more as a scorer who can also create off the bounce. She's one of the more creative scorers in the class nationally with a penchant for putting the ball in the basket early and often. Rivers is a unique prospect with plenty of natural talent.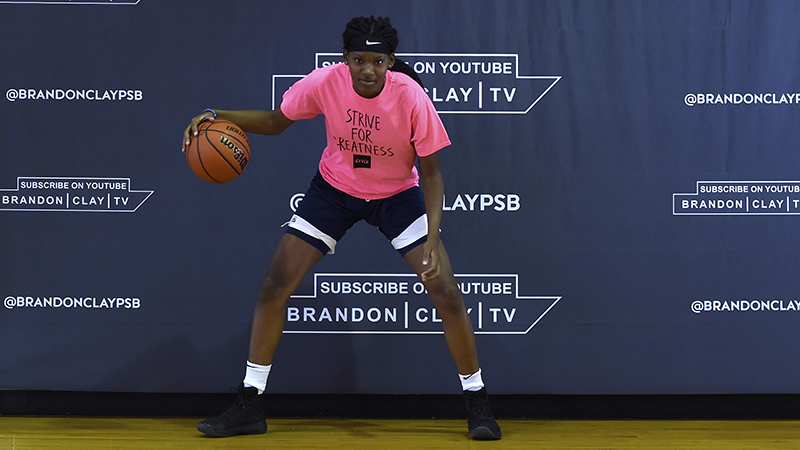 Sania Feagin at the 2019 BCS Select 24 Training
Academy. *Photo by Chris Hansen.Feagin will bring a diverse offensive vibe to Columbia that will remind Gamecock faithful of Joel Embiid with her skill to even shoot the open 3-pointer. Feagin routinely blocks a shot, corral the loose ball and then handles in the open floor. She is also an elite rebounder and has leaned up while stretching out over the course of her HS career so far.
The pair of commitments this week leaves just one player from the top 10 left undecided, No. 1 overall Azzi Fudd of Arlington, Virginia. The duo also puts South Carolina in elite space in the recruiting class, joining Connecticut and Texas as the only programs with two top 10 commitments to date. The Huskies have verbals from No. 3 Amaria Deberry of Williamsville, New York, and No. 6 Saylor Poffenbarger of Middletown, Maryland, while Texas has commitments from No. 5 Rori Harmon of Houston, Texas, and No. 8 Aaliyah Moore of Moore, Oklahoma. South Carolina also has a commtiment from No. 52 Aubryanna Hall of Dayton, Ohio, in the class.
In the race for the mythical recruiting championship Connecticut has a lead with the addition of No. 23 Caroline Ducharme of Milton, Massachusetts. Both South Carolina and Texas could still make a push for the top spot, as could Notre Dame. There's just enough left on the board in 2021 to make it interesting with Fudd being the biggest factor.

Chris Hansen is managing editor of ProspectsNation.com and serves on the McDonald's All-American and Naismith Trophy selection committees. He was a co-founder of and the national director of scouting for ESPN HoopGurlz from 2005 until 2012 and is the director of the Check Me Out Showcase and ELITE is EARNED events. He can be reached at chris@prospectsnation.com.

Brandon Clay serves as the Director of Scouting for ProspectsNation.com and owns The BrandonClayScouting.com Evaluation Report, which is read by more than 200 colleges and universities nationwide. He also serves as the Executive Skills Director for the Brandon Clay Scouting Academy Series.