First Look: May Day Challenge
Posted
1 year 2 months ago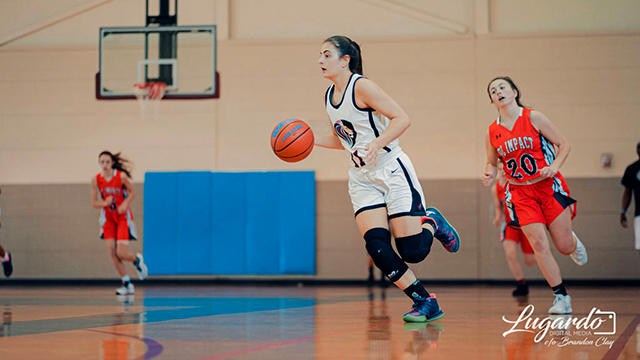 Anna Conza of Marietta, Georgia, is showing major growth since last fall when we saw her at the ProspectsNation.com National Training Academy. *Photo by Anthony Lugardo.
BUFORD, Georgia - The Brandon Clay May Day Challenge was loaded with some of the region's premier teams including several familiar faces currently enrolled in our Brandon Clay Recruiting members and Brandon Clay Training participants. Here's a look back at some of the players and programs on hand who caught our eye:
Class of 2022 forward China Jenkins of SWFL Trinity Premier was impactful throughout the weekend. Jenkins played with both an energy and pace that is hard for opponents to counter for an entire game.
Class of 2022 guard Ellie Kinlaw of DL Impact is a shooter's shooter. She's a tough weapon from the outside who comes from a family full of ball players.
Class of 2023 guard Anna Conza of FBC BLACK FUTURE is coming into her own. It's evident that the Brandon Clay Recruiting Program member is seeing the game slow down and start to get a little easier as a result. She'll make several college campus visits this June.
Class of 2023 forward Queen Adams of Georgia Pearls National represents the next wave of talent for Josh Goshay and Darlene Norris. Adams made a couple of nice plays in transition during their game on Sunday morning.
Class of 2023 forward Haley Lang of SWFL Trinity Premier came a long way ready to show and prove. Our staff liked the fact that Lang can stretch the floor with her outside jumper from beyond the 3-point line.
Class of 2024 guard Aaliyah Anderson of DL Impact has proven herself to be a worthy lead guard for Emma Easterwood's team. Anderson keeps improving with each tournament playing a large role in a big win on Saturday afternoon.
Another Class of 2024 guard who keeps improving is Malaya Jones of FBC BLACK NXT GEN. Jones has been in the pipeline for a couple of years already and is still showing signs of upside left to come.
Class of 2024 post Clarissa Winfrey of D. Shine Lady Grinders was a new name on the radar this weekend. She finished well on the inside in a tough matchup on Saturday.
Class of 2024 forward Alyssa Green of FBC BLACK FUTURES made one of the nicest plays of the weekend in the final game on Sunday. Green took the ball the length of the floor through traffic making a tough, contested layup to complete the play.
Class of 2025 wing Megan Ohonde of Georgia Pearls Future proved that she's an up-and-comer in the Peach State. She was able to make shots in some really competitive games.
Keep an eye on Class of 2025 post Kyla Levester from Bostic Next Level. She's up next in a pipeline of talent from Central Georgia.
Class of 2026 guard CoCo Randolph of Lady Monarchs was on point for her team. From start to finish this weekend, Randolph showed the type of growth our staff likes to see out of young floor generals.

Brandon Clay serves as the Director of Scouting for ProspectsNation.com and owns The BrandonClayScouting.com Evaluation Report, which is read by more than 200 colleges and universities nationwide. He also serves as the Executive Skills Director for the Brandon Clay Scouting Academy Series.