First Look: FNL Austin 2021
Posted
1 month 2 weeks ago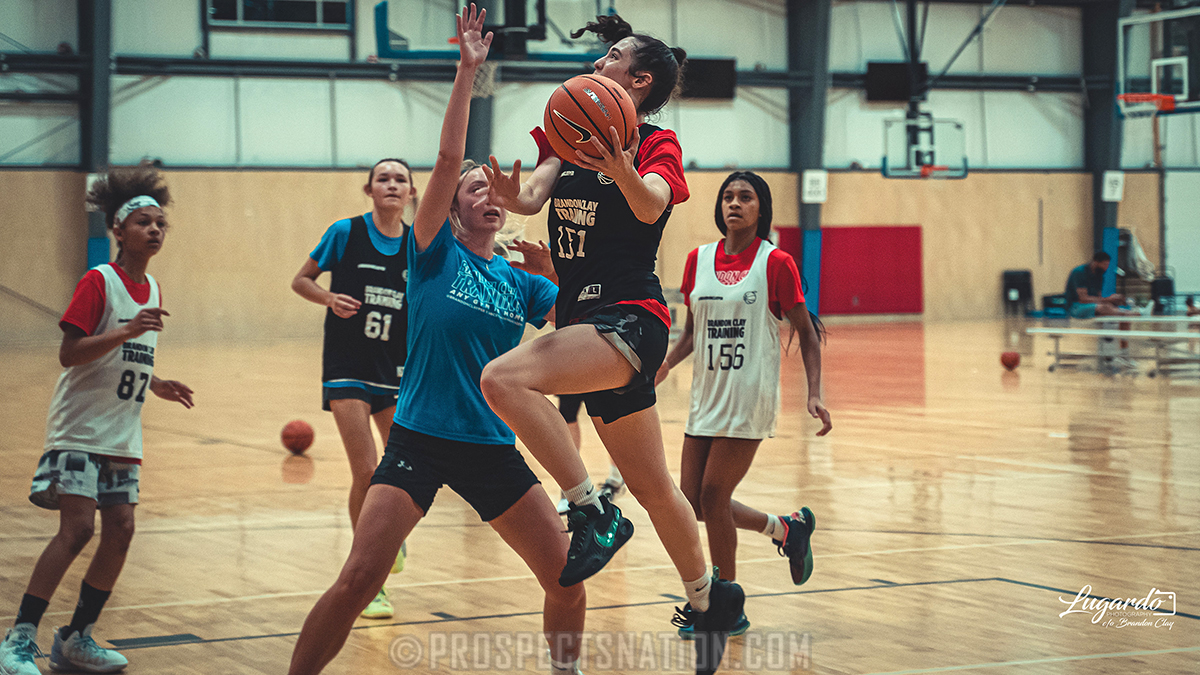 Jenna Villa of Arlington, Washington, competes at Friday Night Lights in Austin, Texas. *Photo by Anthony Lugardo.

AUSTIN, Texas – Friday Night Lights is an ideal opportunity for some of the country's top prospects to get together and train in a college team practice like setting before the start of an Elite Is Earned x Brandon Clay Training Academy weekend. With girls from multiple regions on hand for this weekend's version, the stage was set for elite level development and instruction. Here's a look at what our staff saw:

We worked with Bennett in Seattle earlier in the year and left impressed with the baseline for the eighth grader. She will immediately become more effective as she grows in her willingness to communicate what she's seeing on the floor. That said, Bennett showed real time growth as a catch and shoot threat on the perimeter. At the high school level, that will be an area where our staff expects Bennett to thrive early in her career.
Aliyah Carter (Austin, TX), Hendrickson High School - 2023
In this setting, Carter showed a nice combination of bounce in her legs and skill in her game. There aren't a ton of guards who are willing and able to post to score then make a play attacking the lane downhill off the dribble. Carter is definitely capable of doing just that. In that regard, she has a chance to be a tough matchup. That ability will only be enhanced by adding a consistent 3-pointer to her repertoire.
The growth in Forestier's game over the past 12 months in easily noticeable. Like most high end young scoring guards, she is going to be an even more dangerous threat as she gets good in real time at determining whether she should make one more pass or take the scoring opportunity herself. Forestier has the length, skill demeanor to be one of the Lone Star's top guards in the class.
Kelsie Hawkins (San Antonio, TX), Reagan High School - 2022
Hawkins is quick guard who is not afraid to take the big shot at any moment. She hit a tough jumper to end the session with a hand up in her vicinity. In that regard, Hawkins proved how difficult of a matchup she can be despite her frame. She's a tough competitor who has the handle to serve as a lead guard at the next level.
McDermed's game is so smooth. She is always under control playing with the poise of a grizzled veteran. Like so many high school prospects, McDermed is just now starting to find her voice on the floor in game and seemed much more comfortable leading the offense with her talking than she was here in Austin last summer. As she keeps filling out physically, expect even more consistency on her jumper.
Madison McKinnon (Fredericksburg, TX), Fredericksburg High - 2024

For our first time together in the gym, McKinnon was fantastic as a lot was thrown her way in this two-hour team practice setting. It's evident from the jump that she's going to put the effort in to keep developing both her left hand on the point as well as her quarterbacking skills as a PG1. McKinnon has the range on her jump shot to be a threat out past the 3-point line based on what we saw here.

Ott's game has progressed quite nicely since our session in Austin in 2020. She has the moxie to be a consistent threat scoring the ball and can continue to progress her game as a ball handler too. Ott has proven to our staff that she's more than willing to put the time and effort in that it takes to be a factor on both ends of the hardwood.
Rece Prater-Merrill (Cedar Park, TX), Cedar Park High - 2022
It's tough to find modern day frontcourt prospects who are willing to post to score or create must double team scenarios for the defense. Prater-Merrill did just that here with her presence in the paint and on the low block. In time, she will become a more comfortable finisher on the interior as she gets stronger to finish through contact. On the perimeter, Prater-Merrill has the ability to be serviceable there as well as a pick and pop option in the Pick and Roll game.
Ramsey Robledo (San Antonio, TX), Clark High School - 2023

Robledo's game really jumps off the page in a smaller setting like this one. She has the qualities to truly be a do-it-all type at the guard spot. Robledo has the toolbox to both serve as a shot maker and a play creator in the right system. Her willingness to communicate will be a separator as she grows more comfortable in that role.
Laci Steele (Edmond, OK), Edmond North High - 2023
This was our staff's first chance to work with Steele. She has the size and length that schools covet on the perimeter. Her activity on the defensive end also caught our staff's attention. As she continues to build upon her skill in elite training sessions like this one, Steele is capable of playing the game at a high level over time.

Villa has grown into a premier shot making option on the West Coast. What she lacks in explosiveness off the bounce, she more than makes up for with her ability to play the game. Villa can stretch opposing defenses with her outside shooting after the kick, post to score then come off of a flare screen all in a three to four possession sequence.

Brandon Clay serves as the Director of Scouting for ProspectsNation.com and owns The BrandonClayScouting.com Evaluation Report, which is read by more than 200 colleges and universities nationwide. He also serves as the Executive Skills Director for the Brandon Clay Scouting Academy Series.