Posted
1 year 5 months ago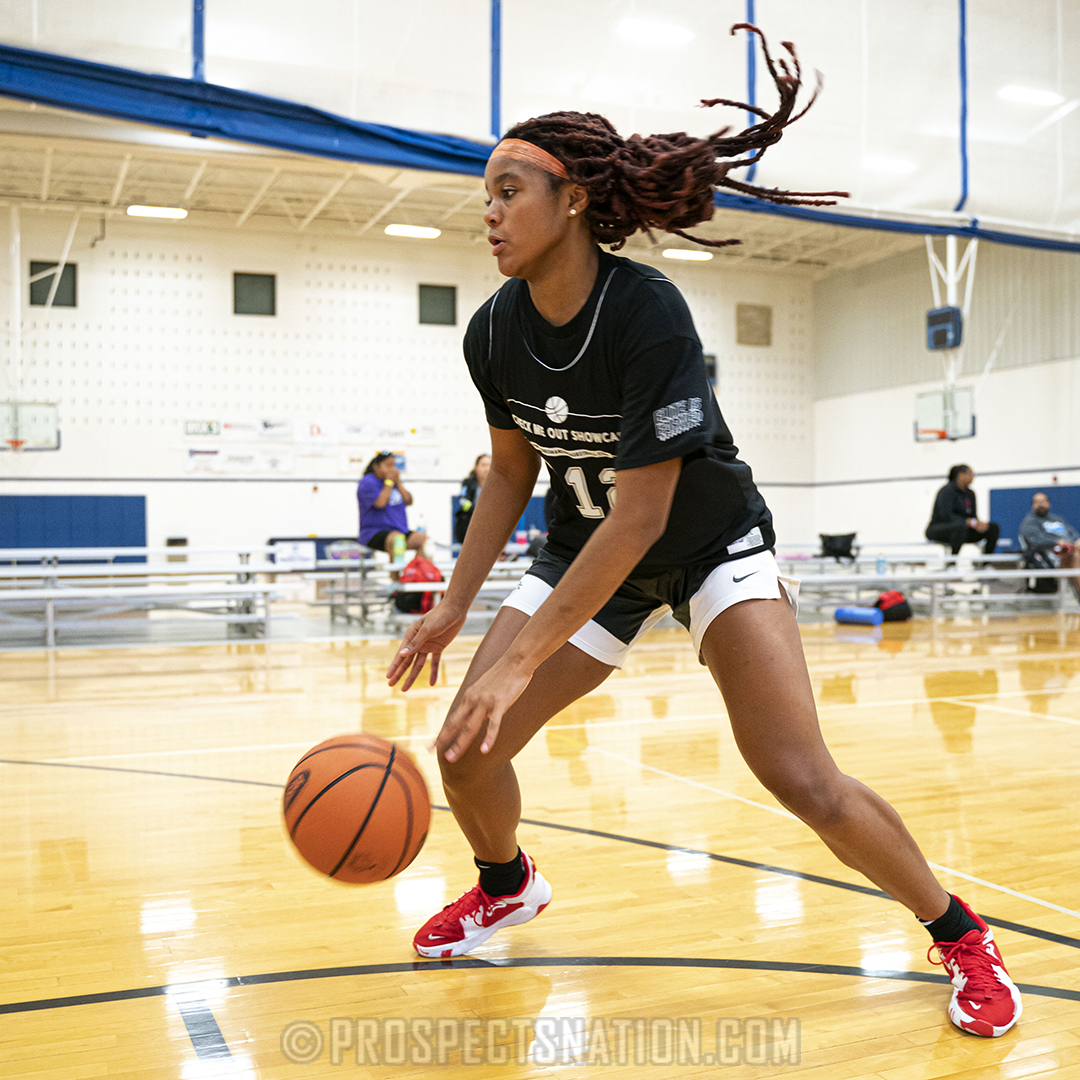 ZaKiyah Johnson of Shelbyville, Kentucky, is one of the nation's top 2025 prospects. *Photo by Eliteye Media.
NOBLESVILLE, Indiana – The 2022 Check Me Out Showcase camp tour, hosted by Elite Is Earned Basketball, is off and running. This past weekend the event made its first ever trip to the Hoosier State, drawing talent from nine different states.
The field was loaded with players in the conversation at the tops of their respective classes but beyond those players, the depth of talent and locked in focus, top to bottom, created a truly elite environment. While not always major emphasis at camp, the elite players in the building playing tough on the defensive end was a clear separator. Here's a look at some of the kids making waves.
Grant, the early North Carolina commit stood out from the beginning of camp with her energy. She attacks drill work and breakdown work with game-like intensity. When the game play got rolling, especially in Sunday's 5-on-5 action, her ability to score the ball from long range and get into the paint was on full display.
Johnson is a player we've seen play at least a dozen times against elite competition. Her skill set for a swing player is very impressive. She can adapt to different styles of play and be incredibly effective and she's a player that is up for guarding the other team's best player too without hesitation. Her ability to play the big in a small lineup or the wing in a big lineup stood out in a camp setting where teammates and competition change hour to hour.
This 5-6 spark plug was flying around from the first second of camp to the end. She really stands out with her fearless style and ability to break defenders down. While on the smaller size she gets to her spots so quickly and can elevate and score in the air. She puts a lot of pressure on defenses as a whole as she can create for herself and find teammates when help comes scrambling.
Poole is lightening quick with and without the basketball. This 5-6 point guard has a first step that allows her to punish any defender missteps immediately. She comes out of her hesitation move like a rocket. She showed a score-first mentality here but took coaching on creating for others and made progress on the fly which was great to see. She also made quite a few second effort plays that got her team extra possessions.
It's been a few years since we were on the floor with Wilson but her big energy and natural leadership ability jumped right back out. She lifts the entire gym up. But her impact is not limited to intangibles – the kid can play. She has a shift to her game that kept getting defenders to lean and allowed her to create often. The 5-7 point guard's competitiveness showed throughout the weekend.
Amirah Jordan (Louisville, Kentucky), Nike Lady GymRats – 2027
That's not a typo, Jordan is a 2027. The 5-6 guard has an extra gear not everyone has. She's quite on the floor vocally but her game speaks loudly. Whether she's attacking off the dribble or elevating over a 6-2 forward to battle for a rebound, she lets you know she's on the court often. If she adds the vocal leadership piece over time she's going to be on a lot of people's lists.
Lampley is in the mold of the new hybrid wing-forward. The 6-2 prospect has elite length and agility yet playing off of her is bad business because she can really shoot it from range too. As has been the theme of the players standing out on the weekend, Lampley was a force defensively, on the glass and was a fierce competitor.
They we're HOOPING in Indy this weekend!#ELITEisEARNED#CMOindy pic.twitter.com/gxzO5eYoda

— Chris Hansen (@ChrisHansenPSB) June 5, 2022
AROUND THE RIM
Angelina Pelayo of Louisville, Kentucky is a 6-2 rising sophomore forward who has a smooth way about her. She uses her strong frame and doesn't let the defense dictate pace.
The twins, Hailey and Olivia Smith of Fishers, Indiana, were only with us for a day due to the state all star game but they sure made their presence felt. They both flew around the court on both sides of the ball. They impacted every part of the game as big guards with bigger energy.

Chris Hansen is managing editor of ProspectsNation.com and serves on the McDonald's All-American and Naismith Trophy selection committees. He was a co-founder of and the national director of scouting for ESPN HoopGurlz from 2005 until 2012 and is the director of the Check Me Out Showcase and ELITE is EARNED events. He can be reached at chris@prospectsnation.com.