FIBA U17: Australia Bests USA In Spain
Posted
6 years 11 months ago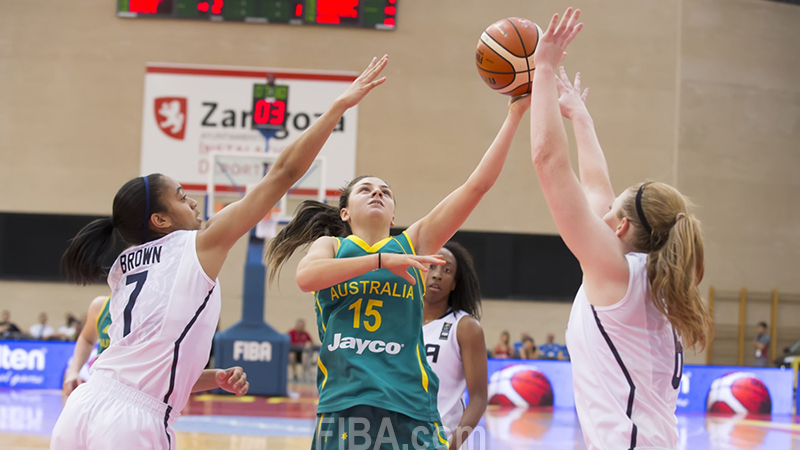 Monique Conti (15) had 10 points, 3 assits and 3 rebounds in Australia's 73-60 semifinal win over the United States in the 2016 FIBA U17 World Championships For Women in Zaragoza, Spain. *Photo courtesy of FIBA.com.
ZARAGOZA, Spain – For the second year in a row the USA U16/U17 team has failed to reach the gold medal game. In what can only be seen as a major disappointment for a team that was on paper the sure favorite to win a gold medal, the United States can only begin to reflect on what decisions were made to get us here and what we can do in the future to improve the process.
The Game
While the United States certainly struggled to defend a well-organized Australian half-court offense, the stat that sticks out the most is the 31-percent shooting performance that the United States posted from the field. Struggling to manufacture quality offensive looks and forced to try to speed the game up in a hope to get easy baskets, the United States saw itself in the ever-precarious position of struggling to score while also struggling to defend.
Standout Players
It wasn't all bad for the United States. Class of 2018 post Olivia Nelson-Ododa had a great showing in the semifinal as she managed to record 17 points and 10 rebounds all while taking just eight shots from the field. Along with Nelson-Ododa, Janelle Bailey, a class of 2017 grad, scored 10 points and pulled down 11 rebounds. Two strong stat lines from the starting frontcourt members of the team.
Australia's Standouts
This U17 Australian team is loaded with college prospects and as the months pass and we get closer to 2017 and 2018 signing days we will surely cover more of them. Two Aussies of note were Jazmin Shelley and Ezi Magbegor. Shelley, who we graded as a four-star recruit in April, led all scorers with 23 points while also managing 8 rebounds and 5 assists. Magbegor had a double-double with 10 points and 10 rebounds before fouling out.
Looking Forward
Tomorrow, Australia will play Italy for a gold medal. Both sides are in the running to win a first medal of either kind at a U17 World Championship, but specifically the gold as the United States is the only country to win a gold before 2016.
For the United States, it is a bronze medal clash with China that remains on the slate.

Keil Moore is the Director of Scouting for the JumpOffPlus.com National Scouting Report and international scouting report. He serves on the Naismith Trophy Board of Selectors and has been a member of the women's basketball community for more than eight years as a trainer and evaluator. He can be reached at keil@prospectsnation.com.