Featured Player: Mychal Johnson
Posted
11 years 1 month ago
Mychal Johnson of Huntington, W.Va., is one of the nation's top guard prospects in the class of 2014. The two-time Elite Basketball Academy (2011 & 2012) All-American has offers from most of the power conference schools up and down the eastern seaboard.
Vitals
Name: Mychal Johnson - Grad Year: 2014
Location: Huntington, W.Va. – School: St. Joseph's
Current Position: PG/SG – Projected Position: PG/SG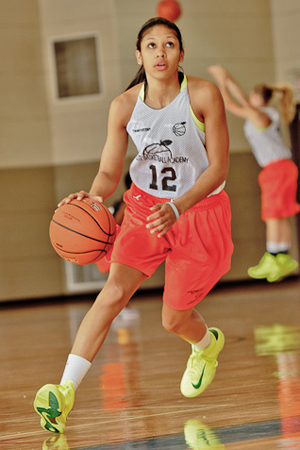 '14 ELITE 60 guard Mychal Johnson.
*Photo by Ty Freeman.
Strengths
Johnson has turned herself into one of the nation's top guards in the junior class with her unique ability to make shots and set the table for her teammates. Those traits along with her athleticism on both ends and a willingness to defend have schools from all over the country lined up to get a verbal commitment from her. Johnson's efficiency might be the most impressive part of her game right now. She impacts games offensively without needing a large volume of shots to do so by hitting quality shots from all angles and distances.
Area To Improve
After getting noticeably stronger over the past twelve months, Johnson can continue to work on that aspect of her off-floor game. She's taking contact and finishing now even on the inside. That said, she'll have to take one more step to be able to be an impact option on day one at the elite college level two falls from now.
The Bottom Line
Johnson's stock has risen more in the past twelve months more than any other player in the class who started off as top 100 caliber prospect. She's now a legit first cut guard in one of the deeper guard classes in recent memory. With schools from every power conference in play for her services, look for the two-time Elite Basketball Academy All-American to have a legitimate chance to be both a McDonald's and WBCA All-American as well.
#ProspectNationTV: Brandon Clay takes a look at Elite Basketball Academy camper and ELITE 25 prospect Mychal Johnson's game:
Follow @BrandonClayPSB