Feature Players - Texas - Part II
Posted
7 months 3 days ago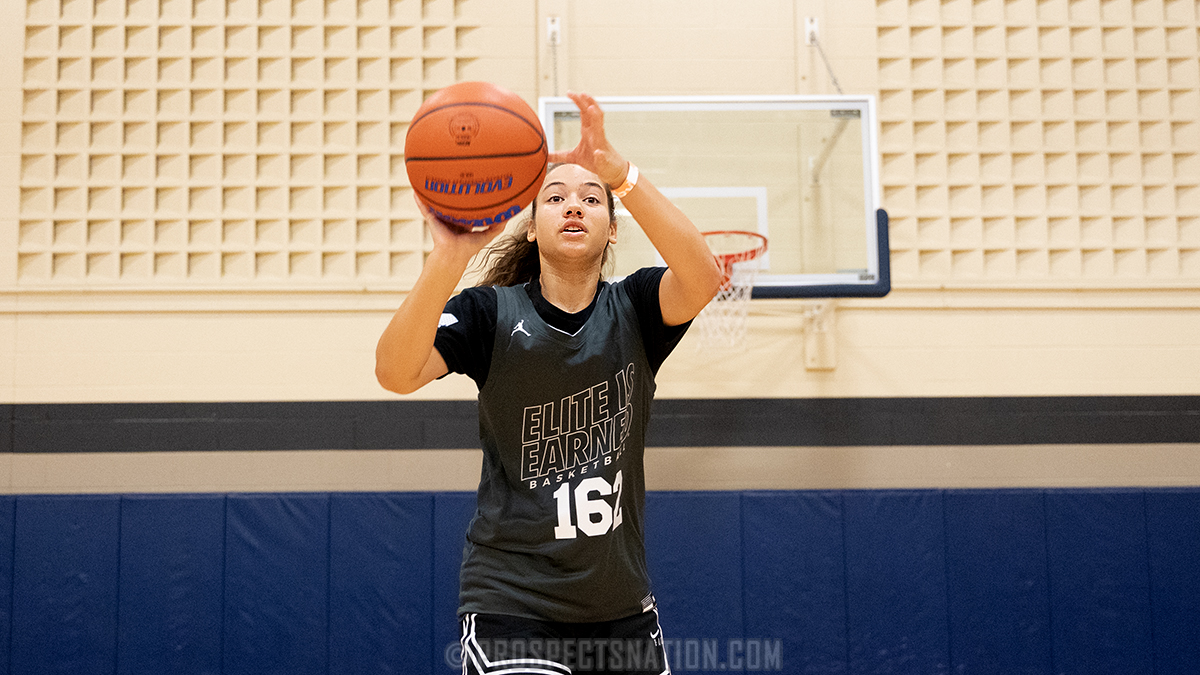 Jazlyn Bowman is a 2026 finding her voice and the Floridian showed well in Texas at Elite Is Earned. *Photo by Chris Hansen.
CARROLLTON, Texas – The Elite Is Earned national camp series made it's stop in Texas over the weekend. The 100 athletes from 10 different states made it to the Greater Dallas Area for a weekend of training and competition. With four McDonald's All American voters on the floor and multiple national scouting services in the building, there were opportunities to grow exposure in addition to the intense on floor work.
Our second look at the weekend focuses on the Feature Player Training Session. This brought a small group session ahead of the full camp session where we get a closer work at their games.
Reid has a terrific weekend from beginning to end. Her motor, athleticism and tenacity made her a standout both in the Feature Player Training session and the full camp. She was always around the ball and making plays.
It's been a couple of years of having Sanger at camp and the big jump is happening right now. Her confidence, strength, ball skill are all hitting at the same time. She's a player we trust with the ball to make great reads and decisions.
The word that comes to mind with Sonday is poise. She's a kid we've worked with in the past and her experience in these camp environments shows. She has the toughness to step up to any challenge. She played with good tempo throughout.
Lynch was another eighth grade prospect we can't wait to see in high school. She put a lot of pressure on opposing defenses with her ability to attack off the bounce. She got down hill often and as the game slows down for her playmaking will shine.
We've had Bowman numerous in her young career. We know she's one of the best spot shooters in her class. What we're seeing from her now is a confidence and understanding of the game. She was a terrific leader on the floor and someone you can trust on the floor.
Hoadley was with us last year and has leveled her game up. She plays under control and can beat you with a really well-rounded skill set. She's a really patient player which really allowed her to fit in with the higher level talent at camp without a hitch.
Durk-Scholz is a little quiet on the floor, which is understandable for a youngster in this environment. That said, her quickness was evident on both ends of the floor. Her ability to be impactful on the ball defensively really jumped out.
Norwood is fearless. She's in the younger group of the event but her skill set, focus and energy shined through. She can play on and off the ball at an early age. She picked things up quickly and wasn't afraid to try new things out in game play.
LeMay was a player that came to camp with a purpose and got a lot out of the weekend. She was a willing leader who made her bucket better. The intensity and focus made her impactful in skill work through live action.
Gravatt really set the tone no matter what basket she was at. She is a tough-minded player who pairs that with a physical style of play. She made an impact with and without the ball in her hands.
When you can stand out at an individual event with your passing and vision it's a great indicator of not only those skills but a feel for the game. Trader did just that. She got ball up the floor quickly and made life easy on her teammates.

Chris Hansen is managing editor of ProspectsNation.com and serves on the McDonald's All-American and Naismith Trophy selection committees. He was a co-founder of and the national director of scouting for ESPN HoopGurlz from 2005 until 2012 and is the director of the Check Me Out Showcase and ELITE is EARNED events. He can be reached at chris@chrishansenbasketball.com.