Feature Players - Texas - Part I
Posted
7 months 1 week ago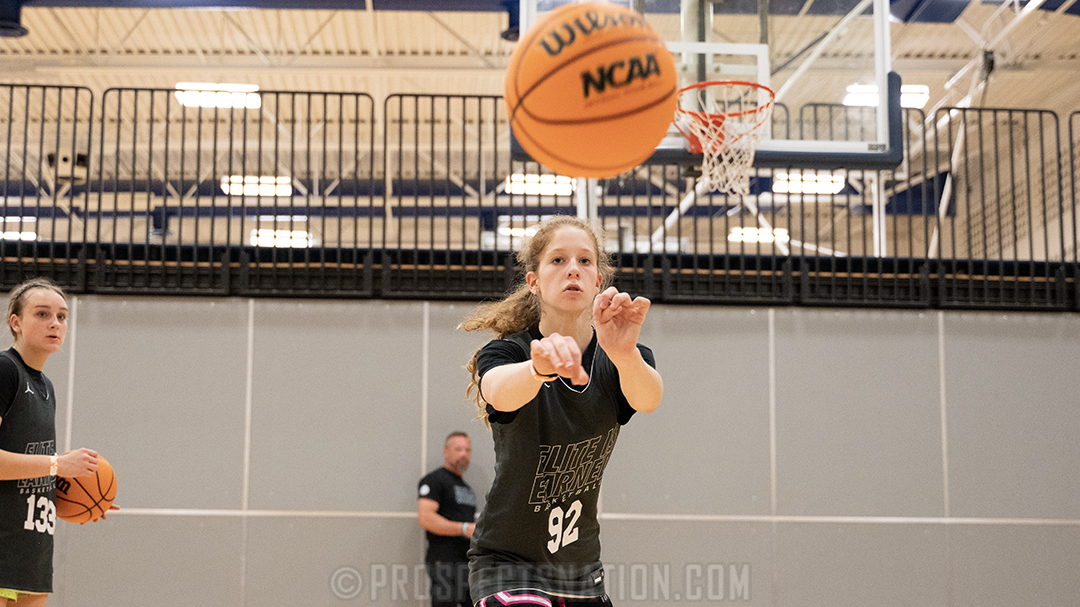 Addison Levensten made the trip from Pennsylvania to compete at EIE Texas in Dallas *Photo by Chris Hansen.
CARROLLTON, Texas – The Elite Is Earned national camp series made it's stop in Texas over the weekend. The 100 athletes from 10 different states made it to the Greater Dallas Area for a weekend of training and competition. With four McDonald's All American voters on the floor and multiple national scouting services in the building, there were opportunities to grow exposure in addition to the intense on floor work.
Our first look at the weekend focuses on the Feature Player Training Session. This brought a small group session ahead of the full camp session where we get a closer work at their games.
Levensten brough her game all the way from Pennsylvania and fit right in. Her combination of length and skill made her one of the more versatile players in camp. For a playe standing 5 feet 10 inches to smoothly run the point was impressive.
Jain is a player we've been tracking for over a year and we're seeing a jump in her assertiveness on the floor. Her jumper looked smooth and we are looking forward to seeing her game grow next fall as she hits her first year of high school ball.
Underwood is another player we've had on the floor multiple times. She has a toughness and passion for the game that will help her jump right into her freshman year after this summer. Her range has really stretched behind the arc.
Seal was a real matchup problem on the floor. This youngster is already over 6 feet tall and has the ball skill and confidence to use it. She also showed the ability to play on the interior, blocking shots, working the glass and had the body control to not foul in being a force.
Once Hartman got going she showed us a lot. Often times in camps players are self focused but Elsy showed terrific vision and a willingness to make plays with the pass. She has strength in her frame and used it to finish in traffic as well.
Fox was one of the younger players in camp but her feel for the game stood out among her peers. She showed a really well-rounded skill set, understanding of spacing and that just made her teams that much better. She can shoot the rock too.
Hogan has really good size and athleticism and for a younger player we loved her willingness to mix it up in traffic and fight for rebounds and loose balls. We saw her shoot it at times but her finishing was a highlight.

Chris Hansen is managing editor of ProspectsNation.com and serves on the McDonald's All-American and Naismith Trophy selection committees. He was a co-founder of and the national director of scouting for ESPN HoopGurlz from 2005 until 2012 and is the director of the Check Me Out Showcase and ELITE is EARNED events. He can be reached at chris@chrishansenbasketball.com.