Feature Player: Kelly Post
Posted
7 years 9 months ago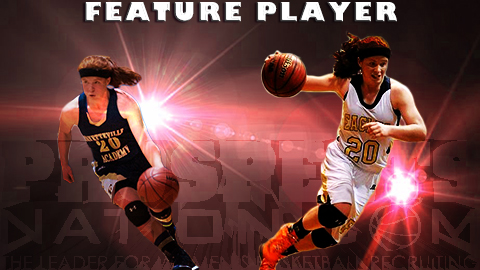 Class of 2016 graduate Kelly Post of Fayetteville, N.C., is one of the hardest working, most energetic prospects that our staff has seen in the junior class, nationally. She is a versatile option at the point guard position.
Vitals
Name: Kelly Post – Grad Year: 2016
Location: Fayetteville, N.C. – School: Village Christian Academy
Current Position: PG – Projected Position: PG
Strengths
Post's activity and energy is her calling card. Standing at 5 feet 6, she manages to average eight rebounds a game for her school team. Her willingness to do whatever is necessary for her team to win helps set Post apart from the rest of the pack. A four-sport athlete, she is on the move just as much as her high energy level on the hardwood would suggest. On the floor Post is a capable jump shooter, distributor and defensive prospect. Her willingness to absorb coaching and skill instruction during our Elite Basketball Academy Fab Five Camp in September was impressive. That type of high IQ translates to the game as the three-star prospect averaged 21 points, 8 rebounds, 7 assists per game and she took 13 charges last year.
Area To Improve
Knowing that her size is a limitation of sorts, Post has worked on her skill set to make up for any matchup deficiency that is otherwise created. In that way, she reminds me of class of 2015 point guard Darby Maggard of Larwill, Ind. Like Maggard, Post seems determined to not let her size, or lack thereof, serve as a detriment but rather crafting her skill set and leadership ability to let her compete against whoever lines up across from her on the opposing team.
The Bottom Line
Post has been a varsity starter since the seventh grade. In addition to playing four sports, she is the President of her junior class. She is a prospect who is able to juggle multiple roles and still excel in every avenue. We project Post as an immediate contributor who should make an impact from pre-season workouts to in-game situations for whatever program she decides to choose from.
#ProspectsNationTV: Recruiting Analyst Brandon Clay and Video Coordinator Kris Watkins team up to break down Post's game:

Clay is the owner of the JumpOffPlus.com International Scouting Report, PeachStateBasketball.com and ProspectsNation.com. He can be reached at brandon@prospectsnation.com.