Fall Flashback: West Coast Shines At The Hoop
Posted
6 years 7 months ago
SALEM, Oregon – The fall evaluation proved to be a deep with young talent in the Northwest. The Hoop Women's Invitational hosted 56 teams for three days of action in front of dozens of coaches. Looking back at the September event it's certainly going to be good recruiting in the Pacific Northwest for years to come.
Savannah Dhaliwal (Surrey, B.C.) – BC Finest – 2017
For programs still looking for a post in the 2016 class, the 6-0 Dhaliwal is a potential diamond in the rough. The BC Finest post works as hard as anyone in the class, uses her body well to get position, box out and defend. Though she's not the tallest prospect in the class, her ability to defend the 6-3 front court players has really stood out. She understands leverage and angles and plays physical in the lane. Her progression facing the basket and her ability to make the shots, passes and make correct decisions at 17 feet will allow her to play multiple positions in college.
Jade Loville (Issaquah, Wash.), ECBA Swish Black – 2018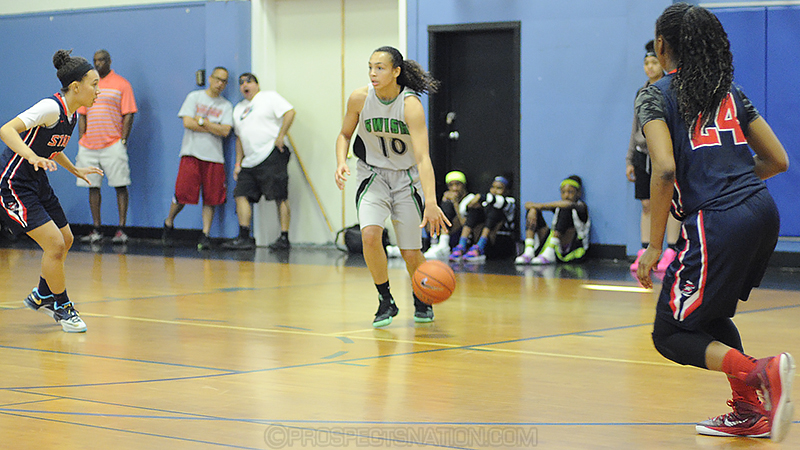 Coming off a breakout performance at the 2016 Check Me Out Showcase in Seattle, Loville had high expectations coming into the weekend. She'll be a feature player for the Swish next spring and summer and this was a glimpse into what that will look like. With length and elite quickness, the 5-10 guard uses that with her shiftiness to create offense. She elevates high on her pull-up jumper, which is almost impossible to defend. She's one to keep an eye on in the 2018 class.
Ashley Quigley (McKinleyville, Calif.), Humboltwild Orange – 2017
Quigley has a great on-court demeanor. She plays confidently and asserts herself as soon as she steps on the court. She is shifty and really good at getting to the basket with the ability to finish different ways. She can finish off of either foot with either hand and with contact. Her change of speed in the lane is also a huge reason as to why she is able to finish before post players can time her feet. She needs to work on her feet defensively she can be a real asset at the point at the next level and even play off the ball some.
Taycee Wedin (Happy Valley, Ore.), Cal Stars – 2018
Wedin has already established herself as one of the best shooters in the 2018 class, nationally. What she had a chance to show this fall evaluation weekend is that she can handle the basketball and play plays off the dribble. She had the experience from her play with La Salle Prep to assumed a primary ball handling role, something we saw more of this weekend with the Cal Stars as well.
Daryn Hickok (Portland, Ore.), Northwest Stars – 2019
Hickok was all over the court on both ends making her a favorite of those watching. She is the perfect x-factor player. She saves her team a lot by catching passes that most people can't. She is always working hard no matter what is going on. There were multiple times she would, at 5-10, get a strong defensive rebound over multiple people and then take the ball coast to coast for a finish. She is smart and knows when to get the ball high and keep it high on her finishes. Developing an outside shot and being able to surprise people who back off to take away penetration will be key moving forward.
Ashley Maldonado (Sunnyside, Wash.), ECBA Swish Black – 2019
In perhaps the surprise of the weekend, Maldonado came in as somewhat of an unknown outside of those in Eastern Washington, but she established herself as one of the top point guard prospects in the Evergreen State for the 2019 class. She's a smooth operator with the basketball. She changes speeds and directions with ease and throughout the weekend she handled pressure well. She was solid at the Check Me Out Showcase in Seattle back in August but took her game up a level as the lead guard for the Swish.
Emily Rodabaugh (Lynnwood, Wash.), Triple Threat Rising Stars – 2019
Rodabaugh's height is what caught your eye first on the perimeter. She is a very long 5-11 guard who plays point guard for her team. She has deep range from behind the arc and has the ability to pull up in transition or hit shots off of the catch. When she gets into the lane she finishes really well by using her length, absorbing contact, and keeping the ball high. She knows where to put the ball to keep herself between her defender and the ball. She is also not afraid to get in the paint and mix things up. She fights for boards on both ends of the court. Developing her guard skills further into being able to set up her teammates to get them open and get them better shots would take her game to the next level. She can create her own shots so learning how to set her teammates will not allow opposing defenses to key on her as much.
Azaria Robinson (Anchorage, Alaska), Alaska Lady Hoops – 2019
Robinson is a 6-foot-1 athletic forward prospect with a ton of upside. She can run with the wings and rebound with the bigs. As her ball skill develops she'll have a chance to be a matchup nightmare. The immediate comparisons will be made to 2016 Alaskan standout Ruthy Hebard who is now at Oregon. Robinson doesn't have the strength yet but her quickness and foot speed set her apart at an early age.
Rebecca Welsh (Pleasant Hill, Calif.), Cal Stars – 2020
Welsh is a solid guard who uses her size to her advantage and is able to shift around players who may be taller than her. She has a chip on her shoulder and plays with swag. She has a wet jumper from behind the arc and knocks down open shots consistently. If she adds a mid-range jumper to her game she'll be all that tougher to stop as she has to be able to beat people from all distances.
Kylie Arsner (McMinnville, Ore.), FAST – 2021
Arsner is one the toughest kids you will find in the region among middle schoolers. She is strong and has a great build. She is a bit undersized when she is in the post but she makes up for that with grit and strength. She can also extend her game to the 3-point line and knock down shots off of the catch and off of the bounce on pick and rolls. She is also a great rebounder. She can read the ball off of the rim and will chase down rebounds. She brought her team back in multiple games by taking over and knocking down clutch shots after ripping rebounds down defensively. She could work on shot selection and clock awareness. Knowing when to shoot certain shots from the outside and when to get the ball inside to get an easy bucket will help her game grow.
AROUND THE RIM
Dalayah Daniels of Seattle, Washington, is just about to start her high school career and she already has a following on the club circuit from the summer. She's 6-2, runs the floor, has good balance and could develop into an inside-outside threat like Taya Corosdale in 2017.
Raigan Reed is a freshman combo guard who has competed at a high level both locally and nationally. She's a shifty lead guard who can attack with either hand and has added a strong mid-range game to her bag of tricks.
Holla wing-guard Tayler Lyday has all the physical tools to be an impact perimeter player. She has the handle, quickness, length to create mismatches across the board. The 2019 prospect will be scary when she finds consistency.
The Idaho HoopDreams program always has something cooking and freshman forward Peyton McFarland could be the next big thing from Boise. She's a long 6-3 and can really run the floor. As her skill set is polished she'll be one to watch.
North Idaho Elite has a pair of 2018 forwards who impressed all weekend in Melody Kempton and Keara Simpson. Kempton is a fluid prospects where Simpson brings power to the forward position.
Oregon Elite wing Nina Radford is about as efficient as they come on the wing. The athletic 6-0 senior knocks down shots and is strong attacking off the dribble. Most noteable for a scorer is that you'll rarely catch her taking bad or heavily contested shots.
Kayla Siler is an intruiging prospect for Seattle Future. The 5-10 freshman wing has the strength in her frame to hold her own inside and she has enough wiggle to make some plays from the perimeter.
One of the best undecided post players in the 2017 class, Promise Taylor, was up to her usual shot blocking and low post scoring antics at the Hoop. The Seattle Style post stands every bit of 6-5 and has a world of upside.
Gina Marxen, the 2018 point guard from Sammamish, Washington, is no stranger to the ProspectsNation.com staff. This weekend she was playing with a ton of confidence and creating offense for herself as much as for her teammates.
Remember the name Charlotte Levison in the 2020 class. The 5-11 guard plays for former Stanford guard Melanie Murphy and in this setting she showed she could create her own shot and had the confidence to pull from deep.

Chris Hansen is managing editor of ProspectsNation.com and serves on the McDonald's All-American and Naismith Trophy selection committees. He was a co-founder of and the national director of scouting for ESPN HoopGurlz from 2005 until 2012 and is the director of the Check Me Out Showcase. He can be reached at chris@prospectsnation.com.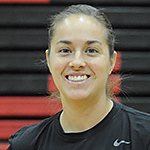 Ashley Corral is a contributor to ProspectsNation.com and is a lead trainer for the Check Me Out Showcase camps across the country. She is the owner of Ashley Corral Performance Training. She is a former professional player, star at USC and McDonald's All-American in high school. She can be reached at ashleys.corral@gmail.com.