Posted
5 years 9 months ago
Euro Impressions
France wins U16's, No Russia at U17 World's
Just a few short weeks after Russia's U19 knocked off the United States to win a gold medal at the U19 World Championships in Italy, Russia's U16 made headlines by not qualifying for the U17 World Championships in 2018. It will be the first time that Russia, the No. 3 ranked Women's Basketball country in the world, won't be in attendance for the U17 World Championship.
European Teams to Advance to U17 World Championships
1.France
2.Hungary
3.Italy
4.Latvia
5.Spain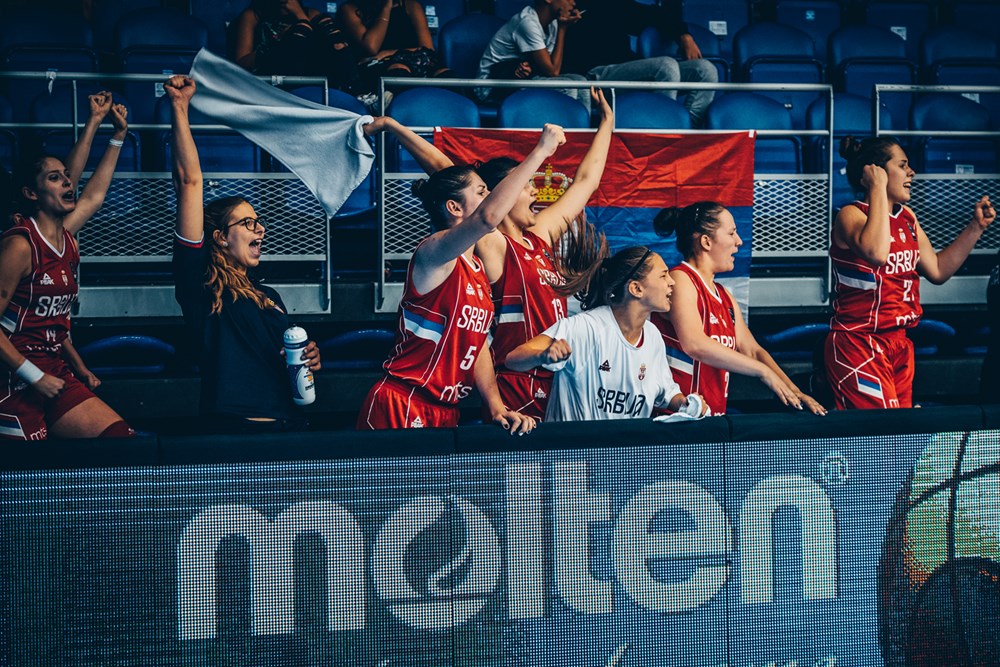 U18 Finals A & B
The championship games for both of this year's U18 European Championship will be played later today. The game will feature Serbia and Belgium while the third place game will see France and the Czech Republic meet for a chance at a Bronze medal.
On the B side of things, host team Ireland will face Germany in the championship game while Poland and Great Britain will play for a Bronze medal.
Down Memory Lane
One of the lasting takeaways of the first leg of this trip has been the high volume of players who are already committed to play college basketball. Six years ago when we were here for the first time, international recruiting was a secondary market for colleges in the States. Today European players are committing to U.S. schools earlier and earlier.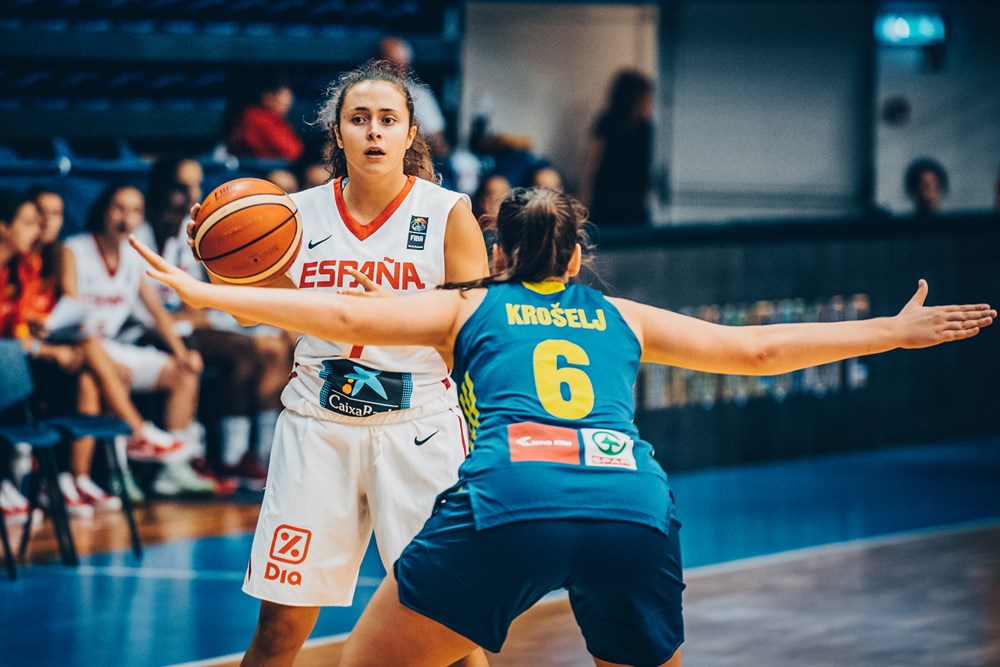 Spanish guard Paloma Gonzalez is bringing a matured
floor game to the Big Ten. Photo Courtey of FIBA.COM
Another major takeaway is a flash down memory lane to the head to head battles between recent Florida State grad Leticia Romero and current Miami guard Laura Cornelius as Romero's Spanish national team had yearly meetings with Cornelius and Netherlands. At the two players were the class of Europe and both have left a lasting impact on their perspective ACC programs. Look for some of the players below to continue that legacy.
Players Headed to the States
Aina Ayuso (Spain) – Ayuso has been the life of Spain for the last three summers. She took over for current Oregon point guard Maite Cazorla and had led Spain through U16, U17, and U18 championships. Now, Ayuso will head to Oregon to play her college basketball.
Lorela Cubaj (Italy) – As soon as this event is over, Cubaj will be taking her talents to Atlanta to play for Georgia Tech. The 6-foot-4 Italian post is averaging 8.8 points and 7.5 rebounds a game here and will be the third Italian on the ACC programs roster.
Paloma Gonzalez (Spain) – Gonzalez, who is headed to Minnesota, has always been a spark plug for Spain but the 5-foot-7 point guard has become a reliable playmaker and scoring option. Her heroics now include a game winning three with 2.2 seconds on the clock.
Nyara Sabally (Germany) – Like her sister Satou, a versatile wing headed to Oregon this fall, Nyara Sabally is a true post player who is also headed to Oregon this fall. Going into the championship game, Nyara is averaging 17.8 points and 13.2 rebounds a game. The 6-foot3 athlete has the potential to be one of the elite rebounders in the PAC-12 the day she arrives on campus.
Kadiatou Sissoko (France) – Syracuse is adding a potential star in 2018 wing Kadiatou Sissoko. At 6-foot-3 Sissoko has elite size and athleticism for the perimeter positions but her skills are starting to catch up to her physical tools. Another year playing against quality competition in France could make Sissoko one of the top international prospects for the 2018 class.
Elena Tsineke (Greece) – Tsineke and her twin sister Aikatrini are headed to Washington State as members of the 2018 class. Elena is second in scoring at the U18-A tournament and has the ability to make an instant impact in Washington Sate's backcourt.
Valeria Trucco (Italy) – This Spring Arizona picked up a verbal commitment from one of the top 2018 prospects in all of Europe when Italian post Valeria Trucco made a trip to the PAC-12 school. Trucco, who stands 6-foot-4, can be a scoring threat in the post as well as on the perimeter.

Lotta-Maj Lahtinen (Finland) – Just a few weeks before the U18 tournament, Finnish point guard Lotta-Maj Lahtinen committed to Georgia Tech as a member of the 2018 class. Now at U18-B, Lahtinen is making her impact felt on both sides of the ball averaging 14.6 points per game, pulling down 5.6 rebounds and 4.2 assists.

Sarah Dumitrescu (Romania) – Unlike many of the players on this list, Dumitrescu won't be headed to college next year, the 6-foot-2 Romanian will be at IMG Academy to start her Junior season.

Keil Moore is the Director of Scouting for the JumpOffPlus.com National Scouting Report and international scouting report. He serves on the Naismith Trophy Board of Selectors and has been a member of the women's basketball community for more than eight years as a trainer and evaluator. He can be reached at keil@prospectsnation.com.