ELITE is EARNED Shootout Risers
Posted
5 years 4 months ago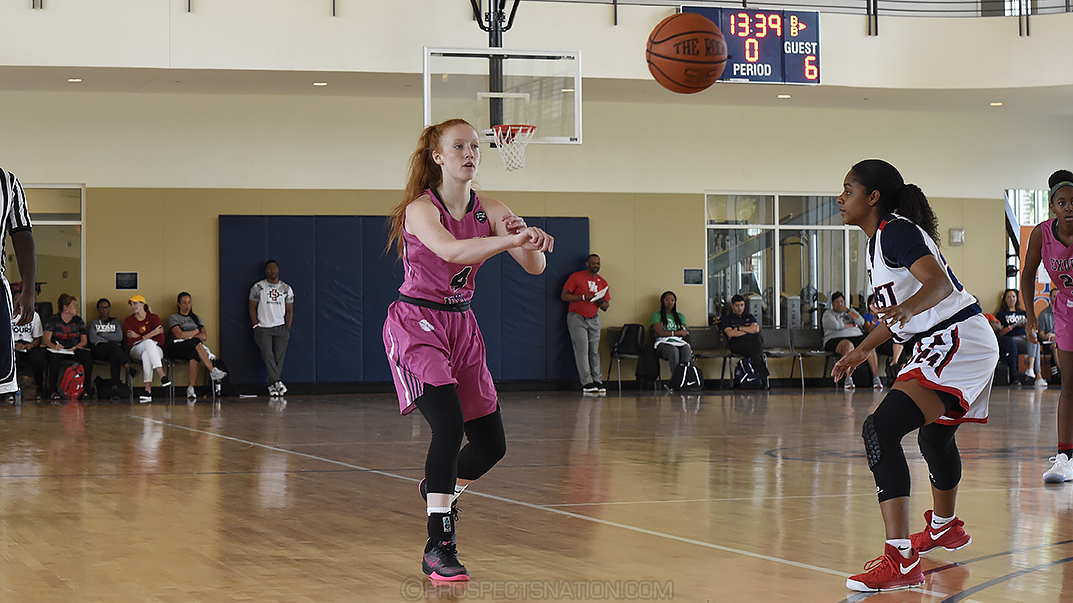 Lauren Hansen was electric at the point and scoring on the wing for Exodus U15 EYBL in Cartersville. *Photo by Chris Hansen.
CARTERSVILLE, Georgia – The ELITE is EARNED Shootout brought the cross-sneaker sponsorship and independent matchups that have become void in the exposure space. These rare matchups of teams also brought marquee matchups between players, adding valuable context to the evaluation process.
SHOOTOUT RISERS
Lauren Hansen (Setauket, N.Y.), Exodus Soph EYBL – 2019
Sometimes playing too well early in a game can be a bad thing as the shifty 5-8 guard found out. With her team struggling to score early against SA Finest, she made a bunch of plays to keep her team within striking distance and earned herself a face-guard the rest of the half. She also impressed by being more active defensively than she has shown before. Her weekend was cut short with a minor injury but her impact was major.
Haylei Janssens (Perris, Calif.), Cal Stars Valley Elite – 2018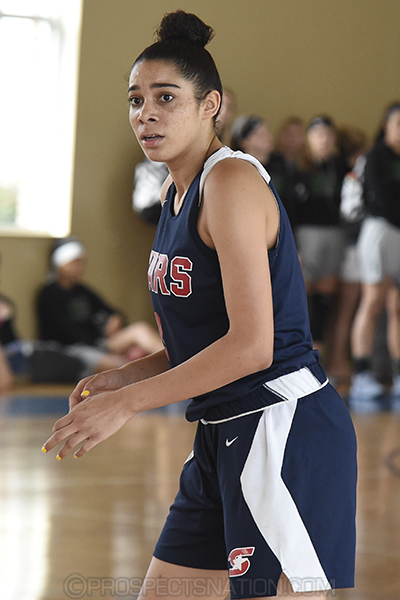 Haylei Janssens was terrific for
Cal Stars Valley Select. *Photo by
Xavier Johnson.Every year coaches ask where all the shot makers went? Well Janssens was every bit of that in her two days of action. She has the size at 5 feet 10, plus a high and quick release, to easily project her ability to make shots at the next level. Her athleticism, ability added to her defensive ability, a signature of the Cal Stars Valley program, will make her one of the biggest steals this fall.
Dalayah Daniels (Seattle, Wash.), ECBA Swish Hines –2020
Coming into the summer the 6-3 Daniels was on the radar as a player with top 25 potential, yet to be realized. Now the question is if she is the top interior player in the 2020 class. She was physical against elite competition, such as Amira Collins, Hannah Gusters, Mariah Perez and more. She is shooting the trail three now and impressed by never letting down physically.
Sadaja Bonner (Cliffwood, N.J.), Exodus Soph EYBL – 2019
Trailing by 10 points against one of the tallest lineups in the country in JBS Gauntlet, Exodus lost two key pieces to injuries. The 5-11 Bonner turned the situation into a breakout opportunity. She was locked in on both sides of the court, willing her team back into the game with big defensive stops followed by bigger buckets. Without Lauren Hansen or Natalijah Marshall to lean on, she stepped up and played her best basketball of the summer.
Sirena Tuitele (Chico, Calif.), JBS Gauntlet I – 2018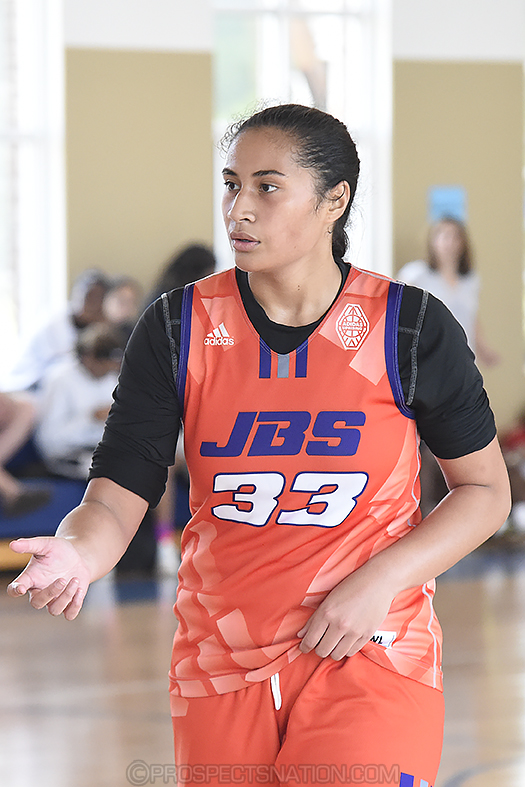 Sirena "Peanut" Tuitele is a matchup
problem at the forward spot for JBS.
*Photo by Xavier Johnson.The 6-2 Tuitele has to be in the mix as one of the biggest risers of the summer and her play at the EIE Shootout only emphasized it. She is a smooth athlete who is really difficult to defend at the high post because of her quickness, power, ability to hit the mid-range jumper as well as blow by defenders to the rim.
Diamond Battles (Winter Haven, Fla.), Miami Suns Team Fowles – 2018
When you are a long and shifty point guard the temptation is to just go, but Battles showed great poise as the lead guard of Team Fowles. She executed ball screen action as well as we've seen this summer from pushing the defender below the defender, staying patient for it to be set and the defender to show their hand and then attacking. She was very disruptive defensively as well.
Kaelynn Satterfield (New York, N.Y.), New Jersey Sparks – 2019
When Satterfield is on she is nearly impossible to stop. The 6-0 forward showed anything but the typical 4-player skill set. Her strength and quickness allows her to play inside but when defenses use a big to defend her is when her versatility shines. She saw countless isolation sets from the top of the key and was simply electric. Even when plays aren't run to her she competes hard and forces you to notice her.
Kaylin Randhawa (Turlock, Calif.), Peninsula Elite – 2018
Randhawa's length and fluid athleticism captures eyes immediately. She flies in transition and elevates effortlessly toward the rim to finish. Because of her length she covered a lot of ground and got to the paint with minimal dribbles, forcing defenders to open up and bringing the mid-range game in.
Hannah Gusters (Desoto, Texas). Pro Skills EYBL – 2020
Much like Daniels, Gusters is a kid that seemed obvious for a spot in August initial release of the ELITE 25, and the two actually got to square off on day one of the EIE Shootout. Each evaluation Gusters shows more and more. At the EYBL Hampton stop in April she was. At the Check Me Out Showcase in Austin in May she was special and July she continued the trend of impressing with power, poise and touch in the post.
Da'Nasia Hood (San Antonio, Texas), SA Finest Cee Lou – 2018
Hood has to be in the running for most improved player in the country on the elite circuit. The 6-0 forward has a confidence about her and a pulse for the big moment. She's not a volume scorer but much like Robert Horry was in his heyday in the NBA, she makes key plays in big games as she did against Exodus, answering attempted comeback runs with a key jumper here or a big defensive rebound there.
AROUND THE RIM
Charlee Arthur of Bellevue, Washington, is a 2021 but battled elite high school aged players in four straight games at the EIE Shootout. She's a 5-9 fluid guard who is well ahead of her years and should be a player EBC Elite coach Nick Crossan can build around.
In a class with limited depth in the post the stock of Uchenna Nwoke continues to rise. Teams that value size and a powerful presence in the paint will find what they are looking for in this 6-5 prospect from Pro Skills.
Taleah Dixon of Cantonsivlle, Maryland, shined for Team Takeover in both of their wins on day two of the Shootout. The long perimeter player can slash and score or play the lead guard. She seems to have bounced back from her 2016 injury and is a big part of the TTO attack.

Chris Hansen is managing editor of ProspectsNation.com and serves on the McDonald's All-American and Naismith Trophy selection committees. He was a co-founder of and the national director of scouting for ESPN HoopGurlz from 2005 until 2012 and is the director of the Check Me Out Showcase and ELITE is EARNED events. He can be reached at chris@prospectsnation.com.