Elite Is Earned Invitational: Day One
Posted
6 years 2 months ago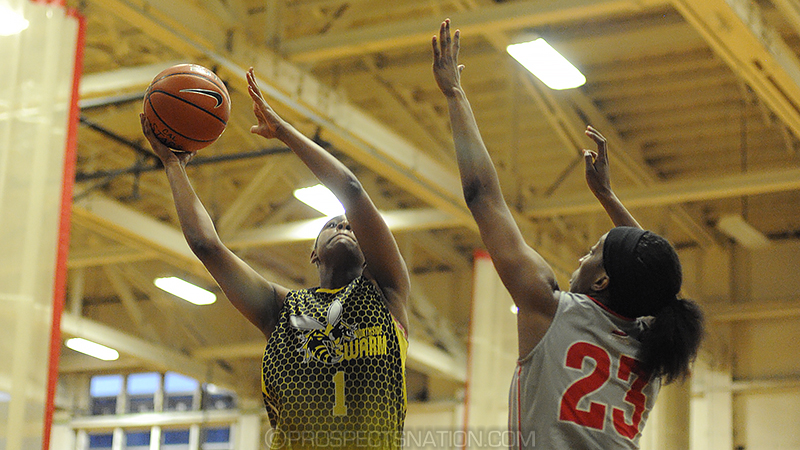 Shalyse Smith didn't back down from the daunting challenge of facing the Cal Stars front court at the Elite Is Earned Invitational. *Photo by Chris Hansen.
ALAMEDA, Calif., -- Hosted on the site of a former US Navy base, the ELITE is EARNED Invitational provided a platform for numerous west coast teams to take flight during the first evaluation weekend of 2016. Friday night saw some pool play action as well as some marquee exhibition matchups throughout the day.
The game of the day was most certainly the exhibition showdown between the Northside Swarm from the Seattle Area and the Cal Stars Nike Elite team. It provided a glimpse into the future with standout 2018 Shalyse Smith posting a breakout performance in front of a packed college coach section while the here and now is clearly Evina Westbrook of the Cal Stars.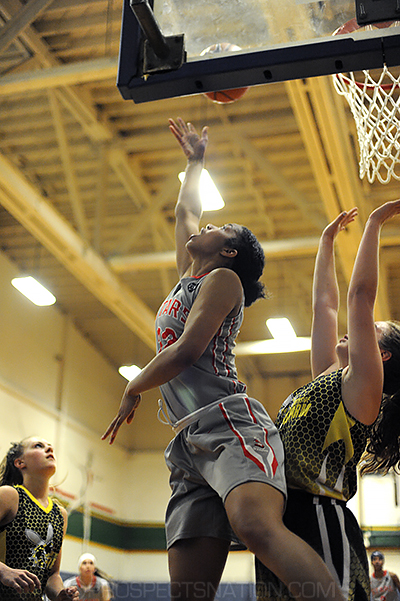 No. 3 junior Evina Westbrook.
*Photo by Chris Hansen.The Swarm came out red hot early and won the energy battle, controlling most of the first half before fading late. The Stars would pull away late for a 69-60 victory but for the Swarm, who travelled to the Bay Area with just seven players, it was a testament to their grit.
BYU-bound guard Paisley Johnson had a strong outing, using her quickness and leaping ability to create offense off the dribble and help Swarm keep the tempo going early.
Smith finished with a game-high 29 points for the Swarm. She's a kid that has been on the radar as a player to watch but her production against such a talented lineup immediately elevates her status to a must-recruit forward in the 2018 class. She's become more patient with the ball which has allowed her to maximize her physical gifts. From battling for rebounds to attacking from the high post, Smith left it all on the floor, and had it not been for Westbrook, she and her Swarm teammates might have stolen a win.
Westbrook, the No. 3 prospect in the 2017 ELITE 100, got off to a slow start but clearly kicked it into another gear when her team fell behind by double digits in the first half. She got locked in defensively to change the momentum and also scored on key possessions through perimeter isolations. On a loaded roster still trying to find its groove, Westbrook the leader that will make this team a tough out on the EYBL circuit.
SPOTLIGHT PLAYERS
Alissa Pili (Anchorage, Alaska), Alaska Lady Hoops -- 2019
A week ago Pili was impressive in her hometown of Anchorage for Check Me Out Training Camp. But now seeing her live against other players and seeing it all translate is cause for excitement. What we noticed in drill work transferred over into her game. She is a strong undersized post, but will make up for her lack of size with her work ethic and her ability to take people to the rack and finish strong.
Najé Murray (Stockton, Calif.), Cal Stars Nike Elite – 2017
Murray is not stranger to the exposure scene playing for one of the top high school's in the country and now for Cal Stars. The work this kid puts in when she is on the court in undeniable. Today she brought defensive energy and was the spark the Cal Stars needed off of the bench. She hit key three point daggers down the stretch and also got herself to the free-throw line. Murray was a large part of the Stars' success today.
Paisley Johnson (Everett, Wash.), Northside Swarm Elite – 2017
There is a reason this 5-9 guard from Glacier Peak High School (Snohomish, Wash.) committed to BYU. She is a solid all around player. Against Cal Stars today she was fearless when attacking offensively and held her own on defense. Her grit and attitude will make coaches and spectators fall in love with her style. She doesn't care who she is squared up with; she is ready for battle.
Lacee Jenkins (Gilbert, Ariz.), Team Arizona Red Elite -- 2018
Jenkins brought her calmness and swagger from the desert to the Bay. She is not the type of player who is going to wow you with thread the needle passes, but she is going to run a team and keep her teammates relaxed. She is a bit undersized and could use some basketball strength, but for her size she can handle the rock and the pressure that comes with it. She was very impressive with how she kept her composure against a talented Tree of Hope squad.
Kylee Griffen (Marysville, Wash.), Tree of Hope – 2018
Griffen is a guard's nightmare in the key. The 6-1 forward was blocking shots left and right today. Her length gives her an advantage when it comes to this, but her basketball instincts are also great. She uses her length to make things harder for her opponents, but to also give her a soft touch around the basket while finishing.

Chris Hansen is managing editor of ProspectsNation.com and serves on the McDonald's All-American and Naismith Trophy selection committees. He was the national director of scouting for ESPN HoopGurlz from 2005 until 2012 and is the director of the Check Me Out Showcase. He can be reached at chris@prospectsnation.com.

Ashley Corral joined the staff in 2016 after joining the Check Me Out Showcase staff in 2014. She was a McDonald's All-American out of Vancouver, Wash., and was a standout player at Southern Cal. She played professionally overseas as well as in the WNBA. She owns Ashley Corral Performance Training and can be reached at ashleyscorral@gmail.com.