ELITE 60: Durr On The Move
Posted
10 years 3 months ago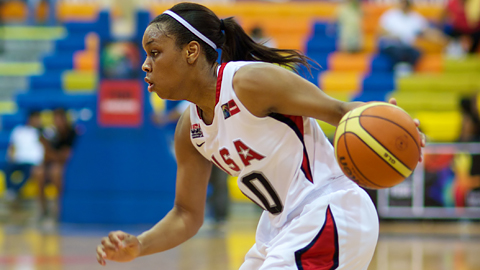 Asia Durr's standout spring elevated her to No. 1 in the class. *Photo by Haley Weit.
After a busy spring that started at the end of March, the 2015 class used this early club season to start putting the pieces in place on the path to the ELITE 100. One thing has remained consistent; the top three prospects in the rising junior class are on a level of their own, all with the potential to claim the No. 1 spot.
Yet another thing was clear this spring and early summer, Asia Durr, the 5-foot-10 guard from Douglasville, Ga., has earned the top spot. She lead her Georgia Pistols team to an impressive championship at the Boo Williams Nike Invitational during the April certified viewing weekend. She proceeded to dominate at the USA Basketball U16 national team trials in May and then set records for her age group during the FIBA Americas tournament with USAB in June.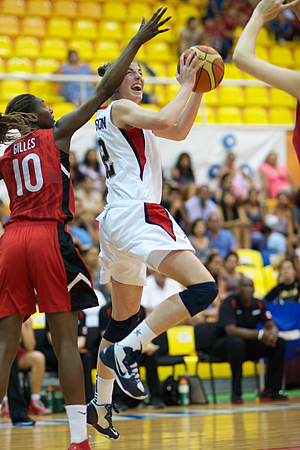 ELITE 60 wing Katie Lou Samuelson.
*Photo by Haley Weit.
Click here to see the full ProspectsNation.com ELITE 60.
Durr set USAB U16 single game records for both steals and points scored in the gold medal game against Canada. Durr has been impressive this club season not only because of her talent, but because of the marquee matchups with other elite players proving her talent translates at the highest level of the game.
Both Te'a Cooper, a 5-6 point guard from Powder Springs, Ga., and Katie Lou Samuelson, a 6-2 wing from Fullerton, Calif., did their part to stay in the discussion atop the rankings. Samuelson did her best to keep up with Durr by shattering the USAB U16 record for 3-point field goals made in a single game, with eight. Perhaps more impressive is that she did so without breaking Rebecca Greenwell's record of 10 threes attempted in a game. Samuelson went eight for eight from behind the arc in the same gold medal game Durr set her records.
ProspectsNation.com Recruiting Analyst Brandon Clay joins Marques Burnett to breakdown the class of 2015 ELITE60 expansion
But this 2015 class is shaping up nicely beyond the top three spots. Arike Ogunbowale, a 5-9 guard from Milwaukee, Wisc., catapulted herself up the rankings largely based on an impressive showing at the U16 national team trials in May. Previously ranked 13th in the ELITE 25, she moved into the top 10 at No. 7.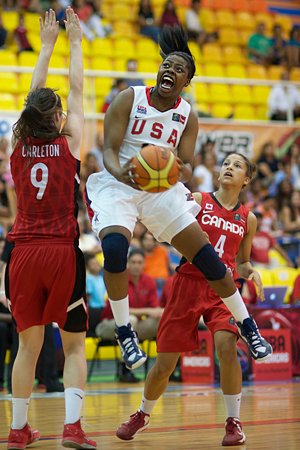 ELITE 60 guard Arike Ogunbowale.
*Photo by Haley Weit.
Also making considerable moves up the rankings were, Napheesa Collier, the 6-1 forward from O'Fallon, Mo., and Tiara Murphy, the 5-6 point guard from South Bend, Ind. Murphy has been battling elite guards on the club circuit since her early April showing at the LBI JamFest in Detroit all the way through Midwest Showdown over Memorial Day Weekend.
Moving into the top 20 after being previously unranked is an impressive feat, but that's exactly what Taylor Murray, a 5-6 point guard from Odenton, Md., did. The kid is a winner first, with all the intangibles that don't show up on a box score. And right behind her at No. 21 is previously unranked Kaylan Pugh, a 5-9 guard from Collierville, Tenn.
In all, 17 point guards cracked the ELITE 60, along with 13 wings, 12 forwards, nine posts and eight off-guards. By state, Texas and Virginia lead the way with seven prospects each. And though New York may be the Mecca of the men's side of the sport, recent history has seen New Jersey and Pennsylvania dominating the women's game in the region in terms of elite prospects. The 2015 ELITE 60 has five players from the Empire State, third most in country.
Another state known for being cyclical when it comes to producing top talent is Indiana, which boasts four prospects in the ELITE 60, tied with California, Georgia and Maryland for fourth most in the nation.
From a recruiting perspective, seven of the top 10 remain undecided in the rising junior class. Cooper has committed to North Carolina, No. 4 Lashann Higgs of Round Rock, Texas, has committed to Texas and No. 10 Sophie Cunningham of Columbia, Mo., has committed to Missouri. In total, 11 of the 60 have verbally committed to date.
Follow @ChrisHansenPSB

Hansen is managing editor of ProspectsNation.com and a McDonald's All-American selection committee member. He was the national director of scouting for ESPN HoopGurlz from 2005 until 2012. He can be reached at chris@prospectsnation.com.