ELITE 25 First Impressions
Posted
9 years 11 months ago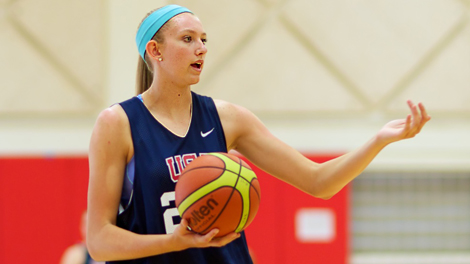 The 2016 class is starting to take shape and the posts and points are leading the way early, with the help of No. 1 ranked Lauren Cox. *Photo by Chris Hansen.
Tweet
The Rankings Roundtable will cover several topics throughout this week on the recently released PropsectsNation.com ELITE 25 prospect rankings for the Class of 2016. Though this class is still in its infancy, our rankings panel will discuss what they've seen so far.
Is there a first impression about the 2016 class that jumps out at you?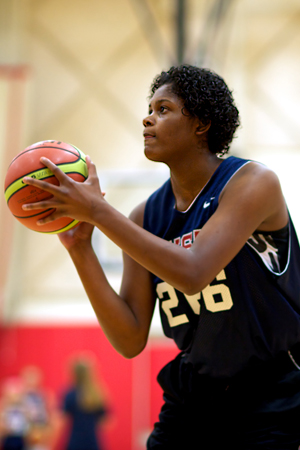 '16 ELITE 25 post Tori McCoy.
*Photo by Chris Hansen.
While the class of 2014 is being called the year of the point guard, I find it interesting that the top three players in the class of 2016 are all interior players. The top player in the class, Lauren Cox of Flower Mound, Texas, stands at 6 feet 4 inches, and is showing that she can dominate the paint on both ends. Even more impressive is she is skilled enough to be a face-up threat out to the arc as well. Close behind Cox is No. 2 Tori McCoy of Champaign, Ill., who at 6-4 could become one of the game's most dominant rebounders in recent memory while also possessing elite athleticism and skill. Then, arguably one of the strongest and athletic power forwards in the game, regardless of class, is No. 3 Joyner Holmes of Cedar Hill, Texas, who stands 6-3 herself. Her frame and stature is close to being college ready at this moment. Do not forget about No. 6 Nancy Mulkey of Cypress, Texas, either. Standing 6-9, she has the potential to a program changer in her own right. This group of post players could easily make this class the year of the post player when they graduate in the fall of 2016.
-- Jonathan Hemingway
One of the most interesting things about the group of prospects in the ELITE 25 for the class of 2016 will be watching this group grow and develop over the next couple of years. With any new recruiting class there is an immediate intrigue as all of these prospects will grow and develop at different rates. By the time they are seniors all of these kids could potentially be vastly different players, some will improve current weaknesses in their game and make them strengths, while others will regress and could potentially fall out of favor. With that said the current grouping of 25 prospects is impressive. We had the opportunity to see a majority of these kids try out for USA Basketball this June and look forward to watching them grow and develop over the next couple of years.
-- Keil Moore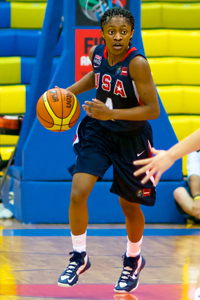 '16 ELITE 25 point guard Crystal
Dangerfield. *Photo by Haley Weit.
This class may not be hyped as the year of the point guard but to slight the lead guards in this 2016 class would be a major mistake. Starting with the highest ranked point in the class, No. 4 Crystal Dangerfield of Murfreesboro, Tenn., who already has as impressive of a resume as many top 25 seniors. She has played on the elite summer circuit for several years, has won gold with the USA Basketball 16U team, has showed out at numerous top flight camps and has carried a nationally regarded high school team deep in the playoffs. The rest of the crop is impressive as well, though finding two that are the same style is difficult. Already committed to Stanford, No. 9 Anna Wilson of Richmond, Va., is arguably the most dynamic athlete of the bunch. No. 11 Amber Ramirez of San Antonio, Texas, has that shifty and crafty style that makes her possibly the best scorer in the bunch. No. 14 Destiny Slocum of Meridian, Idaho, combines the leadership to run a team with multiple scoring weapons and No. 16 Kiara Smith of District Heights, Md., has the size and ability to create separation to play either guard spot effectively. I expect this group to change the narrative on this class by the time we expand to the ELITE 100 and beyond.
-- Chris Hansen
This is the third cycle of players to compete for one of 12 spots at the USA Basketball 16-and-under trials and the second to compete with the open format allowing non-invited players to apply for a spot to participate. With each cycle, the top players have become more savvy and basketball aware than the group before. This group is no different, as a lot of them have used opportunities such as Elite Basketball Academy camps or the Check Me Out Showcase to compete with top shelf competition and focus on skill development techniques to take home with them. The class is reminiscent of the class of 2013 with multiple players emerging as potential five-star prospects early.
-- Brandon Clay
---
Follow @BrandonClayPSB
Clay is the owner of the JumpOffPlus.com International Scouting Report, PeachStateBasketball.com and ProspectsNation.com. He can be reached at brandon@prospectsnation.com.
Follow @ChrisHansenPSB

Hansen is managing editor of ProspectsNation.com and a McDonald's All-American selection committee member. He was the national director of scouting for ESPN HoopGurlz from 2005 until 2012. He can be reached at chris@prospectsnation.com.
Follow @JLHemingwayPSB

Hemingway is the Assistant Director of Scouting for the JumpOffPlus.com National Scouting Report. He can be reached at jonathanhemingway@peachstatebasketball.com.
Follow @KeilMoorePSB

Moore is the Director of Scouting for the JumpOffPlus.com National Scouting Report and international scouting report. He has been a member if the women's basketball community for more than six years as a trainer and evaluator. He can be reached at keil@prospectsnation.com.