ELITE 100 Watch List 2022 - Part VI
Posted
2 years 8 months ago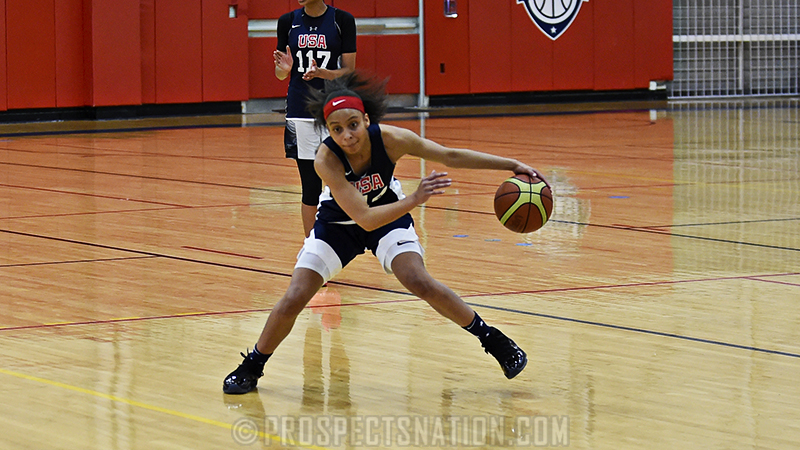 Mya Petticord of Detroit, Michigan, competes at the 2019 USA Basketball U16 national team trials. *Photo by Chris Hansen.
LISTEN TO THE BRANDONCLAYSCOUTING PODCAST ON THE 2022 WATCH LIST
The final installment of players joining the ProspectsNation.com ELITE 100 Watch List includes two sophomores who have already committed -- Isuneh Brady of San Diego, California, who committed to Connecticut, and Alexia Mobley of Reynoldsburg, Ohio, who gave her verbal to Louisville. Four of the five players in this group are from the Midwest with two from Michigan and two from Ohio.
Brady is a powerful post prospect with all the athleticism to make a huge impact. Her strength allows her to be a dominant rebounding force while her agility makes her a rim running threat at any level.
Bransford has been at her best in previous evaluations on the attack looking to get downhill. In that regard, she projects as one of the premier slashers in the country regardless of class. We fully expect Bransford's game to continue to progress from the outside as well.
Mobley brings length to the frontcourt at an early age. It's highly plausible that she shows the skill to play either forward position in spurts before she graduates. The future Louisville Cardinal has a world of potential still.
Petticord is a blur in the open court. She has length in her frame as well and her handle is on point. She's a rare athlete that can hit change of direction moves from crossovers to eurosteps without slowing down.
Whitehorn is as skilled as any guard that we've seen to date. That said, Whitehorn is without question over 6' in the backcourt. In all likelihood, there won't be five guards with her skill set, length in high school basketball next year regardless of class nationally.
(Click the Watch List logo to see the full list)