EIE Chicagoland 2019 Recap
Posted
4 years 2 months ago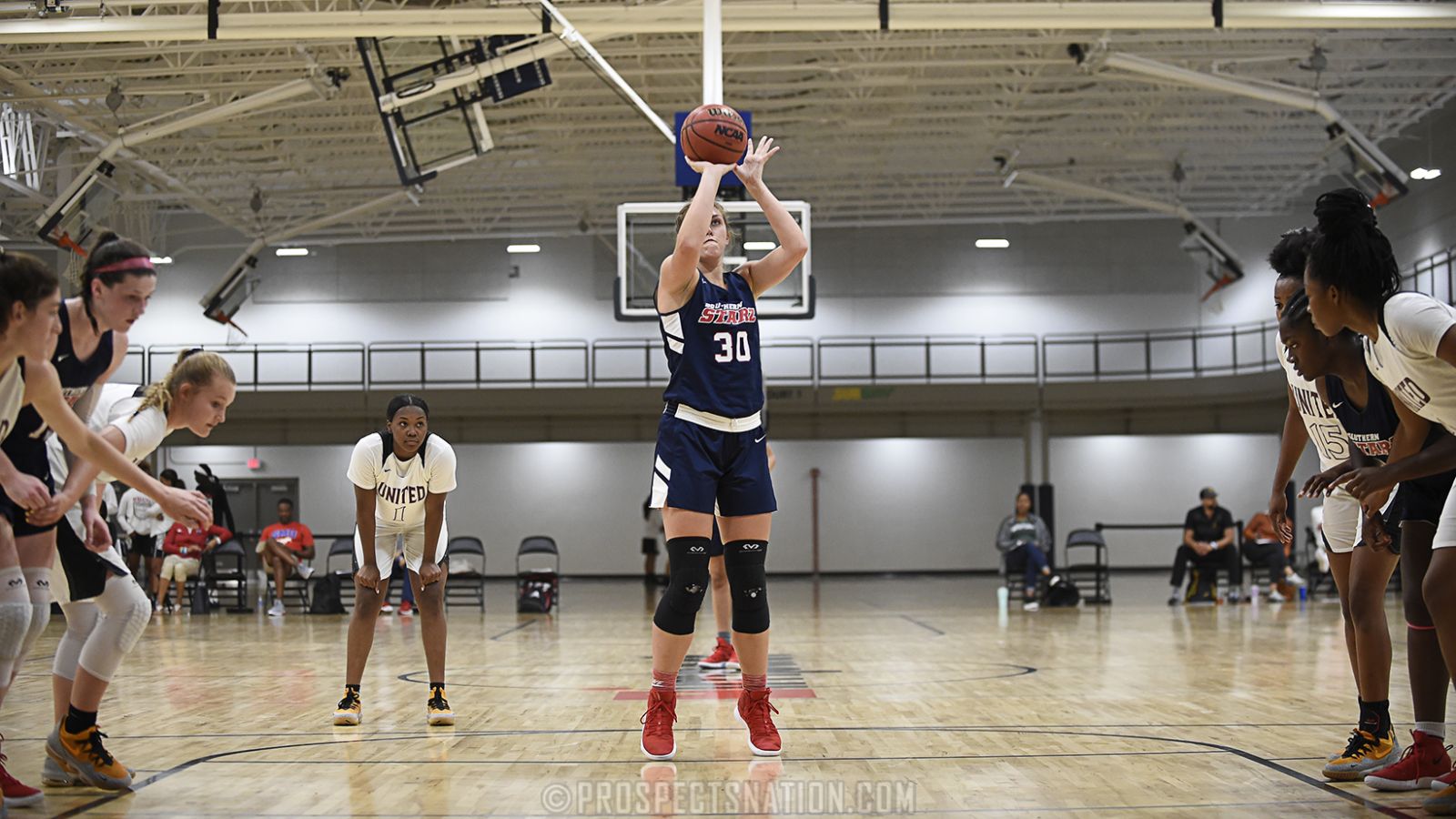 Karoline Striplin of AL Southern Starz is having a breakout summer. *Photo by Elite Is Earned Basketball.
HAMMOND, Indiana – The 2ndAnnual Elite Is Earned Chicagoland Shootout put a spotlight on teams from across the country on what is typically a gap day during the first evaluation period of the summer. With teams from across the country descending on Chicago for the 770-plus team Nike event, the Shootout provided a more featured platform with teams playing in the spotlight with colleges from the AAC, ACC, Big 12, Big Sky, Big Ten, Big West, Conference USA, Ivy League, MAC, Mountain West, Ohio Valley, Pac-12, Sun Belt, and West Coast Conferences in attendance.
At the brand new, gorgeous Hammond Sportsplex we saw action on the hardwood and came away with a better idea of where players stood on the floor and with their suitors.
Southern Starz Shining, Shining, Shining
In arguably the marquee matchup of the night, AL Southern Starz 2021 Looney squared off with a loaded Team United program. Despite falling to their Charlotte-based opponent, several players saw their stock rise.
The top of that stock riser list is Karoline Striplin of Hartford, Alabama. She was coming off a strong late spring showing at USA Basketball trials and led all scorers with 18 points. Her play on the interior was poised, strong and consistent.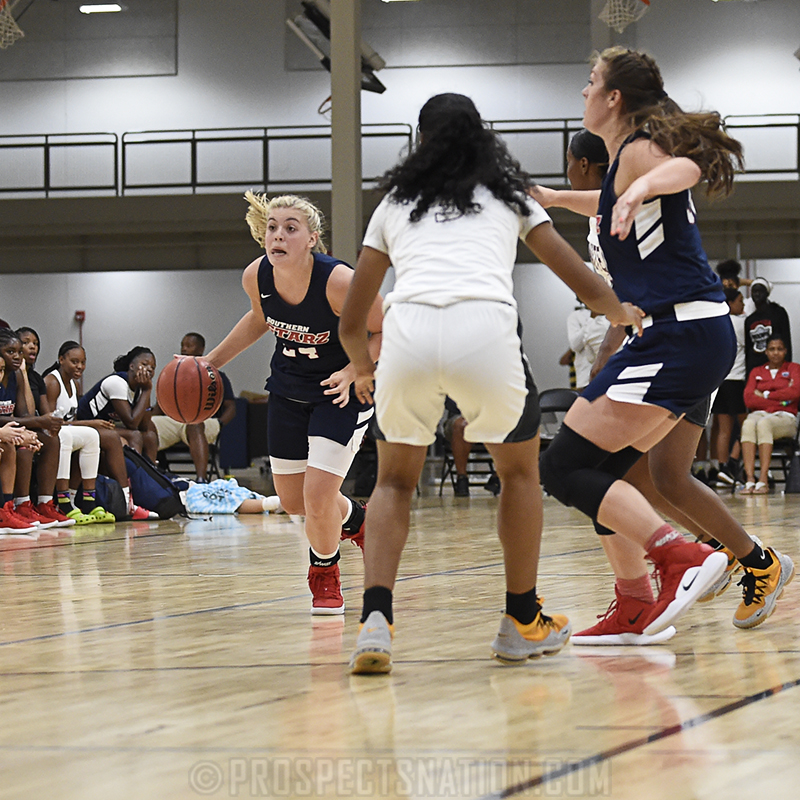 Jenna Walker of the AL Southern Starz has a
flare for passing. *Photo by Elite Is Earned.Joining Striplin with strong outings were ELITE 25 wing-forward Sara Puckett of Muscle Shoals, Alabama and Saniah Parker of Hunstville, Alabama. Puckett has become an intentional lead scorer for the Starz and has expanded her range. She finished with 17 points and hit three 3-pointers in the game. Parker joined those two in double figures with 12 points. While she can score it was her ability to set other teammates up and be impactful on defense at the point or on the wing that caught our attention. Throw in the dime dropping play of Jenna Walker of Decatur, Alabama, and you can see why this team has a big following.
The Southern Starz 2022 Bush team battled Lady Drive Nation 16U EYBL and saw four players finish in double figures. Karly Weathers lead the way with 17 points. Her range, willingness to sprint out and get open in transition all played a major role in the 62-50 win.
DeBreasha Powe, Masyn Marchbanks and Kelsey Thompson all hit double figures. Marchbanks impressed with her feel for the game and how well she took care of the ball under pressure. The squad got contributions from Clara Garland in the paint and high energy perimeter player Addison Potts as well.
The rising senior squad, Starz 2020 Bush, locked horns with fellow Nike Affiliate program Woodz Elite. The one possession game was one of the best of the day. The Southern Starz rolled out their dynamic backcourt duo of Destinee Wells of Lakeland, Tennessee, and Naira Jones of Troy, Alabama. The two play off each other so well that it doesn't matter which of them gets the outlet. And in the post, Arkansas commitDestinee McGhee, used her size, hands and touch to help her team pull out the 67-65 win.
HoopDreams Resurgence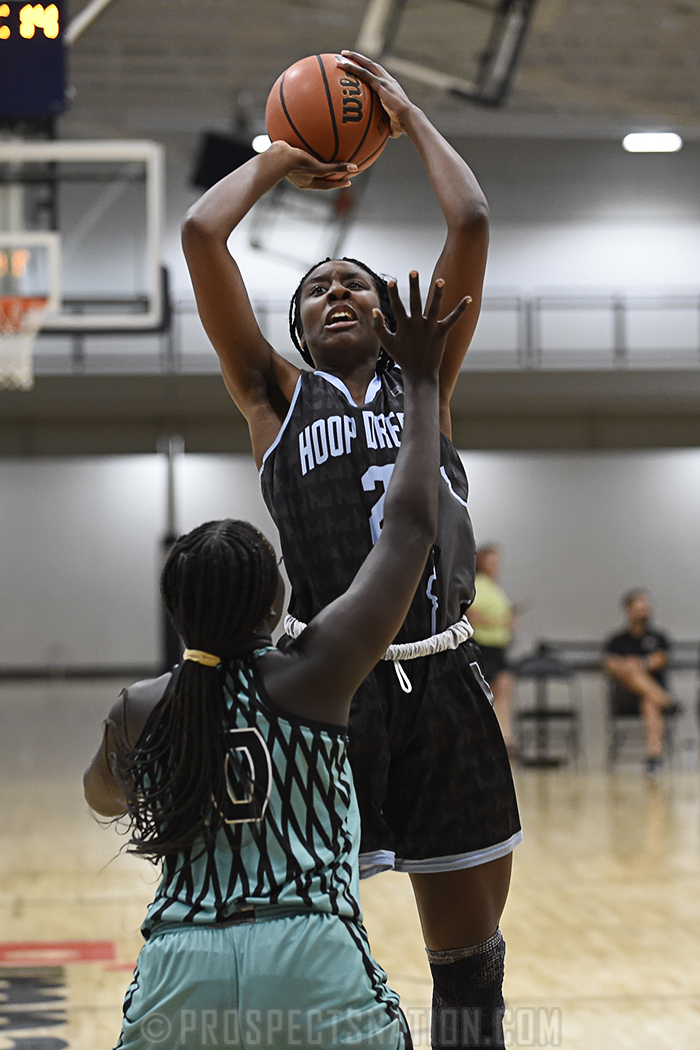 Peyton McFarland of the Idaho
HoopDreams. *Photo by EIE.The 2019 Idaho HoopDreams has been one of the West's most followed programs. Peyton McFarland, the 6-4 post from Boise, Idaho, is one of the top rated bigs left out west. Her length, ability to rebound and block shots as well as rim run have schools from the Pac-12 and WCC following her all summer. Those schools coming to see MacFarland also get a jump on a pair of 2022 forwards, Naya Ojukwu of Meridian, Idaho, and Jayden McNeal. This versatile pair brings athleticism and physicality to the frontcourt.
In the backcourt Trinity Slocum and Ava Ranson, both from Boise, gave the program two complementary guards. Slocum's flare, vision and passing combined with the range and ability to get open of Ranson, helped lead to a 63-45 win over KA Nightmare.
Kingdom Hoops Depth
The Des Moines, Iowa, based Kingdom Hoops has been on the scene for a long time. Their 17U team is lead by the strong lead guard play of Rose Nkumu. But there is depth in the team and program beyond her. Moriah Prewitt, the 5-8 2021 guard from Urbandale, Iowa, lead her team with 21 points, including four 3-pointers. She as joined from long range by 5-6 2020 guard Paige Rocca who hit three more from beyond the arc.
The 17U squad wasn't the only Kingdom Hoops team showing out. The program's 14U team was fantastic, winning the opening game of the event with easy. Jenna Pitz of Ankeny, Iowa, showed off her skill set, her smooth jumper and her basketball IQ. The 2023 guard, who finished with 21 points, was joined in the backcourt by 2024 prospect Nyla Seay of Ankeny. Her game is very crafty, she can shoot it and was very unselfish.
Team United Rising
One of the "it" teams this summer is Team United out of Charlotte, North Carolina. You don't have to watch long to find college prospects to recruit. Their balanced attack was on full display against AL Southern Starz 2021 Looney.
Reigan Richardson of Huntersville, North Carolina, is a 5-11 bucket getter in the 2021 class. She scored the ball at all three levels in this contest, finishing with 12 points. Her upside is off the charts.
Mallorie Haines of Sherrills Ford, North Carolina, also impressed with her range, energy and ability to defend. She was really active in all facets of the game. Her two first half threes got United off to a great start.
Neveah Brown and Aniya Finger, both 2020 prospects from Charlotte, North Carolina, captured attention with their play. Brown showed she can be a slashing scorer, using cuts and dribble penetration to attack the gaps while Finger was very versatile, playing multiple positions and bringing big energy that her team fed off of.
Woodz Elite Loaded
Coriah Beck of Fayetteville, Arkansas, had a terrific game, scoring a team-high 18 points. She's terrific in up-tempo games but her use of ball fakes in the half court show her ability to adapt to the game. She shot the mid-range and three well on this day.
Point guard Endya Buford of Olive Branch, Mississippi, had a lot of options to pass to, even after Destiny Salary left the game with injury. Claudia Bridges of Fayetteville, Arkansas, is in the argument for best shooter in the gym. She knocked down 3 treys in the game. Kiley Bess, a 6-0 swing player from Poplar Bluff, Missouri, stepped up and finished with 11 points, including three triples of her own.
The Next Northwest Wave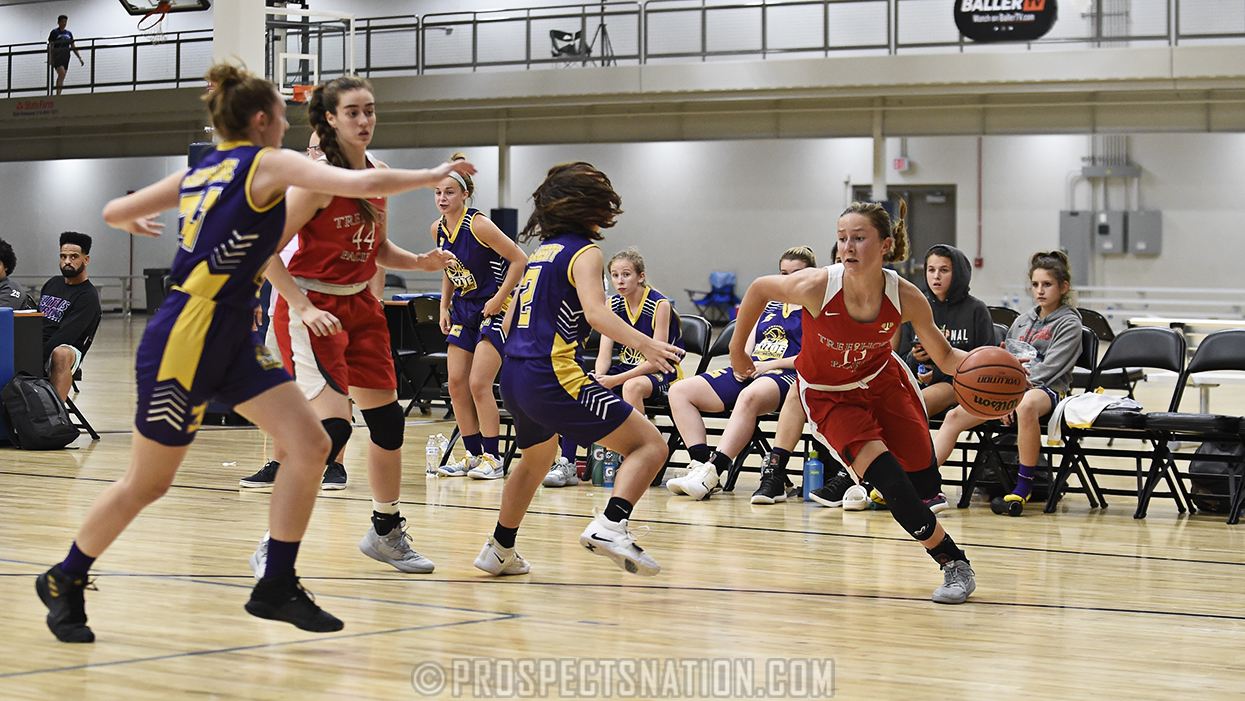 Devin Coppinger is a 2024 guard already making a
name for herself. *Photo by Elite Is Earned.The top Tree of Hope team this year is comprised of all rising seniors. But Tree of Hope Team Loyd's play shows the program has a bright future. The team comprised of 2023 and 2024 prospects beat an A2Zoe U16 team.
The team was led by the 15 points from Rylee Leishman, a 2023 point guard from Ellensburg, Washington. Other impact players include 2024's Devin Coppinger of Everson, Washington, and Katie Fiso of Seattle, Washington, as well as 2023's Jenna Villa of Arlington, Washington and Jersey Huerta of Covington, Washington. Several of these youngsters hold offers from Division I programs already.
AROUND THE RIM
DFW 16U EYBL guard Mya Williams of Waxahachie, Texas, was scoring, seemingly at will. The 5-8 guard got to the line, got the rim and hit from long range in scoring a game high 22 points in a tight matchup with Kingdom Hoops. Callie Cooper of Richardson, Texas, showed her potential for DFW as well, finishing with 17 points.
Lady Drive Nation 16U EYBL got good games from both Ayanna Thompson, a 2022 forward from Desoto, Texas, and Jaidah Black, a 2021 wing from Saginaw, Texas. Both are 6-1 prospects who utilized their length on both ends of the floor.
KA Nightmare guard Kaila Rougier, a 2021 prospect from Pooler, Georgia. She was one of the squad's most consistent players, along with 2020 guard Malerie Brooks of Kingland, Georgia. Both scored from behind the arc, got to the line and finished in the paint.
Brooklyn Busby of Omaha, Nebraska, is a name to know in 2022. The 5-8 shooting guard was a scoring machine, especially from long range for Nebraska Hoops Elite. Her long range marksmanship helped net her 19 points to lead all scorers.
Missouri Phenom has no shortage of talent these days. At the Shootout two players each put together fantastic halves to lead the team to victory. In the first half it was Haley Wiskur, a 5-11 2020 guard from Sedalia, Missouri, leading the charge with 12 points. In the second half the scoring flipped over to Maci Kuchta, a 5-3 point guard from Columbia, Missouri. Throw in strong play from Abby Backes, Eryn Puett and Hannah Linthacum and you have a tough squad to beat.

Chris Hansen is managing editor of ProspectsNation.com and serves on the McDonald's All-American and Naismith Trophy selection committees. He was a co-founder of and the national director of scouting for ESPN HoopGurlz from 2005 until 2012 and is the director of the Check Me Out Showcase and ELITE is EARNEDevents. He can be reached at chris@prospectsnation.com.