Early November Signing Classes
Posted
8 years 2 months ago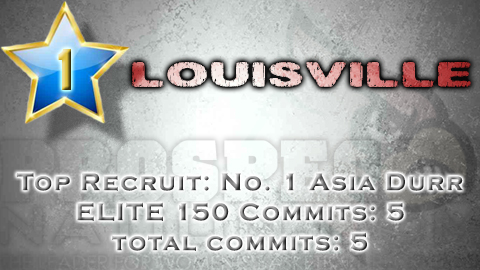 Louisville keeps ahold of the top overall class entering the early signing period.
Tweet
The weeks leading up to the early signing period for the 2015 class, which opens tomorrow, saw numerous ProspectsNation.com ELITE 150 players give their verbal commitments, including No. 5 Arike Ogunbowale, the five-star guard from Milwaukee, Wis., choosing Notre Dame. That commitment elevated the Irish class two spots to No. 3 overall. And though Louisville and Connecticut continue to hang on to the top two spots, there has been plenty of movement over the past month.
See the TOP 25 RECRUITING CLASSES – Nov. 10 update
North Carolina jumped up to No. 6 overall heading into the signing period with by adding No. 11 Destinee Walker of Ocoee, Fla., and the top Canadian prospect, Eternati Willock. The pair of four-star prospects joined previous Tar Heel commit Stephanie Watts of Wesley Chapel, N.C.
Despite the movement above, Cal held steady at No. 12 with the additions of No. 54 Asha Thomas of Oakland, Calif., and Chinese post Chin Yue. The two verbals give the Golden Bears five players expected to sign this week.
Iowa State added four-star Canadian wing Bridget Carelton to its 2015 class. She joins a pair of top 50 prospects in TT Starks of Minneapolis, Minn., and Meredith Burkhall of Urbandale, Iowa. This trio jumps up to 15th in the nation thus far.
Pac-12 power Stanford elevated its class to No. 19 with the addition of the No. 4 ranked international player, Alana Smith, a five-star forward from Australia.
Kansas moved up to 20th with the addition of No. 85 Aysha Robertson of Richmond, Calif. She will join No. 59 Jayde Christopher of Federal Way, Wash., in the Jayhawks backcourt of the future.
Ohio State landed No. 25 Kaylan Pugh of Collierville, Tenn., to the Buckeyes 2015 class. The four-star perimeter player joins No. 104 Theresa Ekhelar of Woodbridge, N.J. The duo gives Ohio State the No. 22 ranked class entering the signing period.
No. 65 Katie McWilliams a 6-1 perimeter player from Salem, Ore., decided to stay in-state, choosing Oregon State. Her commitment moves the Beavers into the top 24 with three ELITE 150 verbal commitments to date.
See the TOP 25 RECRUITING CLASSES – Nov. 10 update
Follow @ChrisHansenPSB

Hansen is managing editor of ProspectsNation.com and a McDonald's All-American selection committee member. He was the national director of scouting for ESPN HoopGurlz from 2005 until 2012. He can be reached at chris@prospectsnation.com.