Early August Verbals: Hebard, Mack, Moore
Posted
8 years 1 month ago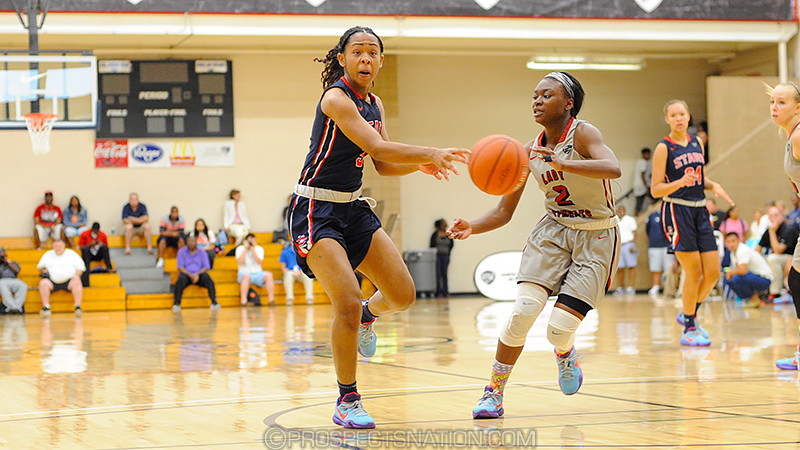 Minyon Moore was a spark plug for the Cal Stars this summer and is headed to USC. *Photo by Chris Hansen.
This Week in Review spans the nearly two weeks since the second July evaluation period ended with commitments from all over the map. However it is the Pac-12 making the most noise in early August.
Hebard To Oregon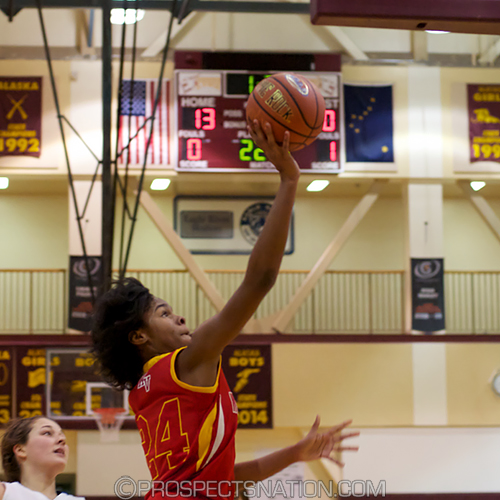 No school out west has recruited the 2016 class as quickly as the Oregon Ducks. In a year that has seen many elite players waiting for the Fall, Oregon has landed verbal commitments from six players, the latest being 6-3 forward Ruthy Hebard of Fairbanks, Alaska.
In Hebard the Ducks are getting an athletic frontcourt player with a ton of upside. Being the fourth frontcourt player the Ducks have added in the class, plus 2015 signees Otiona Gildon and Lauren Yearwood, Hebard will have depth around her and allow her time to grow her game.
In 2016 Hebard joins Australian guard Morgan Yeager, 6-6 center Lydia Giomi of Seattle, Wash., 6-3 interior players Mallory McGwire of Reno, Nev., and Sierra Campisano of San Diego, Calif., as well as 6-0 wing Jayde Woods of Yorba Linda, Calif. The Ducks are also finalists for five-star guard Sabrina Ionescu of Walnut Creek, Calif.
Moore To Southern Cal
Fresh off a championship at Nike Nationals, class of 2016 guard Minyon Moore of Richmond, Calif., made a verbal commitment to Cynthia Cooper and her staff at the University of Southern California. Moore, who stands 5 feet 7, will bring energy, defense, and toughness to the Southern Cal backcourt. She is the ultimate teammate as she is selfless on both sides of the ball but also has enough individual skill to keep defenses honest and score the basketball when needed.
With the addition of Moore, Cooper and her staff now have their first verbal commitment in the 2016 class. Look for them to focus on adding at least an additional post and wing to this class but there could be as many as four players on their way to campus next year.
Houston Adds Mack
Houston scored a post to build around for the future when Natasha Mack of Lufkin, Texas, picked the American Conference school over a number of suitors including Texas Tech, Texas Christian and Florida. At 6-4, Mack will give coach Ronald Hughey and his staff a true post to protect the rim on defense and score in the paint on offense. Mack has quality mobility for a player her size and shouldn't have any issues running the floor and keeping up with the high pressure, up-tempo style that Houston plays.
Coming off of a strong summer, look for Mack to be in the mix as we release the ELITE 150 in the upcoming weeks.
Additional ELITE 100 Commitments
Dominique Toussaint committed to Virginia last week: REAX
Kat Tudor committed to Oregon State last week: REAX
Around The Rim
4-star guard Brown to Providence: Under the radar point guard Tyasha Brown of Harrisburg, Pa., made a verbal pledge to play her college basketball at Providence. Brown, who stands 5-6, is a true floor general who should give Providence stability at the point guard position.
2-star-plus post Grant to Quinnipiac: Quinnipiac went west to earn a verbal commitment from 6-4 post Katie Grant of Phoenix, Ariz. Grant had a number of schools interested in her services including a couple of Ivy League programs.
3-star post Bruening to UCSB: Brand new UC-Santa Barbra coach Bonnie Henrickson and her staff picked up a verbal commitment from 6-4 post Natalia Bruening of Newport Beach, Calif . Bruening will bring size to the Gauchos frontcourt while giving them a chance to develop and build around her moving forward.
3-star wing Rusk to Wyoming: Class of 2016 shooter Taylor Rusk of Denver, Colo., made a verbal pledge to head north of Colorado and play at Wyoming. At 5-10, Rusk has quality size and the ability to stretch the floor with her ability to make perimeter jumpers.
3-star post Smith to Seton Hall: Ty Smith of Baltimore, Md., a 6-3 post, has decided to play her college basketball at Seton Hall. Smith will bring size and athletic potential to the Big East school.
3-star forward Nicholas to Sac State: The Hornets front line got a lot bigger when 6-3 forward Kennedy Nicholas of Kirkland, Wash., gave Sacramento State her commitment. She is mobile for her size and should fit into the fast paced style Sac State is known for.

Keil Moore is the Director of Scouting for the JumpOffPlus.com National Scouting Report and international scouting report. He serves on the Naismith Trophy Board of Selectors and has been a member of the women's basketball community for more than eight years as a trainer and evaluator. He can be reached at keil@prospectsnation.com.

Chris Hansen is managing editor of ProspectsNation.com and serves on the McDonald's All-American and Naismith Trophy selection committees. He was the national director of scouting for ESPN HoopGurlz from 2005 until 2012 and is the director of the Check Me Out Showcase. He can be reached at chris@prospectsnation.com.