Durr On Top Of Her Game, Recruiting
Posted
7 years 8 months ago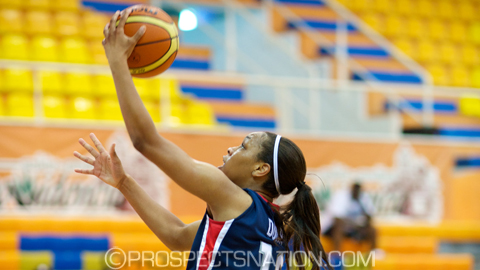 Top ranked junior Asia Durr is eyeing a cut to a top five in the spring. *Photo by Haley Weit.
Tweet
Asia Durr is the top ranked player in the 2015 ELITE 60. But simply getting to No. 1 is not enough. As you can expect of a player of her talent, it's not about maintaining her spot, her focus is on growing her game.
"She knows she has a chance to be the greatest player of all time," Her father, Terry Durr, said. "That's what motivates her to put the work in."
While no one can fault a proud father for celebrating his daughter, there is a humble way about Durr that makes her highly acclaimed prep status seem one of realizing expectations more so than predictable hyperbole. And while her goals may very well be to shoot for the stars, you won't catch the 5-foot-10 FIBA U16 gold medal winning guard talking about herself too often.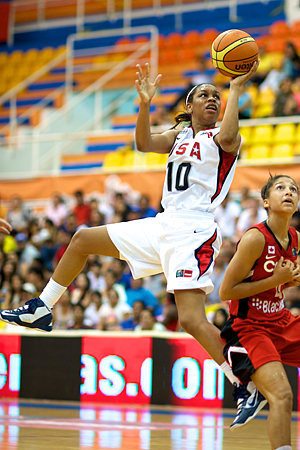 '15 ELITE 60 guard Asia Durr.
*Photo by Haley Weit.
Instead the Douglasville, Ga., native goes about her training regiment in meticulous fashion. She works out with her trainer, Dorian Lee, at least four days a week and mixes in weights in the evenings before homework. She takes it a little easier on the weekends but you'll still likely catch her in the gym on Sundays sneaking in 500 shots.
On the recruiting front Durr has also been quite diligent, taking advantage of the new schedule to host several coaches for in-home visits this fall.
"Well, I liked the home visits because I got to learn more about the coaches program, the school and chat with them face to face," Durr said.
The St. Pius X High School junior hosted Maryland, Duke, Connecticut, Baylor, Tennessee, Georgia, Florida State, South Carolina, Notre Dame, Rutgers, Kentucky and Louisville. She also planned on a 13th in-home visit, with Ohio State, but scheduling conflicts led to that visit being postponed to a later date.
"It definitely helped me because I learned more about the programs, I learned stuff that I never knew, and it gave me a chance to interact with the coaches to get to know them better."
A list of 13 is a lot to manage on a long-term basis, but Durr has a plan for that too.
"My next step is I'm going to focus on the various schools this upcoming basketball season, and continue to get to know the coaches better along with their program," she added. "I plan to take three official visits in the spring and summer, and the remaining two next fall. Another part of my next step is I plan to come out with a top five in the spring."
Durr is an impact player, certainly, so the women's basketball world will be as acutely focused on her cut to five as she is on her game. In the mean time, there's her junior season; one that she's got high expectations for.
"My goals for the upcoming season are to help lead my team to repeat as state champions, to get my team on the national scene," Durr said. "I want to be Miss Georgia Basketball and to be the national player of the year."
Candace Parker is the only two-time winner of the national player of the year award but Durr has designs on being Parker-esque before she hangs up her sneakers so you can't blame her for setting her sights on that milestone.
Keil Moore contributed to this report.
ProspectsNation.com analyst Brandon Clay teams up with Video Coordinator Kris Watkins to talk about Asia Durr:
Follow @ChrisHansenPSB

Hansen is managing editor of ProspectsNation.com and a McDonald's All-American selection committee member. He was the national director of scouting for ESPN HoopGurlz from 2005 until 2012. He can be reached at chris@prospectsnation.com.
Follow @KeilMoorePSB

Moore is the Director of Scouting for the JumpOffPlus.com National Scouting Report and international scouting report. He has been a member if the women's basketball community for more than six years as a trainer and evaluator. He can be reached at keil@prospectsnation.com.