Posted
3 years 9 months ago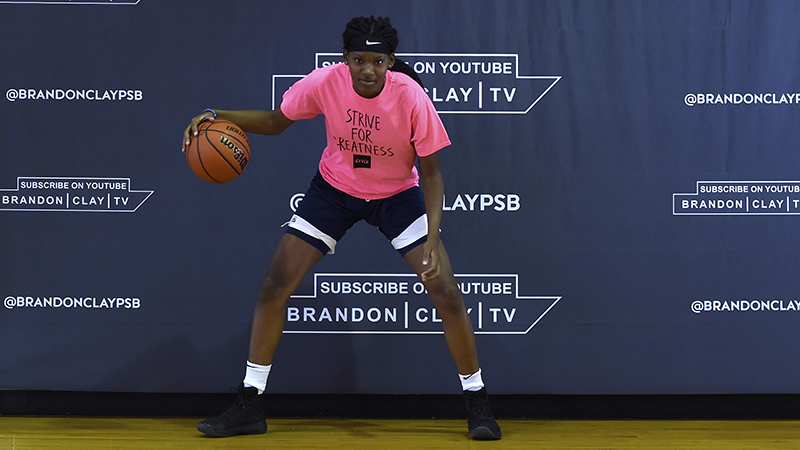 Sania Feagin of Forest Park High School (Ga.) is one of the nation's premier front court prospects. *Photo by Chris Hansen.
SPRINGFIELD, Virginia – The She Got Game Classic has become one of the nation's premier events during the high school season. Here is a look at several prospects who caught our attention.
Since finishing his NBA playing career, Delaney Rudd has an extensive history of developing prospects at the high school level. Class of 2021 post Kiandra Browne of Winston Salem Prep (N.C.) is the latest. She's a dynamic power player.
UConn landed a post prospect with a world of potential in Class of 2020 prospect Piath Gabriel of Bradbury Christian Academy (Mass.). Gabriel has the size and length on the interior to be a consistent factor in due time as her skill set keeps leveling up.
We're extremely familiar with Class of 2021 forward Sania Feagin's game. That said, the five-star prospect finds a way in each evaluation to impress us yet again. Feagin of Forest Park HS (Ga.) is a multi-purpose threat and capable of having an offense run through her.
The future is bright for Class of 2023 guard Emma Risch of Florida Prep (Fla.). She is a bigtime option shooting the ball from beyond the arc. She has really learned how much space she needs to get her shot off and has good feel for when she's in rhythm to let it go.
Some people don't believe you can play two point guards together but that's exactly what Blair Academy (N.J.) utilizes with the fantastic duo of Olivia Miles and Dominique Darius. Both are players who excel at making their teammates better and in this case it leads both to being assertive offensively when their team needs it.
Class of 2020 wing Sophie Tougas plays alongside Gabriel for Bradbury Christian Academy. She showed a versatility with her skill set and a competitiveness on both ends of the floor to match.
Tatyana Wyche of American Heritage High School (Fla.) has shown a great deal of improvement. She has all the physical attributes to garner attention from all levels of college suitors. What was impressive here is the 2021 post's use of a jump hook, the makings of a go-to move, which complements her production rim running and duck in action.
Meghan O'Brien of Chantilly High School (Va.) showed an impressive skill set and knowledge of scoring on the interior. The 6-1 junior forward sealed, flashed, slashed and found good post position regularly. She was comfortable facing up as well.
The Maret School (D.C.) had a talented young roster. Coach Monique Liddell got terrific production from sophomore Ava McGee as well as freshmen Maryan Eniafe and Drew Jordon. With a season of experience expect this squad to make noise for years to come.
North Point High School (Md.) was led by sophomore point guard Natalie Johnson. The lead guard showed speed with the ball in addition to multiple ways to finish. She hit a floater, finished a jelly roll after a big step-over move and got to her spots in the mid-range several times.
Sophomore sensation Kiki Rice of Sidwell Friends (Md.) is a dynamic scoring guard who played her with great pace. Whether in transition or in the half court, she got her paint touches off the bounce time and again. She's a player with the talent to make difficult shots and as the 2022 learns to pick her spots her game will only become more lethal.
Southeast Raleigh High School (N.C.) had a Friday night battle with Tampa Bay Tech (Fla.). A big difference maker was the steady senior leadership from North Carolina signee Anya Poole. The athletic 6-2 forward was physical on the interior on both ends of the floor and made an impact without many mistakes despite the level of opposition.
Tampa Bay Tech played well in spurts to stay in the game. While there is much fanfare surrounding the hyper talented Janiah Barker, the 6-1 forward who played with the USA Basketball U16 team, it was one of her teammates that had a special night. KN'isha Godfrey, a junior point guard scored both at the rim and from beyond the arc. Her strength with the ball at the lead guard position impressed.

Brandon Clay serves as the National Director of Scouting for ProspectsNation.com and owns BrandonClayScouting.com, a boutique scouting service available for purchase by colleges and universities nationwide.

Chris Hansen is managing editor of ProspectsNation.com and serves on the McDonald's All-American and Naismith Trophy selection committees. He was a co-founder of and the national director of scouting for ESPN HoopGurlz from 2005 until 2012 and is the director of the Check Me Out Showcase and ELITE is EARNED events. He can be reached at chris@eliteisearned.com.