Posted
9 years 10 months ago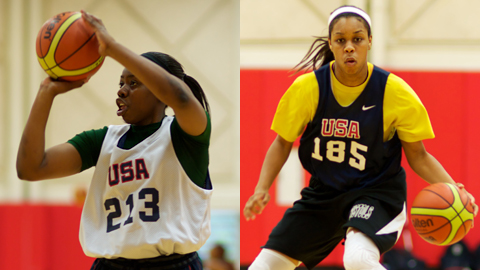 Arike Ogonbowale (left) and Asia Durr (right) played well from start to finish. *Photos by Chris Hansen.
COLORADO SPRINGS, Colo. -- It's clear the players competing the last day made the USA Basketball U16 national team selection committee's night a really long one. The question we were asked by numerous players throughout the day were "did I do enough to make the team?" The answer was almost unanimously "yes" for each.
The truth of the matter is that the committee is charged with putting together a team to win the gold medal at the FIBA Americas tournament less than a month from now, not to assemble an All Star team like the various All-American squads.
The things that will come in to play will start with how many spots are given to single-position players and how much weight will be given to players who can play at a high level at multiple positions? With that in mind we look at some of the position specific debates from a hyper-competitive and deep group at this year's trials
AT THE POINT
The point guard battle was intense and competitive the entire way. With Te'a Cooper of Powder Springs, Ga., being the most physical option, Taylor Murray of Odenton, Md., being the best defender, Lauren Brozoski of Cambria Heights, N.Y., the best leader, the 2015 options alone are compelling.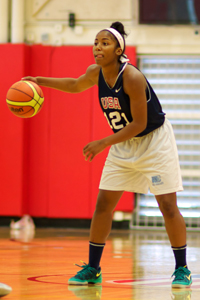 '15 ELITE 25 guard Te'a Cooper.
*Photo by Chris Hansen.
Add to that group Crystal Dangerfield of Murfreesboro, Tenn., as the best scorer at the point, Amber Ramirez of San Antonio, Texas, was the best shooter and Anna Wilson of Richmond, Va., the most cerebral and the 2016's really make this a tough decision.
Compounding the debate are players like Taja Cole of North Chesterfield, Va., and Amari Carter of Washington, D.C., who are really good at creating offense but also can play some point.
ON THE WING
Style and what you want on your team really starts to come into play on the wing. Do you take kids that are swing wing-forwards or perimeter scorers with size. With Asia Durr of Douglasville, Ga., and Arike Ogunbowale of Milwaukee, Wisc., standing out at the off-guard position, the question is do you play them together enough to consume a roster spot at the three spot?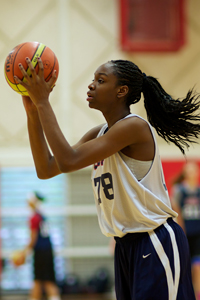 '15 standout wing Kennedy Burke.
*Photo by Chris Hansen.
Katie Lou Samuelson of Huntington Beach, Calif., seems like a lock as well as she is the best shooter in the building along with her ability to defend the forward position as well. The rest of the field in the discussion is a mixed bag where style and role could make or break a player's fate.
Do you go with one of the players who shot the ball better like Chelsea Dungee of Okmulgee, Okla., and Kysre Gondrezick of Benton Harbor, Mich., or the longer and more athletics players like Jaelyn Brown of Murrieta, Calif., and Kennedy Burke of Northridge, Calif., or better yet a player that gives you some of both like DeJanae Boykin of Springdale, Md.?
POST PLAY
The post position may seem clear cut but in the 2009-10 circuit of U16/U17 teams, the style of play was very post-centric, allowing for the play of two post players like we saw in Toulouse, France, in the 2010 FIBA World Championships, or a more perimeter focused squad that took the 2012 Worlds in Amsterdam, Netherlands.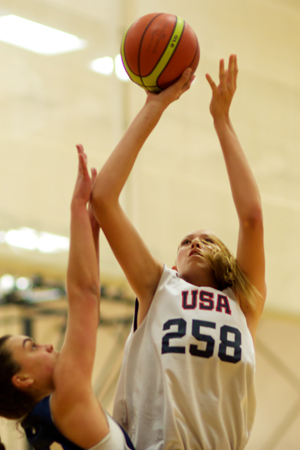 '16 Watch List post Lauren Cox.
*Photo by Chris Hansen.
The two traditional power posts were Tori McCoy of Champaign, Ill., and Kalani Brown of Slidell, La., but McCoy was unable to finish the trials and her status is up in the air. McCoy suffered a concussion but is still eligible to be selected.
The most consistent post scorer was Lauren Cox of Flower Mound, Texas, who scored facing up and showed touch around the rim. But the committee could also go with the more athletic players in the post like Jordyn Holmes of Austin, Texas, and Caliyah Robinson of Marietta, Ga. And there is a player like Ashley Hearn of Rowlett, Texas, who provides a little of everything and battled through a torn labrum in her hip.
And there is also the possibility that they choose a prospect for the future as they did in 2010 with 6-foot-7 Imani Stafford, who played sparingly but is a player you want in the pipeline for future squads, just like the 6-9 Nancy Mulkey of Cypress, Texas.
All this debate is to say that really good players will be cut on Monday morning. Just as Moriah Jefferson and Kelsey Mitchell have experienced, in spite of outstanding play during their time at the U.S. Olympic Training Center.
Follow @ChrisHansenPSB

Hansen is managing editor of ProspectsNation.com and a McDonald's All-American selection committee member. He was the national director of scouting for ESPN HoopGurlz from 2005 until 2012. He can be reached at chris@prospectsnation.com.
Follow @KeilMoorePSB

Moore is the National Director of Scouting for the JumpOffPlus.com National Scouting Report. He can be reached at keil@prospectsnation.com.