Davis and Gray to Enter WNBA Draft
Posted
6 years 8 months ago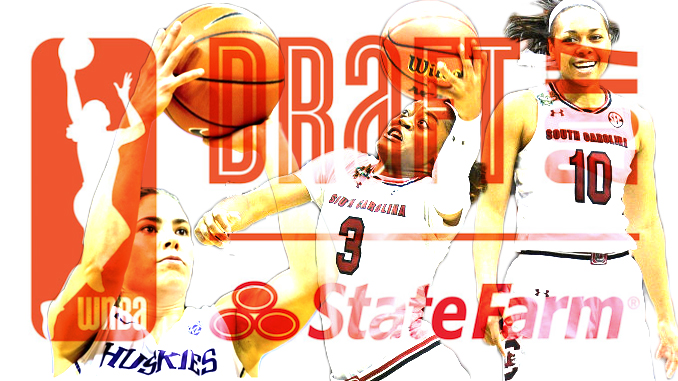 With the addition of South Carolina standouts Kaela Davis and Allisha Gray, the top of the 2017 WNBA Draft Board got a little more interesting. With most of their redshirt junior counterparts electing to stay in college for their final year of eligibility, the pair of perimeter threats elected to ride the wave of a national title into next week's Draft.
Here's a quick breakdown on each:
Davis averaged 11.8 points and 3.8 rebounds per this season. She showed flashes of her breakout scoring potential with three straight 20-plus point performances in the tournament including 23 in the Elite Eight win over Florida State. Davis finished with that same point total in the SEC title victory over Mississippi State as well. She's capable of increasing her shooting percentages, which finished under 35 percent into the 40's. At the WNBA level, Davis will need to show that she's capable of consistently making the open shot to maximize her value on the perimeter.
Gray averaged 13 points and 4.4 rebounds per this season. The dynamic left-hand dominant guard reached double figures in each of the Gamecocks six NCAA Tournament games. She shot right at 60 percent over that stretch and 50 percent even on the season. Gray had a 2 to 1 assist to turnover ratio as well showing that she is capable of handling the basketball in the half court. Like Davis, raising her 3 point percentage from the low 30's will help make her a tougher assignment for opposing defenses this summer.
Click the logo for the current WNBA Draft Board from ProspectsNation.com

Brandon Clay serves as the WNBA Director of Scouting for ProspectsNation.com and owns The JumpOffPlus.com International Report, which is picked up by more than 150 colleges and universities nationwide. He serves as the Executive Camp Director for the Elite Basketball Academy Camps. He serves on the Naismith Trophy Men's / Women's College Player of the Year Academy and is chairman of the HS Boys / Girls Board of Selectors and is on the McDonald's All-American Selection Committee. He also is the publisher of PSBPopCulture.com.