Posted
2 years 3 months ago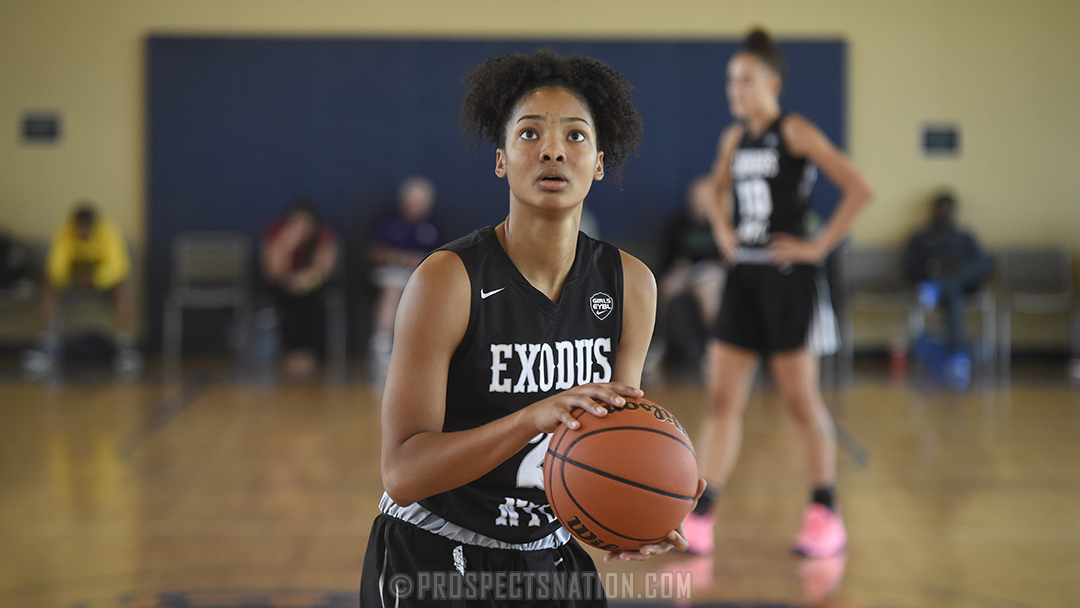 Dominique Darius competes with Exodus NYC EYBL at the EIE Shootout in Atlanta, Ga. *Photo by Chris Hansen.
Dominique Darius of Rochelle, New York, became the seventh player from the top 20 of the ProspectsNation.com top 75 to commit in the 2021 class. The No. 17 ranked prospect announced her commitment to UCLA and is the program's first commitment in 2021.
Class of 2021 guard Dominique Darius of Blair Academy (New Jersey) is one of the most consistent guards in the class nationwide. She'll give UCLA coach Cori Close versatility in the backcourt. Whether it's in club or school season, Darius shows up to defend at an elite level. Offensively, she is a quality ball handler and likes to attack the lane off of the bounce as well. She's an ultra smooth athlete on the wing.
As Darius joins the Bruin roster she'll be teamed with Charisma Osborne who just finished a terrific freshman season. Darius has shared the backcourt duties with elite guards before as at Blair she's teamed with Olivia Miles. With Japreece Dean getting drafted by the Chicago Sky with the 30th pick of the 2020 WNBA Draft, the point guard play for the Bruins stayed strong beyond Jordin Canada. If Osborne and Darius continue the trend of pro level point guard play then Close and her staff will have quite a tradition going.

Chris Hansen is managing editor of ProspectsNation.com and serves on the McDonald's All-American and Naismith Trophy selection committees. He was a co-founder of and the national director of scouting for ESPN HoopGurlz from 2005 until 2012 and is the director of the Check Me Out Showcase and ELITE is EARNED events. He can be reached at chris@prospectsnation.com.

Brandon Clay serves as the Director of Scouting for ProspectsNation.com and owns The BrandonClayScouting.com Evaluation Report, which is read by more than 200 colleges and universities nationwide. He also serves as the Executive Skills Director for the Brandon Clay Scouting Academy Series.