Corosdale Picks Oregon State
Posted
7 years 2 months ago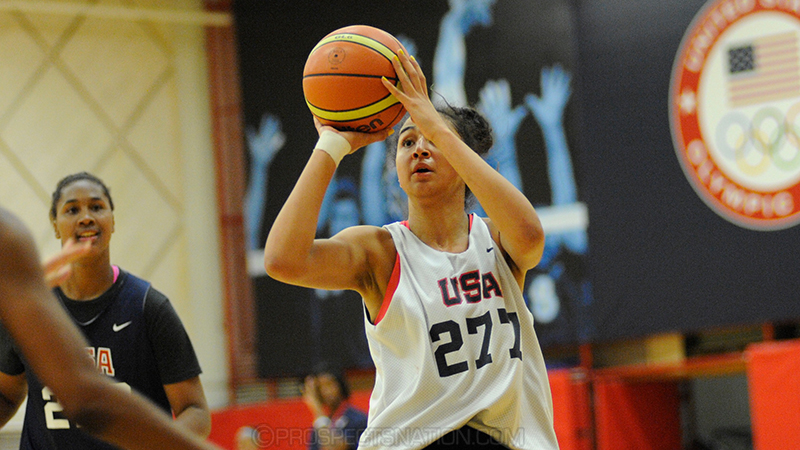 Taya Corosdale of Bothell, Washington, is one of the toughest forwards to defend in the class because of her ability to shoot the ball from long range. *Photo by Chris Hansen.
Taya Corosdale of Bothell, Washington has made a verbal pledge to Oregon State after making official visits to several Pac-12 schools. The 6-foot-2 senior forward picked OSU over Arizona, Arizona State, UCLA, and Washington. The addition of Corosdale gives Oregon State two members of the 2017 class as four-star guard Aleah Goodman of Happy Valley, Oregon has already committed.
As a highly skilled stretch-four, Corosdale has an opportunity to bring versatility to the Oregon State lineup. She is capable of handling the ball as a secondary ball-handler and in addition to stretching the floor with her perimeter jumper, she can make plays for others with the pass. Her size and flexibility will allow Oregon State coach Scott Rueck to be creative with how he uses her on offense while not giving up the size or quickness on the defensive side of the ball.
"Corosdale shot the heck out of the ball in July with Tree of Hope," Chris Hansen, managing editor of ProspectsNation.com, said. "She's a kid that on top of her talent is also a great teammate and brings positive energy to the court and the locker room."
"Corosdale has shown the versatility in the frontcourt to be considered one of the premier prospects on the West Coast," Brandon Clay of ProspectsNation.com said. "Her diverse skill set, legitimate size and ability to face the basket makes her unique. I coached her at the Check Me Out Showcase last summer and left impressed with her willingness to rebound the ball, toss the outlet ahead and run the floor. Continuing to focus on her game inside of 12-15 feet will only enhance her skill outside of that range."
Oregon State is still working on making additions to its 2017 class. Five-star guard Evina Westbrook, the No. 2 overall player in the class, Kiana Williams, a point guard who is ranked No. 12 in the class, and four-star guard Bendu Yeaney are both considering Oregon State as their destination of choice.

Keil Moore is the Director of Scouting for the JumpOffPlus.com National Scouting Report and international scouting report. He serves on the Naismith Trophy Board of Selectors and has been a member of the women's basketball community for more than eight years as a trainer and evaluator. He can be reached at keil@prospectsnation.com.