Posted
11 months 5 days ago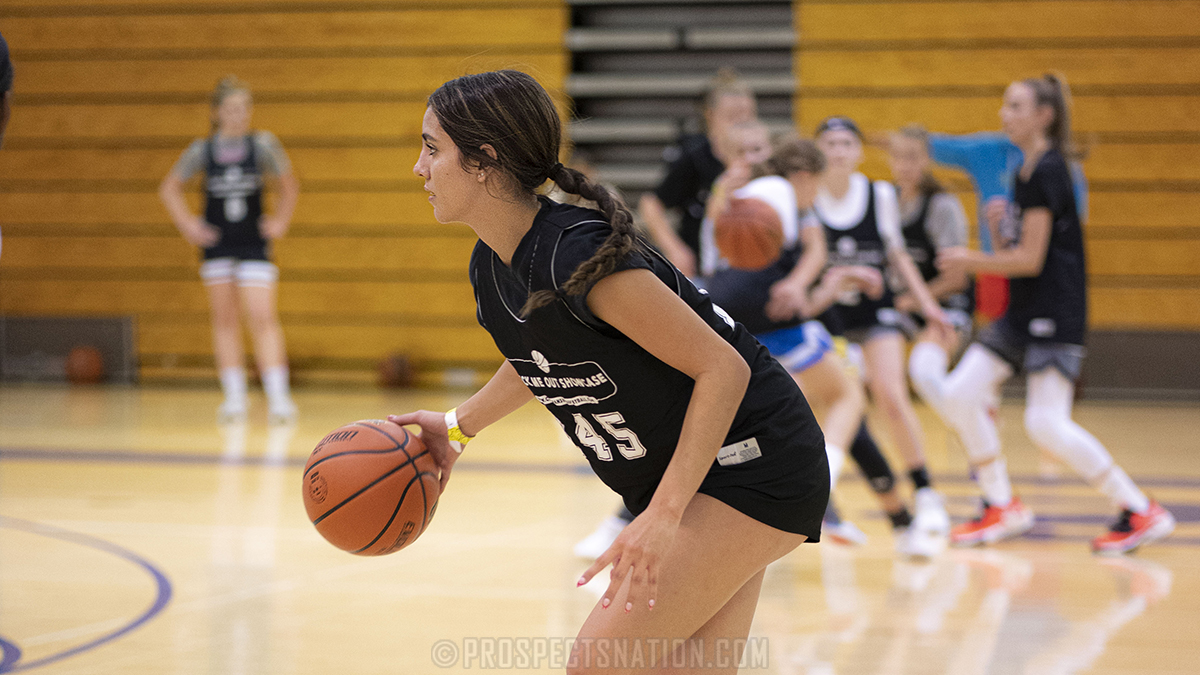 Aspen Salazar of Las Cruces, New Mexico, showed she's a crafty scorer in Colorado. *Photo by Eliteye Media.
GREENWOOD VILLAGE, Colorado – The second year ELITE is EARNED brought its CMO camp series to The Centennial State was a great way to end the camp season. The Feature Player Training sessions allowed extra time with select players ahead of a fun camp weekend.
Anderson is tough, plain and simple. She's competitive in everything she does and has a nice skill set to go with it. She has shake and wiggle in her game and has a nice finishing package at an early age.
Working with Snodgrass if fun because she does everything with purpose. She has good length in her frame and finished with both hands. She showed good handle, especially for such a young player.
Valdez has a pro skill – she can flat out shoot that thing. She has a quick release and has great awareness of how much space she needs to score. While it was great from long range, dialing it in from mid-range was a level up.
Tafoya is a 5-8 guard who plays a bigger than her listed size. She has a consistent shot pocket and release which led to her knocking down a lot of shots. She's a competitor and you never have to ask her to play hard.
Rojas is a young guard coming into her own. She's a strong, especially for an underclassmen. Seeing her adjust on the fly to using her physical tools and be patient on the floor was great to see. If she can continue to be physical off the bounce it will complement the spot shooting we saw this weekend.
Beck has a smoothness to her game. For a freshman she's strong and that goes well with the fluidity of her game. Even with pressure she maintains a coolness that will really help her as she transitions to high school this winter.
This was our second weekend this fall in the gym with Salazar. She's one of the best uncommitted guards out west. There's a smoothness to her game. It starts with a nice stroke from long range then the ball skill to get to different spots on the floor when you try to take the three away. She'll be a steal late for someone.
Allen's athleticism is the catalyst for her offensive game. It's not just her quickness but her ability to elevate in traffic and find balance mid-air that makes her very difficult to guard. Defensively she's an impact player as well.
Sherman has strength in her frame and used it well. She's got really crafty pivot game and does a great job of getting defenders to react so she can counter. The lefty shot the ball well too and was really coachable.
Vansickle's game has really taken off from a year ago. Her confidence on the floor extends to both ends of the floor. She's a defender that can really blow up a play call because of her physicality, speed and awareness of what she can do with it on that end. Offensively she continues to get paint touches and put pressure on the help side.
Thompson stood out in the Feature Player Training session with her work ethic. She was locked in, showed she's put real time in her ballhandling, she made crisp passes and soaked up teaching points. She's 5-6 but she plays bigger with the length in her frame and how solid her footwork was around the basket.

Chris Hansen is managing editor of ProspectsNation.com and serves on the McDonald's All-American and Naismith Trophy selection committees. He was a co-founder of and the national director of scouting for ESPN HoopGurlz from 2005 until 2012 and is the director of the Check Me Out Showcase and ELITE is EARNED events. He can be reached at chris@chrishansenbasketball.com.