Posted
6 years 6 months ago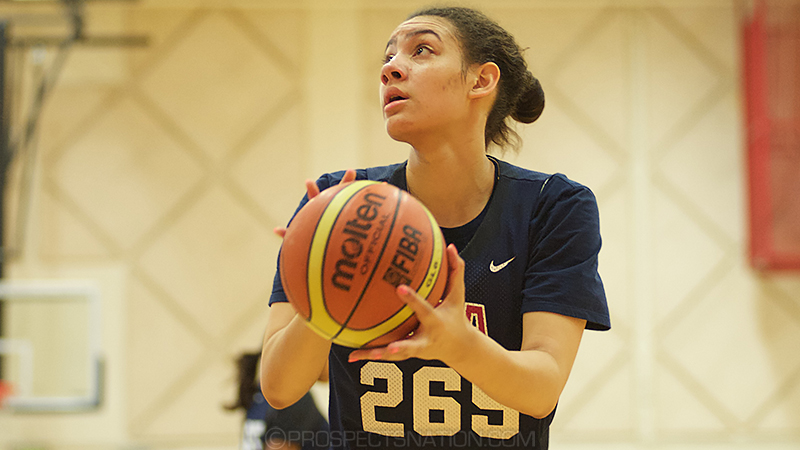 Amira Collins of LaPlata, Maryland, has tested herself in a number of arenas, including at USA Basketball national team trials. *Photo by Chris Hansen.
Class of 2018 forward Amira Collins of LaPlata, Maryland, has committed to Tennessee after making a series of unofficial visits and weighing her options. Collins, who among others, considered Georgia Tech, Maryland, Penn State, and UCLA, gives Tennessee a potential immediate impact prospect to help bolster their frontline as she can be productive playing on either side of the ball.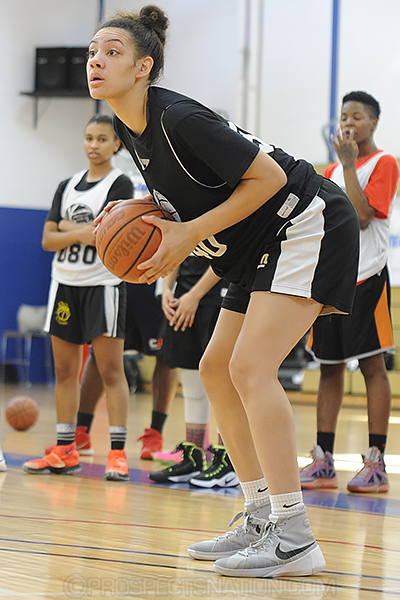 Amira Collins is ranked No. 8
in the 2018 ELITE 100. *Photo
by Chris Hansen.For Tennessee, this is the Lady Vols' first commitment for the 2018 class and a good sign for them on the recruiting front as they are back to securing early verbal commitments from ELITE 100 caliber prospects. After signing the No. 1 overall class for 2017 during the early period, Collins allows the staff to build off of that momentum and continue to work the recruiting trail in hopes of a repeat No. 1 overall class in 2018.
The ProspectsNation.com staff first had the opportunity to watch the class of 2018 forward Amira Collins in the fall of 2012. During that evaluation, Collins showed promise as an athletic prospect with good size and length. She was still young and would need to continue to work and develop her game, but there was certainly enough there to make her a unique addition to the 2018 watch lists.
Fast forward to present day and Collins has emerged as one of the elite prospects in the 2018 class. She has continued to grow, and her frame has matured to give her the strength to play around the rim but the quickness to add some perimeter skills to her game.
What They Are Saying
"There are few players who compete at all facets of the game the way Collins does. She's long, physical and has made significant strides in becoming a consistent scorer over the last year or so." – Chris Hansen
"Collins is a talented post which showed tremendous growth this summer. She appears dedicated to improving, and her play at the PSBElite32 Summer Jam reflected that. Collins is a capable force both on the glass and as a scoring option in the frontcourt." – Brandon Clay
"Collins is a versatile forward capable of defending various positions on the court. She's a superb athlete for the frontline. Her grit and toughness define her game. She sets the tone by rebounding and providing a physical presence for her team. Offensively she has made strides. She is a capable scorer in the pick and roll game. If her jumper adds consistency, look for her to be a double-double threat nightly in one of the Power 5 conferences when she hits a college campus in 2018." – Johnathan Hemingway
For The Next Level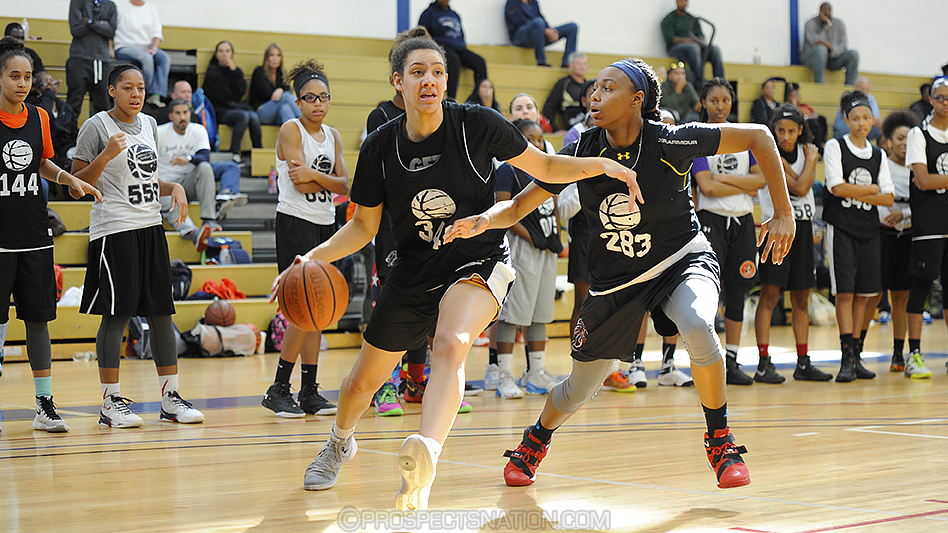 Amira Collins at the 2016 Keil Moore Fall Showcase.
*Photo by Chris Hansen.Collins has the physical tools to bring versatility to the forward positions. The 6-foot-3 interior player can be an impactful presence both offensively and defensively. In the last year, we have seen her mid-range jumper become a quality weapon in her arsenal and her range is quickly extending to the 3-point line, a feature of her game we saw on display multiple times this summer. If Collins can continue to develop and round out her skill set, she will grow into the kind of offensive talent that can exploit individual matchups with regularity.
Look for Tennessee to focus their efforts on signing a post and a point guard in the 2018 class. Their 2017 class is strong on the wing and with Collins on the way they now have a forward on the way that will pair nicely with the wings of the future. Players like Elizabeth Dixon, Shakira Austin, and Olivia Nelson-Ododa, could potentially be targeted for the Lady Vols moving forward.

Keil Moore is the Director of Scouting for the JumpOffPlus.com National Scouting Report and international scouting report. He serves on the Naismith Trophy Board of Selectors and has been a member of the women's basketball community for more than eight years as a trainer and evaluator. He can be reached at keil@prospectsnation.com.