CoachHemi.com Showcase Goes Bluegrass
Posted
6 years 7 months ago

Jada Stinson was electric with the ball in her hands at the CoachHemi.com Summer Showcase in Ashland, Ky. *Photo by Chris Hansen.
ASHLAND, Ky., - Boyd County High School served as the host site for the first annual CoachHemi.com Summer Showcase. Over 80 prospects from eight different states gained exposure by playing in front of evaluators and on SUVtv. The two-day camp featured skill sessions, 3-on-3 competition and 5-on-5 game play. Here is a recap of notable upperclassmen performers.

Jen Hoover and Wake Forest have secured a winner in Conti. The 5-foot-10 point guard showed up to the camp ready to work and get better. She exerted herself as one of the camp's top performers on Saturday afternoon. Her confidence and leadership are valuable qualities for the ACC bound guard. She is a very good athlete with ideal size for that conference. Her ball handling and ability to create space are the strengths of her game. She and her Comets club team will be at the Real Deal in the Ville in Nashville, Tenn., July 9th.
Hicks has a handful of offers from schools in the Southeast, but it is apparent that she is not ready to end her development. She made a 10-hour drive to the Bluegrass State to prove to evaluators that her game continues to evolve. Her ability to attack the lane was well documented last summer at the EBA Super 64 Camp. In this performance Hicks proved that her jumper is far from a weakness. She hit jumpers off the bounce and even hit a few from beyond the stripe. Her athleticism and willingness to work point to more success in the future.
Mayo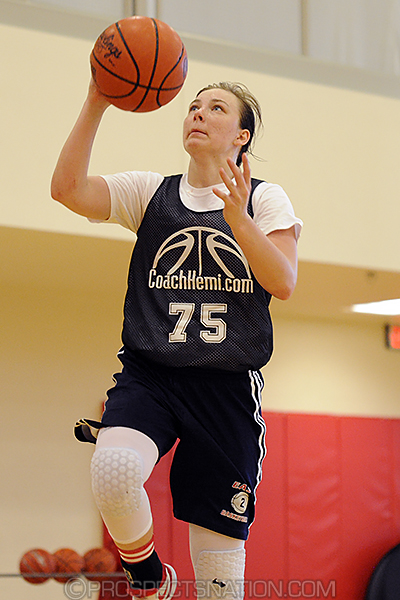 Kristen Mayo of Grayson, Ky.
*Photo by Chris Hansen.is one of the top uncommitted point guards in the class of 2017. Although there is not much flashy about Mayo's game, her competitive spirit and blue collar attitude showed brightly. She brings grit and effort on both ends of the floor. Her veteran experience while playing with Scott Johnson's organization in big moments have groomed Mayo well for the next level. She backed up her reputation with another solid performance at the Summer Showcase. (Read more on Mayo by reading her IN FOCUS article May 2016).
The flair in which Stinson plays the game earned her plenty of attention at camp. Her quickness combined with her ambidextrous skills allow her to be a playmaker. She gives effort and energy regardless of a skill session or game play. Although she may struggle with efficiency at times, the 5-8 guard has many of the tangible skills that college coaches covet out of a combo-guard at the next level. It could be her defensive ability that turns into her getting early minutes at the next level. Stinson and the Thunder will compete July 23-25 at the PSB Summer Invitational in Emerson, Ga.

Shelby Harmeyer – (,Ky.), Kentucky Premier - 2018
A late addition to the camp turned out to be one of the most pleasant surprises of the weekend. Harmeyer is a shooting specialist standing at 5-8. Her high, easy release gives us reason to believe that she will shoot a high percentage from beyond the arc for years to come. Although Harmeyer is listed as a small forward on the roster, she showed ball handling skills that should allow her to provide secondary ball handling responsibilities.
Amani Johnson – (North Versailles, Pa.), Western PA Bruins – 2018
One of the valuable parts of a camp setting is to see prospects through a different lens. Johnson plays for Robert Cash and the WPA Bruins, which is one of the top travel teams nationally, regardless of circuit affiliation, this year. On that team Johnson is asked to play a supporting role alongside of Desiree Oliver (No. 78 in the ELITE 100). Here Johnson's skill set as a lead guard who can control tempo and attack the lane stood out. Her jumper is solid smooth as well too, which is positive sign for things to come.
Alexis Starks – (Cincinnati, Ohio), Cincinnati Finest
The game of basketball is evolving to the point where coaches ask their post players to be proficient at a number of skills. Starks demonstrated a versatile skillset consistently over the weekend camp. Her strength to post up and score is hard for defenders to contain in a one-on-one situation. Her solid build, nimble feet and soft touch are all skills that coaches covet from a front line player like Starks. Yet Starks value multiplies with her ability to shoot the 3-point shot. The 6-1 power forward is proficient in the pick and pop game when working with guards around the arc. What is most pleasing about Starks is her ability to balance her interior and perimeter game.
AROUND THE RIM
Class of 2017 Milena Clarke of Ashland, Ky., is a high achiever on and off the court. Her high intelligence translates to smart play on the court. She is a shot maker who uses her versatility to make the right play consistently on the court.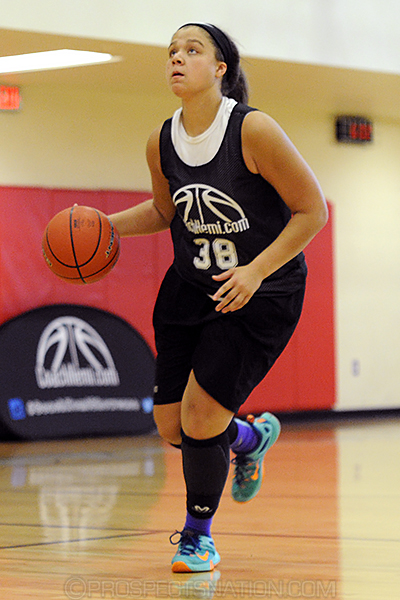 Kiara Pankins is a highly productive
player when on the court. *Photo by
Chris Hansen.Every team needs a player like Kiara Pankins of Lexington, Ky. The blue collar forward rebounds and plays tough in the lane. Yet she has ball skill to be do damage when facing up.
The production that class of 2018 Destiny Kassner of Oak Ridge, Tenn., brought on game day while playing on SUVtv was impressive. She found herself around the ball a lot and made plays at the rim. Standing at 5-10, she has ideal size as a wing-forward.
One of the better play-making point guards in the camp was Kaiulani Jones of Pickerington, Ohio. In the class of 2018 she has room to grow physically and her production should grow with it.
It is good to see post players who put in work and develop. McKenna Adkins of Boyd County High School is showing that hard work can pay off. She scored the ball well in the paint even with a defender on her back. Standing 6-2, she will be a player that coaches will want to keep an eye on next winter when playing for coach Pete Fraley.
Rayven Peeples of Louisville, Ky., really came alive on day two of the showcase. Her combination of size and speed along proved to be a tough match up in live game play. When she started stepping out to the perimeter and knocking down jumpers it was clear it would take someone special to slow her down.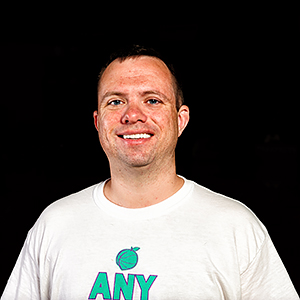 Jonathan Hemingway is the Assistant Director of Scouting for the JumpOffPlus.com National Scouting Report, is on the Naismith Trophy Board of Selectors and owns CoachHemi.com, the go-to source for coaches for X's and O's. He is the floor director of #TeamEBA camps, a site director for #TeamPSB tournaments and can be reached at jonathanhemingway@peachstatebasketball.com.