Posted
3 years 2 months ago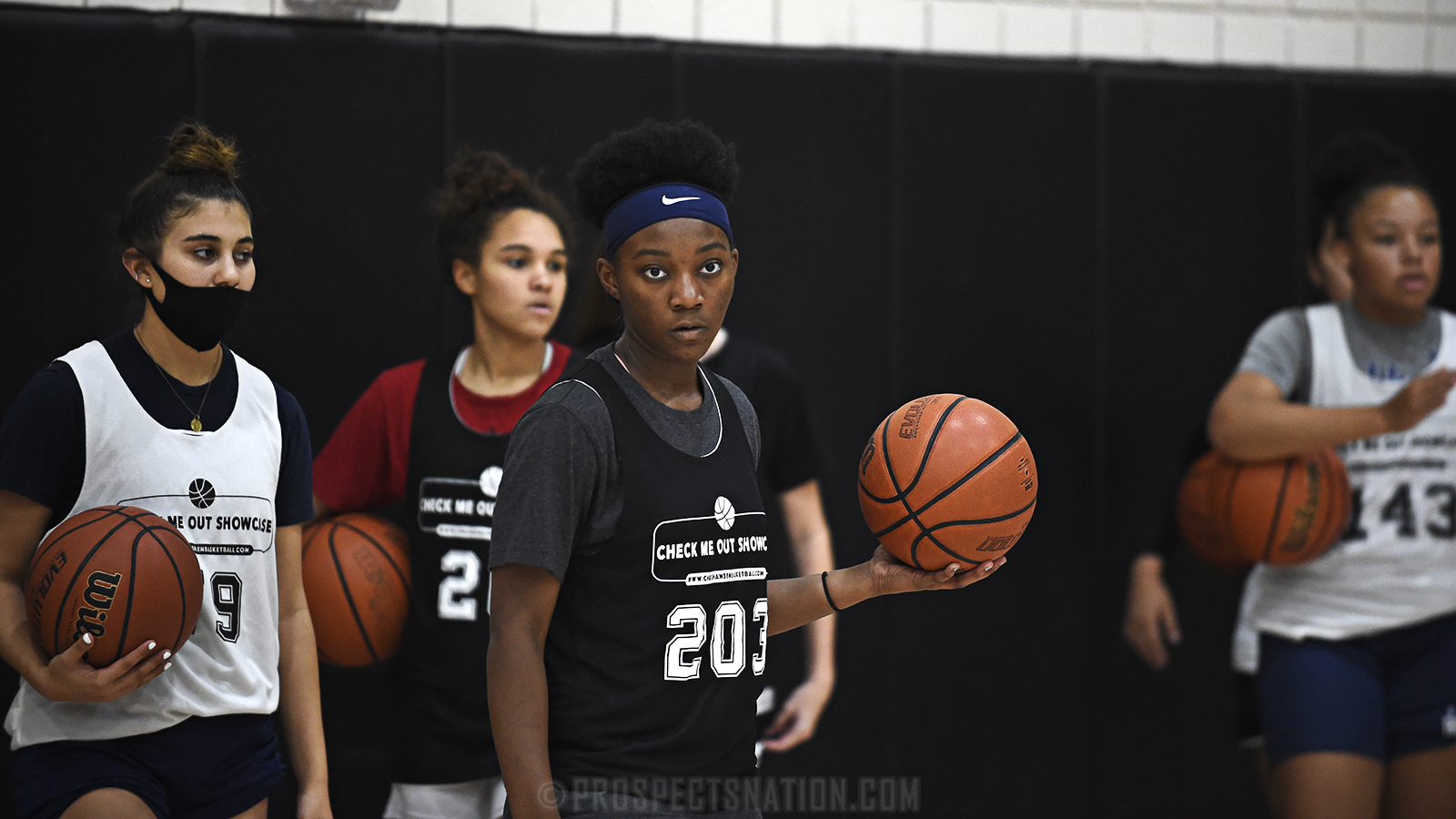 Kam'Ren Rhodes of Arizona Compass Prep is back on the floor post injury and looking poised for a big junior season. *Photo by Jasmine Hotchkins.
MESA, Arizona -- For the first time since the Check Me Out Showcase began in 2012, the exposure and elite training camp platform headed to Arizona and the Grand Canyon State did not disappoint.
Leading From The Front
For Madison Conner, the 2021 ELITE 75 point guard committed to the University of Arizona, we had high expectations having been in the gym with her before. She's a point guard with such good vision that the ball sticking in her hands for a possession isn't a bad thing. She has a unique skill at manipulating defenses that extra couple of bounces to get her teammates easy buckets. She has that knack similar to former Stanford point guard Marta Sniezek, but, she's also a consistent scoring option.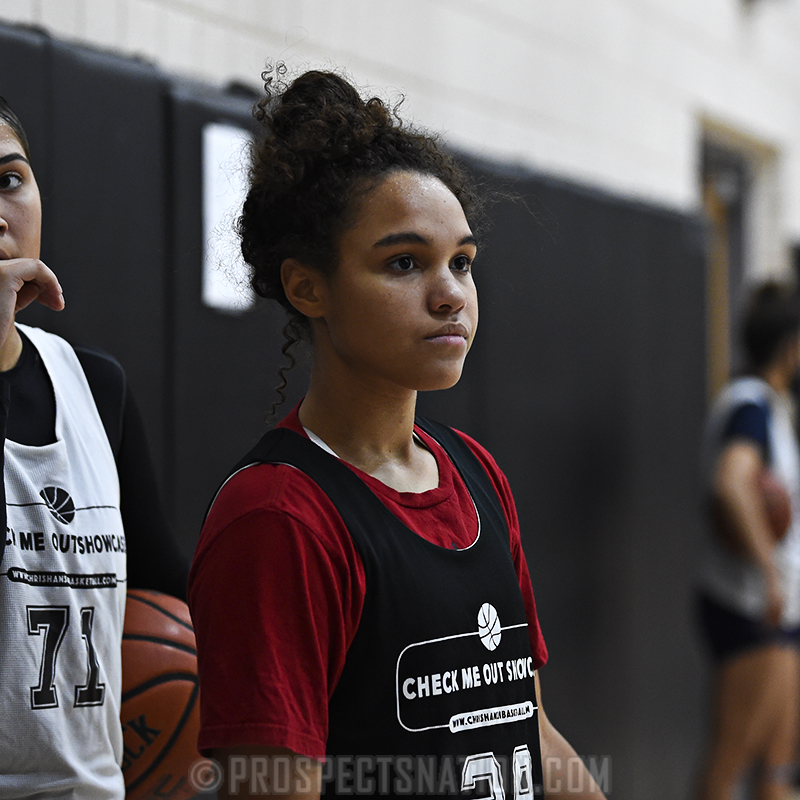 Jaida Brooks at the 2020 Check Me Out Arizona
Showcase. *Photo by Jasmine Hotchkins
Jaida Brooks of Phoenix, Arizona, is a quick and shifty playmaker with the ball in her hands. In addition to the plays made on the floor, Brooks, a junior at Desert Vista, showed strong leadership ability as the camp went on. From consistent energy to good on floor communication, Brooks had a stellar weekend.
Jennah Isai, the 2022 ELITE 50 Watch List guard from Surprise, Arizona, is another player we've worked with previously and over several years, dating back to 2016. Her confidence and playmaking has really taken off. From all three levels she has a way to score and she's become so physical that splitting double teams comes naturally now too.
The weekend in the gym solidified a thought we've held since she committed, Kamryn Doty could be the steal of the 2021 class. The Elon commit is a swiss army knife of a point guard with the mindset to lead at the next level. Her handle, court awareness, work ethic, ability to defend and score the basketball will make her a real asset for head coach Charlotte Smith.
Gabby Robinson of Yorba Linda, California, is quickly establishing herself as one the premier underclass guards on the west coast. As she enters her freshman year she is as battle tested as you can be. Her strength on the drive, improving range and overall competitive nature are all indicators she is more than ready for high school basketball.
Cassidee Johnson-Kinslow of Huntington Beach, California, has clearly been in the gym this summer. The sharpshooter with good size has really smoothed out her game. This improvement has allowed her to build a consistent second level of scoring when defenders try and take away the 3-ball.
Still On The Board
Tiara Galvan of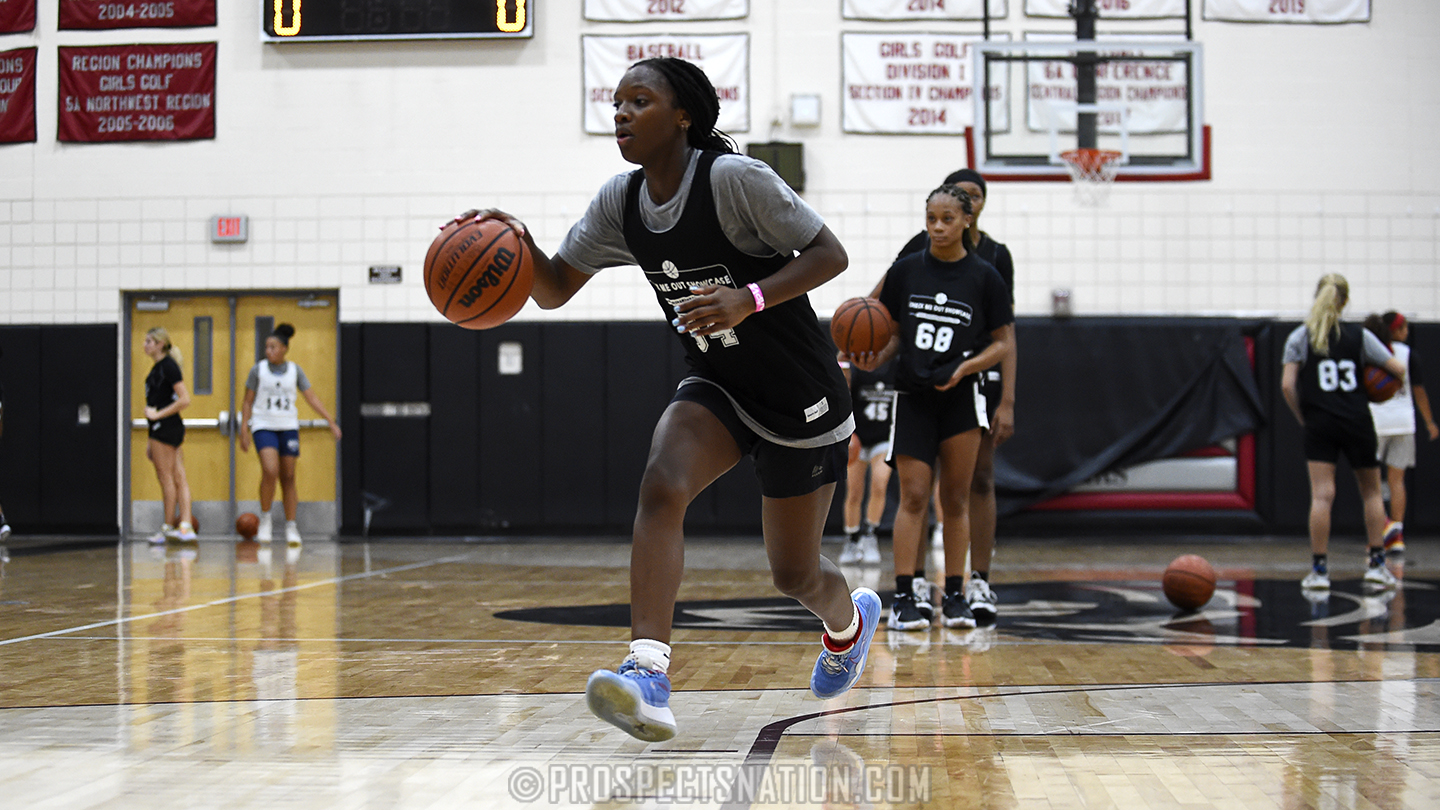 Prisila Varela of Chandler, Ariz., works on drive and
kick reads at the 2020 camp. Brea, California, is a quick and aggressive combo-guard. She attacks the paint of the dribble hard and has a quick trigger from beyond the arc. Defensively she didn't back down from anyone.
Bobbi Clark of Longview, Washington, is no stranger to training with our staff. The 6-1 forward is a force on the glass, is skilled to score and pass from the high post and is relentless on the floor. She has made strides in her agility since we saw her last and that added athleticism will make her that much more valuable for a late pick up.
Priscila Varela of Chandler, Arizona, had an outstanding weekend featuring her game. She was one of the best both days at creating a bucket. She's got a strong, compact frame and showed a quick first step.
The Comeback Kids
It was awesome to see Kam'Ren Rhodes, now from Chandler, Arizona, back on the court. She missed most of the last year recovering from a knee injury. She clearly kept her skill set sharp in spite of the injury as her handle was tight as ever. Her speed on the floor in the drill work was really impressive as well. She seems to have that extra gear that put her on the map before the injury. We're looking forward to the winter season when she is fully cleared for full game play.
Ashley Hawkins of Long Beach, California, is a fun player to watch. Her feel for the game is tremendous. She has range, ball skill and can make plays in traffic. She finished with both hands, changed pace and direction with ease. She gets her shot off quickly and plays with a lot of confidence. Seeing her back at full speed after missing 2019 due to a knee injury is great to see.
New Faces
Molly Garnard of Tucson, Arizona, is an intriguing prospect as she has yet to play on the club circuit but the 6-0 sophomore has a lot of tools. She's long and fast in transition and for a lean build she doesn't shy away from contact.
Sophie Morales of Chandler, Arizona, is just a 2025 but showed she has put real time into her game. Her handle is quick and low and she finds creases to slip into to create scoring opportunities.
Jordyn Griggs of Moreno Valley, California, has a world of upside. While not on the same level yet, the best comparison is a young Nalyssa Smith in terms of her frame, agility and versatility. The 6-1 sophomore has a smoothness to her game that should have her on a lot of schools priority list in the coming years.
Claire O'Conner of Bellevue, Washington, was new to us but she clearly isn't new to the game. This tall lefty wing was competitive and skilled with a strength to her game to utilize her size. She has a high shot pocket and elevates on her jumper. She's already on a lot of D1 coaches' radars and that group will continue to grow over the next 18 months
Keep an eye on 2025 prospect Mia DiPuccio of Mesa, Arizona. She mixed in with the upperclassmen easily despite not playing her first high school game yet. She has the length and touch to build a really nice game around.
Kylee Callahan of Tucson, Arizona, is a class of 2022 combo guard from Sal Pointe High School. She shows good understanding of the game in that she moves without the ball extremely well. Her footwork and fluidity as an athlete all impressed.
Around The Rim
Brooke Slymen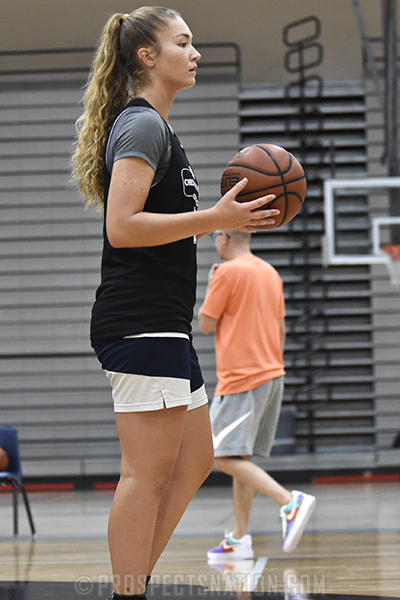 Brooke Slymen is a 2022 from
Aliso Viejo, Calif.of Aliso Viejo, California, showed her versatility and was pretty sharp on the weekend, especially considering she hasn't played club this summer. She's got a D1 following already and her strength and ability to play inside and out were on display here.
Miranda Lomax of Longview, Washington, is a gym rat. You can tell from the first rep. Her skill set is razor sharp and she's figured out what works for her against different types of competition. She showed the ability to mold her game into what was needed on the floor.
Bella Barrett of Buckeye, Arizona, is just a rising sophomore but the 6-0 swing player has a smooth way about her. She was really dialed in with her mid-range game.

Chris Hansen is managing editor of ProspectsNation.com and serves on the McDonald's All-American and Naismith Trophy selection committees. He was a co-founder of and the national director of scouting for ESPN HoopGurlz from 2005 until 2012 and is the director of the Check Me Out Showcase and ELITE is EARNED events. He can be reached at chris@prospectsnation.com.