CMO Arizona Spotlights II
Posted
1 year 6 months ago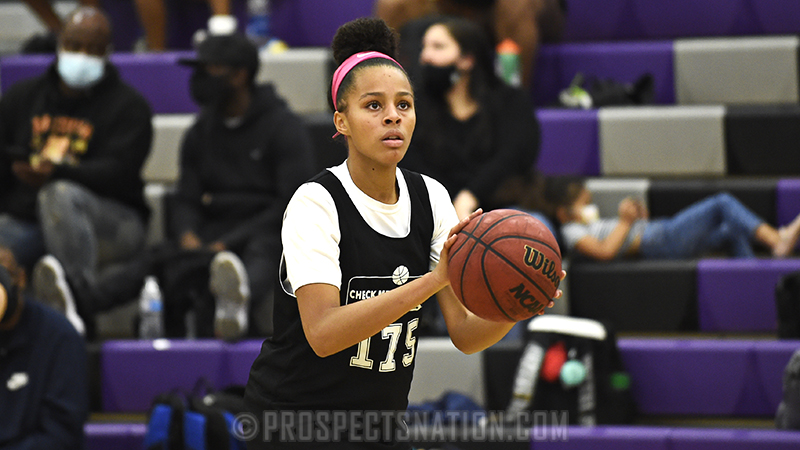 Brooke Suttle of Smyrna, Georgia, lines up a jumper at the 2021 Check Me Out Showcase in Surprise, Arizona. *Photo by Jasmine Hotchkins.
SURPRISE, Arizona – The Check Me Out Showcase arrived in the Southwest with a national lineup of kids. Players came from Canada, Alabama, Arizona, California, Georgia, Minnesota, Montana, South Carolina, Tennessee, and Texas. Before the full 80 player roster checked in our Spotlight workouts brought a small group in for some extra work.
This was our second time working with DiPuccio and it's great to see her game evolving. We worked a lot of footwork for mid-range shots and her balance and fluidity really allowed her length to make her pull-up almost unguardable.
Saldivar-Hale joined us before camp for the spotlight session and showed she is an attention to detail focused player. During camp she ran the floor well, setting herself up for easy looks. She was opportunistic on offense, brought good energy on the floor and we'd like to see her get vocal with that energy in the future.
Since we first worked with Swain in 2018, everything you hoped she would be when she started growing she is becoming. At 5-7 she can now create regardless of who is defending her. She's fierce off the bounce and has elite quickness and handle on the floor.
This was our first time working with Sword, a 2025 guard prospect. From the spotlight workout through the camp she was super coachable and brought good energy to the floor. She showed nice touch on her floater when she got in the lane as well.
Ivy is another youngster that we worked with for the first time. She showed really good change of speed with the ball. She gets to the mid-range at her speed which led to her being really efficient at that range.
Sellers is a 5-6 combo guard that made the trip from Yuma, Arizona, to get early work in. She showed a good handle on our drive and kick breakdown, reading the help and making the right read. As she gets stronger physically she'll be able to make more plays.
Johnson is 2026 point guard prospect with fantastic quickness. She uses her speed in the open court and did a good job veering into her defender to hold angles and protect the rock. She was an aggressive on-ball defender at times as well.
Suttle is a power guard in the making. She showed she's capable of knocking down open perimeter shots. As camp went on she started making more and more plays. She was an unselfish player. As she learns to use her size and be more physical she'll be a real matchup problem.
One of the main things that stands out about the 5-7 Georgia native is her savvy on the court. She utilized change of pace extremely well both in breakdown action as well as competitions. She used her body well off the bounce to create angles and advantages too.
#CheckMeOutNATION Arizona
Spotlight Workout Highlights pic.twitter.com/hBZ92kMViC

— ELITE is EARNED ®️ (@ELITEisEARNED) March 23, 2021

Chris Hansen is managing editor of ProspectsNation.com and serves on the McDonald's All-American and Naismith Trophy selection committees. He was a co-founder of and the national director of scouting for ESPN HoopGurlz from 2005 until 2012 and is the director of the Check Me Out Showcase and ELITE is EARNED events. He can be reached at chris@prospectsnation.com.