Posted
2 years 6 months ago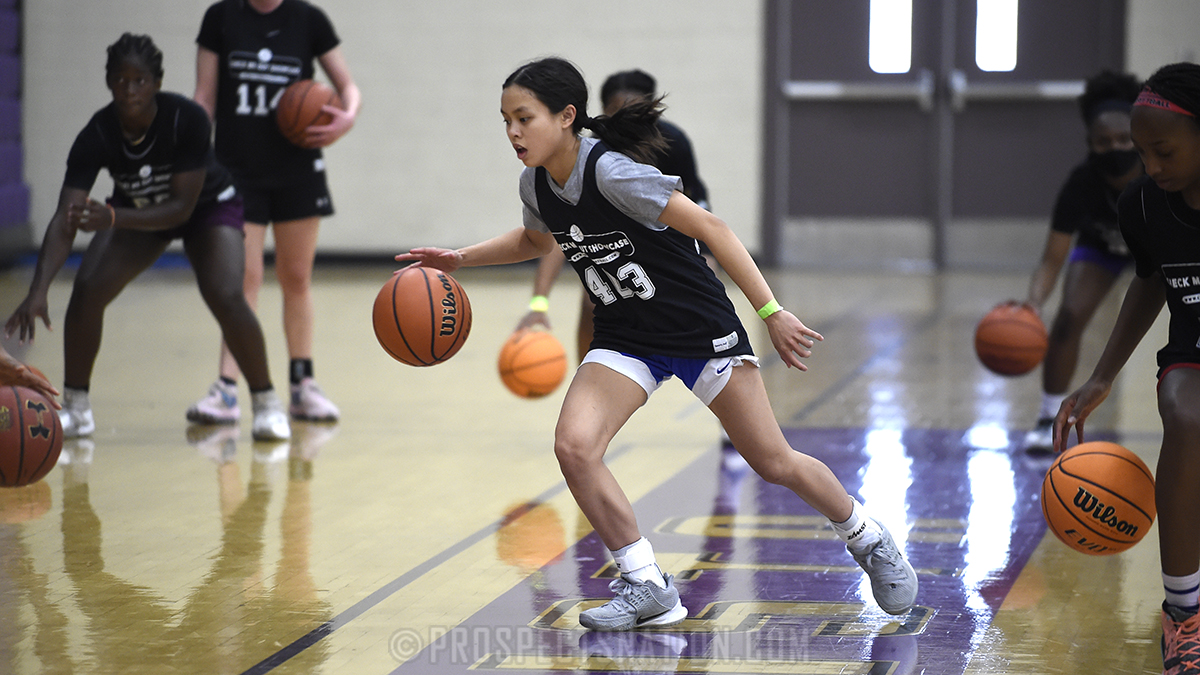 Sophie Morales of Chandler, Arizona, trains at the Check Me Out Showcase in Surprise, Arizona. *Photo by Jasmine Hotchkins.
SURPRISE, Arizona – The Check Me Out Showcase arrived in the Southwest with a national lineup of kids. Players came from Canada, Alabama, Arizona, California, Georgia, Minnesota, Montana, South Carolina, Tennessee, and Texas. Before the full 80 player roster checked in our Spotlight workouts brought a small group in for some extra work.
Morales first came to our camp series a year ago and her game has been expanding exponentially. Her footwork and change of speed led to countless breakdown possessions and her feet also allowed her to score in the mid range.
Momberg has been training with us for years and her jump her at the tail end of her junior year is fantastic. She's always been a powerful off the bounce player but her game has smoothed out so much with her extended range.
Garner is a young guard we've now got to work with twice. She's put work in on her handle and she's got a lot of confidence, especially going right. Her jumper is falling more and more from range and now getting her release off quicker.
Strauss is a kid we've seen multiple times over the years. Working on her on her craft in this smaller setting showed the skill set she's built. She handles it well and can score from several spots. As she gets stronger she'll be able to put those skills to work.
This was our first time working with Simmons. The talented freshman creates a lot of problems with her length and quickness. She elevates with ease to score with the jumper and can attack as well.
Chastain was the youngest player competing in the camp but she clearly didn't care about that fact. She has all the wiggle and ability to create at such a young age and the confidence to make plays regardless of who was guarding her.
We've worked with Hedge a year ago in Texas and the lefty showed us her shooting stroke. For a shooter she has great length at 5-11. She's figured out how much space she needs and was able to knock down contested shots when she got to her spots.
Trottier made the trip from Minnesota to Arizona to compete and this junior showed us a lot. She's got a soft, high arching jumper, she made terrific reads in numbers situations and consistently made the right play. She knows her spots on the floor to score.
#CheckMeOutNATION Arizona
Spotlight Workout Highlights pic.twitter.com/hBZ92kMViC

— ELITE is EARNED ®️ (@ELITEisEARNED) March 23, 2021

Chris Hansen is managing editor of ProspectsNation.com and serves on the McDonald's All-American and Naismith Trophy selection committees. He was a co-founder of and the national director of scouting for ESPN HoopGurlz from 2005 until 2012 and is the director of the Check Me Out Showcase and ELITE is EARNED events. He can be reached at chris@eliteisearned.com.