Clark, Joens, Nkumu Shine
Posted
4 years 10 months ago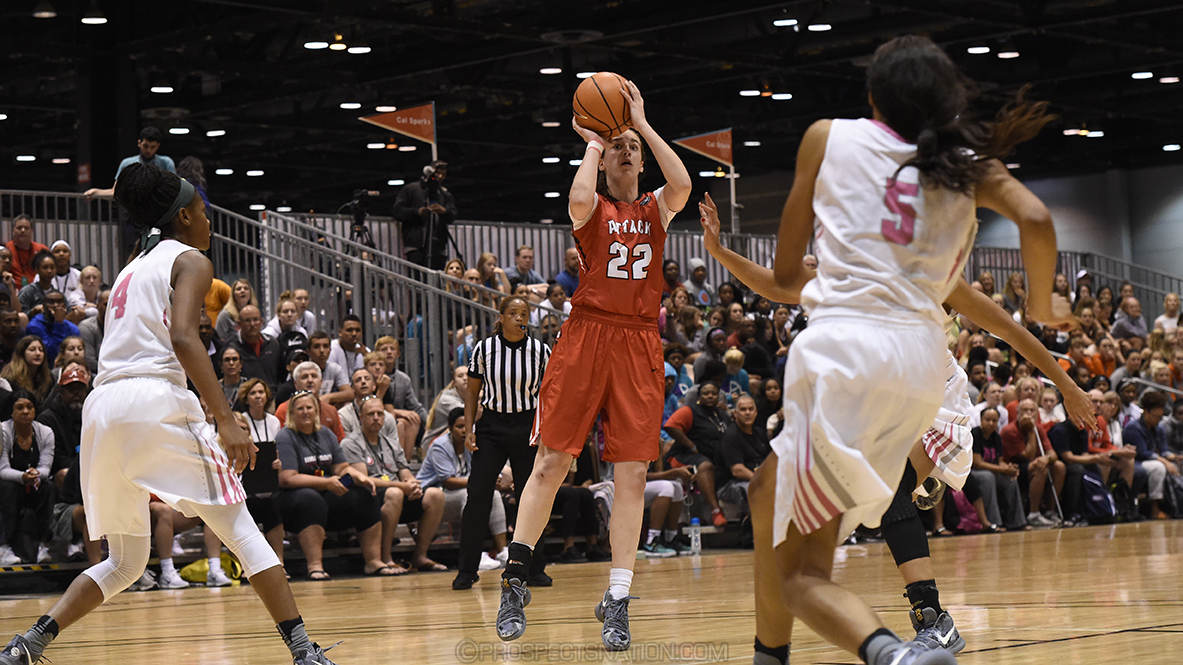 Caitlin Clark elevates for a jumper in Chicago at Nike Nationals. *Photo by Chris Hansen.
WEST DES MOINES, Iowa – The Iowa City versus Dowling Catholic matchup pitted two of the Hawkeye State's top school prospects against each other. Here's my takeaway from three of the major players in the game:
Caitlin Clark has a game and style that reminds me of current Indiana Univ. point guard Ali Patberg during her senior year of high school. Ranked No. 6 overall in the Class of 2020, Clark is a competitor first and foremost. That's her elite skill set based on what I saw during this high level high school matchup against the state's No. 1 team Iowa City. Less than 20 hours after dropping 46 against local rival, Ankeny, Clark was right back in her bag finishing with 35 points in a tough win. When I look at Patberg's stat line from the 2018-19 season, I see a lot of what I would project from Clark along the way: 15.4 points, 5 assists, 5 rebounds, 80 percent from the free-throw line, 33 percent from behind the arc.
AROUND THE RIM
Keep an eye on Class of 2020 guard Aubrey Joens of Iowa City. An Iowa State commit, Joens went toe-to-toe with the aforementioned Clark dropping 37 points in a tough loss. Joens is capable of making open shots and also created with her footwork around the win. She'll be in the discussion to enter our player rankings in the spring.
Joens backcourt classmate, Rose Nkumu, was able to produce in a major way here for Iowa City. She finished with 20 points and multiple assists finding teammates like Joens for quality looks. Nkumu has visited multiple Power 5 schools already in the fall.

Brandon Clay serves as the WNBA Director of Scouting for ProspectsNation.com and owns The JumpOffPlus.com International Report, which is picked up by more than 150 colleges and universities nationwide. He serves as the Executive Camp Director for the Elite Basketball Academy Camps. He serves on the Naismith Trophy Men's / Women's College Player of the Year Academy and is chairman of the HS Boys / Girls Board of Selectors and is on the McDonald's All-American Selection Committee. He also is the publisher of PSBPopCulture.com.