Posted
8 years 3 weeks ago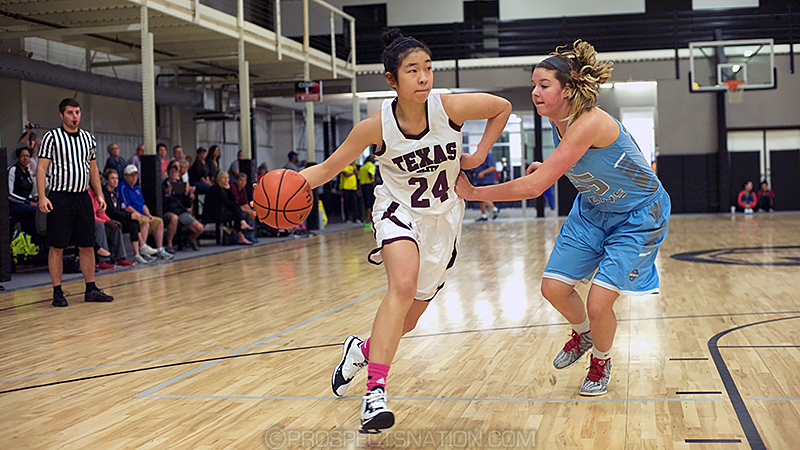 Natalie Chou of Plano, Texas, chose to join a loaded Baylor recruiting class. *Photo by Chris Hansen.
Class of 2016 guard Natalie Chou of Plano, Texas has verbally committed to Baylor, picking the Big 12 school over conference foe Texas.
At 5 feet 11 inches, Chou will bring Baylor length and perimeter shooting at both wing spots. She is a big guard who is capable making shots from behind the arc and in the midrange. As a member of the U17 USA Basketball national team, Chou has international experience and should be able to use that as an asset early in her collegiate career.
Chou, a four-star guard will be joined by five-star post Lauren Cox of Flower Mound, Texas and four-star guard Calveion Landrum of Waco, Texas. While the trio of Cox, Chou, and Landrum gives Baylor one of the best recruiting classes in the country, four-star wing Aaliyah Wilson of Muscogee, Okla., is currently considering joining the Baylor mix.
The Baylor class is in great shape with all three players being ranked in the top 26 spots of the ELITE 150. The addition of Chou led to Baylor's recruiting class ranking jumping up as well.
More Movement In Rankings
TCU moved to No. 7 in the class rankings with the addition of Australian forward Ella Hellessey. The 6-2 prospects played for the Australian U17 national team and has a four-star rating in the class. She is the fifth player to commit to the Horned Frogs in the 2016 class.
South Carolina picked up No. 73 Mikiah Harrigan of Pembroke Pines, Fla., a 6-0 forward. The two-player class will join two transfers who are sitting out this year in Allisha Gray and Kaela Davis.

Keil Moore is the Director of Scouting for the JumpOffPlus.com National Scouting Report and international scouting report. He serves on the Naismith Trophy Board of Selectors and has been a member of the women's basketball community for more than eight years as a trainer and evaluator. He can be reached at keil@prospectsnation.com.

Chris Hansen is managing editor of ProspectsNation.com and serves on the McDonald's All-American and Naismith Trophy selection committees. He was the national director of scouting for ESPN HoopGurlz from 2005 until 2012 and is the director of the Check Me Out Showcase. He can be reached at chris@prospectsnation.com.