Check Me Out Texas: Upperclassmen Shine
Posted
7 years 4 months ago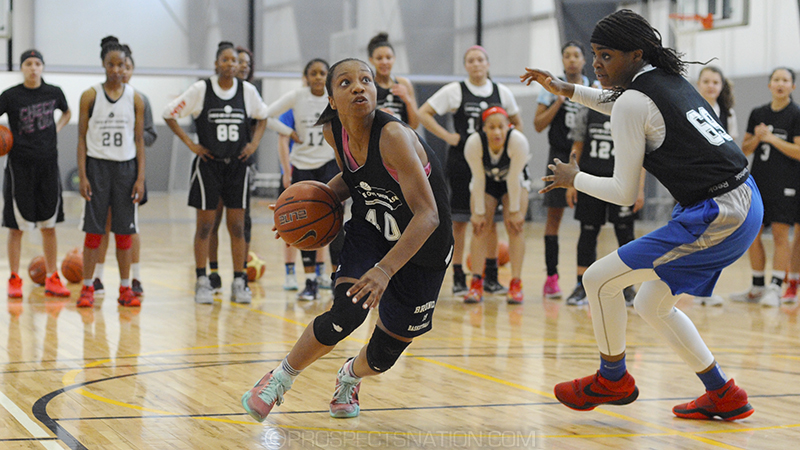 Gabby Connally showed her game and confidence have grown by leaps and bounds since last summer. *Photo by Chris Hansen.
UNIVERSAL CITY, Texas – The Lone Star State has been well represented at every Check Me Out Showcase event the last three years so it was only fitting that the camp called Texas home in 2016.
Gabby Connally (San Antonio, Texas), TeamXpress - 2017
Connally did it all this weekend offensively, both as a scorer and as distributer. The 5-foot-7 point guard knocked down several treys, finished layups on the opposite side of the rim and dished out a lot of assists in the process. What she does so well is disorient defenders with her hard jab step and crossover combo, which could have been the quickest change of direction move we saw all weekend. On the other end, defensively, her anticipation skills were unmatched and she showed clear pride in jumping the passing lanes and creating opportunities for herself and her teammates in the open court.
Vivian Gray (Argyle, Texas), Texas Elite – 2017
Gray was very impressive over the weekend. At 6-1 she is efficient, effective and a very versatile wing with good size and height. Vivian is an intelligent player, has a great feel for the game and skilled at getting to her spots for open jumpers, either off the dribble or moving without the basketball. She's effective in the open court as well as productive in the half court. She's great within an offensive scheme as well as being assertive off the cusp and creating off broken down plays and in transition. She brings good energy every possession and competes.
Chennedy Carter (Arlington, Texas), DFW T-Jack – 2017
Carter is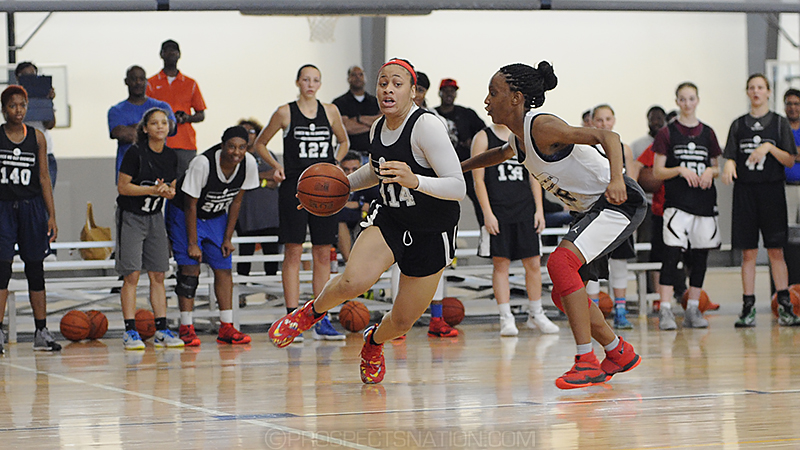 Chennedy Carter battles Kiana Williams at the 2016 Check
Me Out Texas. *Photo by Chris Hansen.a physically dominating guard. At 5-9 with a strong, athletic physique and superb ball handling ability, she's as difficult a task to guard one-on-one as they come. She has great separation moves and put on a show the first day during the Check Me Out Texas cut throat and spotlight segments. She continued to be a force through out the weekend. With her high motor and activity on the offensive side of the floor she created multiple opportunities for herself and her teammates to put points up on the board. Defensively she is quick, plays low to the ground, showed good foot organization and was tough physically. She can guard multiple positions around the perimeter.
Nalyssa Smith (Converse, Texas), San Antonio Finest – 2018
There was nothing Smith didn't put on display over the weekend. She handled the ball in the open court, created off the dribble, passed like a point guard, played with her back to basket, blocked shots, shot the long ball and ripped rebounds off the rim. Call her what you want -- stretch four, point forward, wing -- but this 2018 prospect is unique. There are not too many 6-3 players with the broad skill set she possesses. She's a phenomenal athlete that can guard out on the perimeter, post up inside and guard the rim. When she is competing at a high level, bringing a high level of energy she's in the discussion as one of the best in the country in her class.
Mallory Adams, Lady Pro Skills – 2018
Adams defined the term consistency over the weekend. She was a steady force in every drill and competition all weekend. A 6-0 "tweener" or bigger wing-guard, she cleaned up the boards nicely, gave solid midrange production and stretched the floor with her ability to knock down the open three. She is reliable player on both sides of the floor and defends in the paint as well as out on the perimeter.
Ginger Reece (Lawton, Okla.), Cy-Fair Shock - 2019
Reece put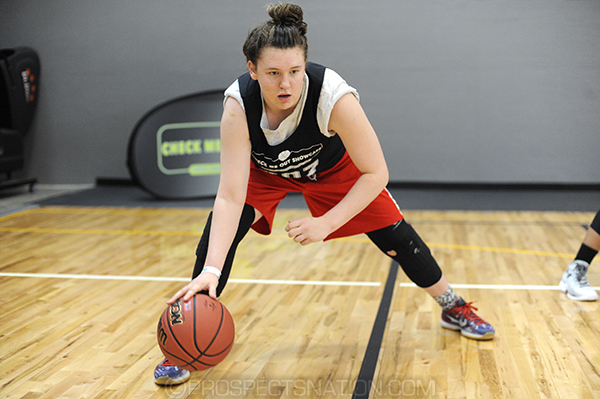 Ginger Reece had a breakout weekend at Check Me Out
Texas. *Photo by Chris Hansen.on a scoring clinic this past Sunday in the 5-on-5 games against elite competition. The 5-11 wing player showed off her quick trigger and buried back-to-back-to-back 3-pointers in transition and in the half court consecutively. Her quick footwork and strong upper body, along with her height add so much exclusivity to her scoring. She also just has a knack for finding open daylight and a shooters mentality. This class of 2019 wing player didn't under deliver and put on one of the top two performances of the whole showcase.
Nyah Green (Allen, Texas), San Antonio's Finest – 2019
This Louisville verbal commit is one of the most dynamic perimeter players in the class in that her handles and court vision allow her to play the point while her size and length allow her to play either off ball position as well. Green was teamed up with several dynamite point guards throughout the showcase and really shined as a scoring guard. Her ability to read and attack came much quicker than we've seen in the past. She showed she's better moving without the ball than she's been given credit for simply by moving her position wise.
AROUND THE RIM
Desiree Caldwell announced her verbal commitment to the Lady Raiders of Texas Tech during camp. It was a great weekend for her overall showcasing her ability to attack the lane and score as well as find teammates for open shots.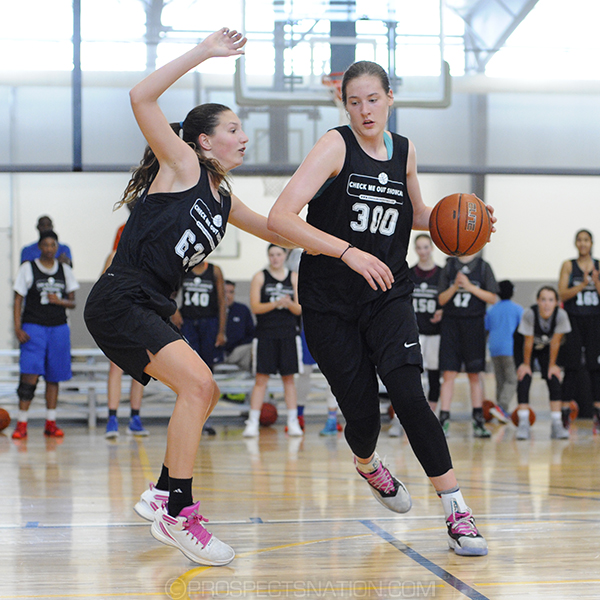 Sedona Prince's confidence and strength have caugh up
with her talent. *Photo by Chris Hansen.
To say the No. 4 player in the 2018 class is good seems obvious but the continued improvement of Sedona Prince is truly impressive. She's far more assertive in the paint and is handling all the contact with poise on every touch.
Corina Carter might be the most elusive point guard in the 2019 class. She's a blur in the open court and can change directions and leave her defender hanging in the wind. If she adds the 3-ball she'll be nearly impossible to guard.
When it comes to creating for teammates Kiana Williams of San Antonio, Texas, might be the best in the 2017 class at it. Her speed, handle and vision are tremendous assets and she used them all this weekend.
The post play in Texas is going to be on point for several years. One to keep an eye on in the 2019 class is 6-3 Taylor Jones of Dallas Christian School. She displayed good hands and soft touch in a long frame.
Connecticut commit Lexi Gordon is a player that makes the most out of the showcase opportunities by challenging herself with the best competition. She sought out matchups with more athletic players to push her. She isn't relaxing now that she's off the recruiting board, which is nice to see.

Wetmore joined ProspectsNation.com in the summer of 2014 after graduating from the University of Washington with a Communications degree. She left Washington as the all-time leader in games played and also played with the softball team in the College World Series. She was the Gatorade State Player of the Year her senior year in high school capping off a career which included three state titles. She can be reached at mercedes@chrishansenbasketball.com.

Chris Hansen is managing editor of ProspectsNation.com and serves on the McDonald's All-American and Naismith Trophy selection committees. He was the national director of scouting for ESPN HoopGurlz from 2005 until 2012 and is the director of the Check Me Out Showcase. He can be reached at chris@prospectsnation.com.