Check Me Out SoCal -- Underclass
Posted
8 years 7 months ago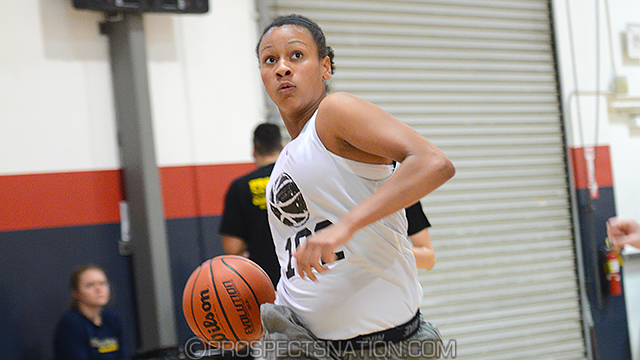 McKenzie Forbes of Folsom, Calif., used the Check Me Out SoCal Showcase to prove she is ready for the spotlight. * Photo by EGB.
LAKE FOREST, Calif. – The upperclassmen represented the 2016 class well at the 2015 Check Me Out SoCal Showcase, but the underclassmen in the high school session were up to the task of competing in this hyper talented field of players.

McKenzie Forbes (Folsom, Calif.), Arizona Select – 2018
Forbes was a new face to the Check Me Out Showcase events and it didn't take her long to make an impression. The 6-foot swing forward plays with intensity on both ends of the floor. She exploits any weakness she finds and pushes her opposition on both ends of the court. She is fluid, strong and can really makes plays in transition. She takes pride in her defense, which in a showcase setting doesn't always standout.
Alaysia Styles (San Diego, Calif.), Wiggins Waves – 2017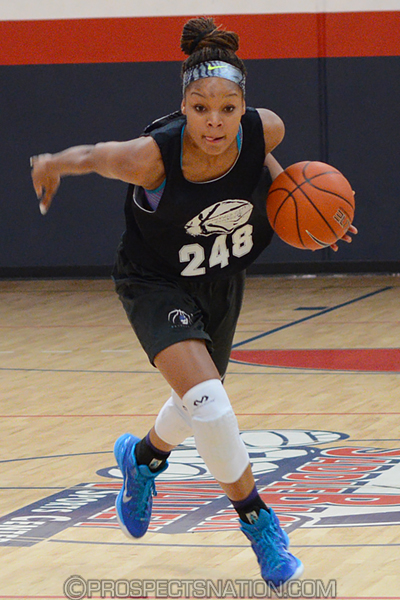 The light switch has been flipped for Styles. Physically the tools have been there for this 6-foot-2 wing for years. She's long, can run the court, has the quickness to get by defenders and pose mismatches. She is showing much more composure this season and handling mistakes and bouncing back is the key for her progression to the elite level. It is exciting to see talented players come into their own and all signs point to 2015 being that year for the kid her teammates call "Birdy".
Aleah Goodman (Battle Ground, Wash.), Northwest Blazers – 2017
Goodman is a talented combo guard with just the right amount of swagger. She knows she belongs on the court with really good players and in that she doesn't try to do too much. That said she is good with the ball, aggressive when she does put the ball on the ground and the 5-9 prospect can beat you with the deep jumper if you sag off her. The competitive fire and skill are just two of the tools she has in her game.
AROUND THE RIM
► So Cal Select star Ayanna Clark showed glimpses of the talent she has. She's a true inside-outside threat and when she brings intensity to the floor she's a matchup nightmare. When the consistency comes she'll make plenty of waves in the 2017 rankings landscape.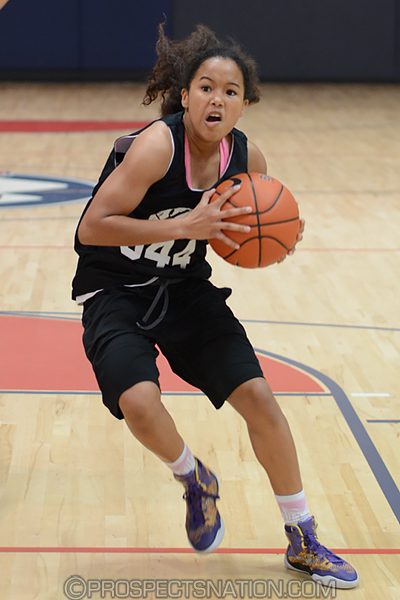 ►Glendale, Ariz., native Terrysha Banner came to the Check Me Out Showcase in Seattle last summer and showed her quickness was effective even with a smaller frame. Well she's grown a few inches and her intensity on the court hasn't waned at all. This 2018 point guard prospect is one to keep an eye on.
►Taylor Chambers is a regular on the Check Me Out circuit of showcases and her growth in her poise under pressure really stands out. She is compact but powerful at the point and loves to get downhill and attack but she did a great job of picking her spots this weekend.
►Canadian prospect Savannah Dhalahwali is a fierce competitor. She's all business on the court and she plays with a deceptive strength to her game. She's not the fastest forward but she is 6-1 and knows how to get her shot off against longer defenders.
►Jhazmin Jason is a combo guard that can heat up. When she is on she combines the ability to shoot the deep ball, even off the dribble, with impressive passing and vision. There is some high-risk high-reward to her game that won't be a fit for everyone but she is a playmaker.
► Sofia Ramos followed up a strong showing at the She's Ballin Showcase in her hometown of San Antonio, Texas, with an impressive weekend in Southern California. She's not a kid that blows you away with athleticism but she has a court savvy and presence that allows her to make plays when she's aggressive.

Hansen is managing editor of ProspectsNation.com and serves on the McDonald's All-American and Naismith Trophy selection committees. He was the national director of scouting for ESPN HoopGurlz from 2005 until 2012. He can be reached at chris@prospectsnation.com.