Check Me Out NorCal -- Upperclass
Posted
8 years 11 months ago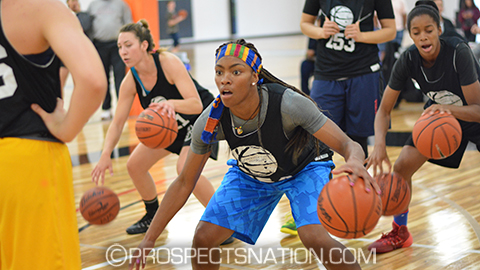 Cal commit MaAne Mosely was a standout at Check Me Out NorCal with her determined effort in skill work and live game play. *Photo by Nicc Jackson.
Tweet
OAKLAND, Calif. – The final destination for the Check Me Out Showcase in 2014 was the San Francisco Bay Area for Check Me Out NorCal. The courts at Jamtown were packed with some of the best players from the Golden State along with players from Arizona, Colorado, Nevada and Oklahoma. With two players having USA Basketball experience and multiple players already committed to Division I programs, the competition was high from the very beginning.
Kristine Anigwe (Phoenix, Ariz.), AZ Elite – 2015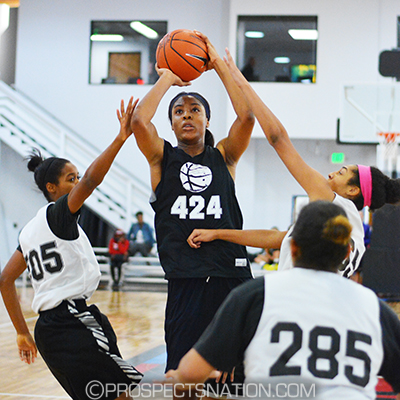 Cal commit Kristine Anigwe.
*Photo by Nicc Jackson.
When highly touted players continue to improve it says a lot about their internal motivation. Anigwe, the 6-foot-4 post who has committed to Cal, was playing at a new level. She was dominant in the paint but was even more impressive was the improvement in her ball skill. She has the fluid athleticism to fill a lane and can uses that same agility to be a force defensively. The ELITE 150 prospect's effort throughout the weekend from ballhandling drills to rebounding show she is on her way to being a force in the Pac-12.
MaAne Mosley (Richmond, Calif.), Cal Ballaz – 2015
Mosley is a dynamic athlete who can play multiple positions with her strength and quickness. The Cal commit actually compares to former Cal standout Kim Brandon in that she works the offensive glass at a high level. Players who can create their own offense without touches and isolations are invaluable and with the work ethic and determination she demonstrated this weekend she will push for minutes early in her career in Berkeley and backed up her ranking in ELITE 150.
Sabrina Ionescu (Walnut Creek, Calif.) – 2016
Ionescu is a player that simply competes regardless of the setting. Her unique blend of length and balance make her one of the best dribble penetrators in her class despite not possessing super speed. She changes directions mid-finish and has a knack for finishing off balance. She went so hard from the opening skill session through her final game she cramped up. More impressive than her offensive tools is how she takes calculated risks on defense, using deception, to create steals and immediate transition opportunities.
Aarion McDonald (Fresno, Calif.), Cal Stars – 2016
This versatile lefty guard was really impressive both days of the Showcase. Her handle is tight and the 5-6 guard showed she is capable of breaking defenders down in the halfcourt and can finish the play scoring or finding teammates for easy looks. She complements her dribble penetration with a legitimate 3-point stroke. She's a very active defender and the University of Washington commit had her best showing
Mai-Loni Henson (San Diego, Calif.), Wiggins Waves – 2016
This 5-11 wing prospects had one of her best outings to date. The Check Me Out Showcase vet has clearly been in the gym as her shot making and even her shot selection has grown by leaps and bounds the past year. The ELITE 60 wing continues to improve her ballhandling but it is her combination of size, athleticism and ability to knock down shots and pull defenders out that has her poised for a strong junior season at La Jolla Country Day.
Jordan Hobson (Stockton, Cailf.), Salesian – 2016
Hobson draws a lot of comparisons to Henson in terms of build and versatility. At 5-11 Hobson has enough perimeter skill set to give a post defender fits facing up but is physical enough to overpower a smaller guard. She was tough on glass and she will be a player to watch this high school season. Length and agility are definitely tools that project well to the next level.
AROUND THE RIM
♦ Minyon Moore of San Pablo, Calif., was a spark plug on Sunday. Her competitive spirit and speed leads to a lot of plays on both sides of the ball. The 5-7 guard brings intensity to the floor instantly.
♦ One player who has improved drastically since the spring is 6-1 post Abigail Esparza of West Covina, Calif. The junior was at Check Me Out SoCal in March and her confidence in the post and ability to use her strength to defend taller post players impressed both days in Oakland.
♦ Nina Bessolo of Palo Alto, Calif., was the sleeper prospect of the weekend. Once the 6-0 wing-forward got comfortable she broke out, using her speed and tremendous length but also complementing it by punishing sagging defenders hitting four threes in one game.
♦ Fresh off her commitment to CSU-Bakersfield, Addison Walters of San Francisco, Calif., brought a new confidence to the gym. A Check Me Out Showcase vet, she has shown steady improvement over the past 18 months. She is so much stronger off the dribble, a perfect addition given her shooting stroke is among the best on the west coast. Follow @ChrisHansenPSB

Hansen is managing editor of ProspectsNation.com and a McDonald's All-American selection committee member. He was the national director of scouting for ESPN HoopGurlz from 2005 until 2012. He can be reached at chris@prospectsnation.com.