Check Me Out NorCal Day One
Posted
7 years 3 months ago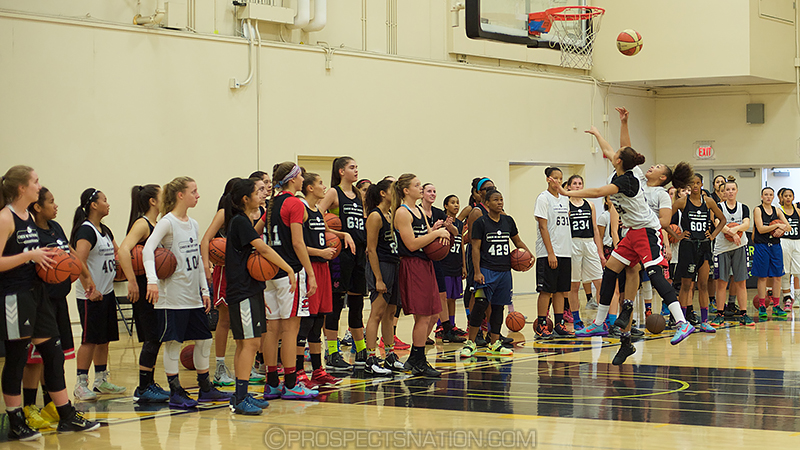 Courtesy Clark and Jayda Adams battle one on one in front of the campers at Check Me Out NorCal. *Photo by Bev Sopak.
HAYWARD, Calif. -- Chabot College played host the to the 2015 Check Me Out NorCal Showcase. The event saw 80 players from nine different states head to the San Francisco Bay Area to compete and work with skills trainers Chris Hyppa, Arvin Mosley and Ashley Corral as well as play in front of ProspectsNation.com staff and several other scouting services.
With standout players from this past summer like Aquira DeCosta of Sacramento, Calif., Jayda Adams of Anaheim, Calif., both of whom played for the USA U16 national team, plus young guns like Kiara Jefferson of Sacramento, Calif., and Illa Lane of San Jose, Calif., and Cydney Rivera of Cypress, Texas, the chance for players to measure their games against top notch talent was around constantly. Here are some of the players that made the most of the opportunity on day one.
Halle Wright of Aumsville, Ore., a class of 2018 forward, put together a collection of explosive power drives to the basket. Getting to the basket using physicality is a lost art, so seeing Wright impose her will was tremendous. Watch for this 6-foot small forward to make moves. Oh, and she can shoot the 3-ball.
Jordan Sweeney of Oakley, Calif., came to shoot today. The 5-8 class of 2019 shooting guard hit a couple 1-2 step 3-balls in transition with perfect release and balance. That confidence coming down the floor offensively is a huge weapon for any program.
Taylor Freeman is 5-10 class of 2020 stud that has ball skill and court savvy beyond her years. Saturday she had a crafty reverse finish that started with her well-versed footwork. Seeing her transition so well from the middle school level to the high school level is already coming along before Christmas has even arrived.
Naje Murray of Stockton, Calif., is as fluid as they come. Her ability to get to the basket is effortless at times. Reading plays offensively and defensively, showing anticipation, is something she does so well and creates opportunities for layups.
Nina Bessolo of Hayward, Calif., the veteran class of 2016 small forward, had a great day one performance, including a game-winning 3-pointer in sudden death. She continues to impress with her ability to run the floor and make impact plays. Her growth from this time a year ago is astonishing.
Tatianna Reese of Redwood, City, Calif., had the pressure on her this afternoon of day one. The class of 2018 guard got fouled just as buzzer sounded on the block to send her to the free throw line for a single shot to tie the game. With all eyes on her, she knocked it down with a prefect swish to keep the game alive. She's a power guard who has some wiggle to go along with her strength.
Cydnee Kinslow of Brentwood, Calif., has been playing with an incredible rhythm these last few months. The recent Pepperdine commit has really improved her scoring from beyond the arc, hitting from 3-point range and getting to the rim whenever she wants to. Her bread and butter is on the defensive side of the ball but adding the offensive piece will keep her on the court in the WCC.
More From Moore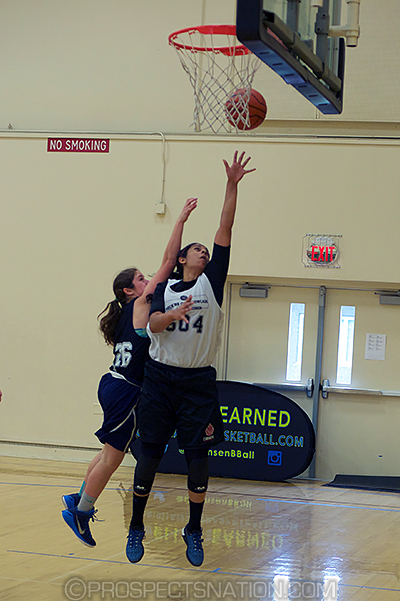 Savanah Dhaliwal of Surrey, B.C., and BC's Finest was effective early and often today. Dhaliwal is an active and energetic four
-player who rebounds the ball at a high rate and figures out how to rebound the ball in crowds. She runs the floor really hard and finds the easy baskets out there to be had.
Shanaijah Davison of Antelope, Calif., and JBS came to the gym today and managed to leave a lasting impression with her explosiveness off the bounce. Davison is a tough one-on-one cover and an accurate perimeter shooter.
Loretta Kakala of Manteca, Calif., is a post player who really impressed with her play today. She is fundamentally sound around the rim and is comfortable using an array of post moves when playing with her back to the basket.

Wetmore joined ProspectsNation.com in the summer of 2014 after graduating from the University of Washington with a Communications degree. She left Washington as the all-time leader in games played and also played with the softball team in the College World Series. She was the Gatorade State Player of the Year her senior year in high school capping off a career which included three state titles. She can be reached at mercedes@chrishansenbasketball.com.

Keil Moore is the Director of Scouting for the JumpOffPlus.com National Scouting Report and international scouting report. He serves on the Naismith Trophy Board of Selectors and has been a member of the women's basketball community for more than eight years as a trainer and evaluator. He can be reached at keil@prospectsnation.com.